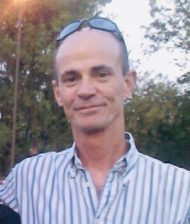 David E. Thompson, 60
January 11, 2020
David E. Thompson, 60, of Conestoga, passed away Saturday, January 11, 2020 at Hospice & Community Care, Mt. Joy. Born in Greensboro, NC, he was the son of the late William D. and Linda (Spivey) Thompson.
David worked in construction and for a time had his own construction company, Thompson Contracting. Later, David was employed and spent 10 years as a superintendent for Warfel Construction Company.
Of the Christian faith, David worked hard and sacrificed for his family who he loved greatly. David was a diehard UNC Tar Heels basketball fan. He enjoyed playing on various pool leagues and softball leagues. He also spent time coaching his daughters' softball teams. Riding dirt bikes was one of David's passions and more recently he found great joy in his Harley Davidson.
David is survived by his five children: Matthew Galati, who serves in the US Air Force in New Mexico, husband of Olena Kondratenko; Brittany Ream, wife of late Nevin Ream, who served in the US Air Force Reserves; Megan Thompson; Alyssa Thompson; and Ashley Thompson, wife of Matthew (Harris) Thompson; grandchildren: Hailey, Avaah, Niko, and Kelsie; siblings Keith Thompson and Bonnie Tucker; he is also survived by his former wife of 24 years, Lisa Galati Thompson.
Family and friends are invited to a visitation from 4PM to 6PM, Sunday, January 19, 2020 at Charles F. Snyder Funeral Home & Crematory, 441 N. George St., Millersville, PA 17551. A Memorial Service will follow at 6PM. In lieu of flowers, contributions may be made to Hospice & Community Care.
Leave a condolence on this Memorial Page
Condolences to the Family
April 30, 2020
I am devastated that I am reading this right now! I do feel lucky that I did get to know him, his children, and grand children personnaly. He raised and loved his daughters, son and grand children, like no other man I have ever met!!!! He was hard working, loving, kind, and self-sacrificing. Everyone that met him, loved him! I know that his children and grand children, especially Haily will have a deep hole in their heart as they were the closest knit family I have ever had the pleasure of meeting!! He is going to be dearly missed!!!!!
Mary
January 17, 2020
My heartfelt condolences to the entire family. Dave was always kind and caring to my daughter and I, and opened up his home to us when we needed help the most. I will never forget his compassion and I am truly grateful for having known him. I wish the family nothing but the best during this difficult time, and I am sending all my thoughts and prayers to you now. I am truly sorry for your loss.
Chris and Ellie Caba
January 15, 2020
My deepest condolences. I remember David as a funny, smart alec in high school. He always had everyone around him laughing even the teacher's. He disrupted class most days and if not he wasnt there at all. I know this is a great loss for your family and I'm sorry for the pain this has caused you all.
Kim Hasty
January 15, 2020
I had the great pleasure of getting to know Dave a few years ago while playing on a pool league. I always remember him smiling and talking about how proud of his kids he was. Wishing the entire family comfort and sending prayers for healing.
JUSTIN NOLT
January 15, 2020
Prayers and thoughts are with your family at this time. So sorry for your loss and pray that you all can find some relief in this loss as he is now pain free!
Lauren Procopio
January 14, 2020
To the Thompson Family, I am truly sorry. Jay and I send our condolences.
Marieli Ortiz
January 14, 2020
Randy Pearman / class of 77 / Northeast
High
School.


January 14, 2020
Eric and I are so sorry for the passing of Dave. He was a wonderful neighbor and was always willing to be a helping hand when it came to our house. Our prayers are with the family.
Love,
The Leaman Family
January 14, 2020
I have known Dave over half of my life. I have know his daughter Megan, and all of the Thompson kids, since grade school and spent countless hours at their house as I was growing up. Dave was one of my first softball coaches as well. He will be missed by many people, including myself and my parents. To all the Thompson kids, my heart aches for you but know, your dad will never be forgotten.
Kayla Oberholtzer
Visitation

Sunday, January 19, 2020
4:00 PM - 6:00 PM
Charles F. Snyder Funeral Home & Crematory
441 North George Street
Millersville, PA 17551

Map and Directions

Services

Sunday, January 19, 2020
6:00 PM - 7:00 PM
Charles F. Snyder Funeral Home & Crematory
441 North George Street
Millersville, PA 17551

Map and Directions