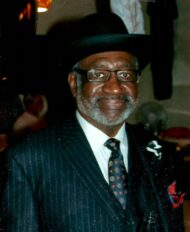 David Clyde Williams, 75
September 24, 2021
David Clyde Williams, 75 of Lancaster, passed away at Lancaster General Hospital on Friday, September 24, 2021. He was born in Fayetteville, NC to the late Rev. C. T and Nellie Ruth (Hammond) Williams. In addition to his parents, three brothers preceded him in death; Robert E. Williams (Margaret), Jonathan and Angelo.
David graduated from E. E. Smith High School in Fayetteville, NC. He moved to Lancaster, PA shortly after graduating. He became the first African American bus driver and Union President for Red Rose Transit, where he spent over 40 years of dedicated employment.
David was an avid Green Bay Packers, Boston Celtics and New York Yankees fan. He enjoyed playing all sports.
David was a wonderful father. He loved to cook and was an accomplished pastry chef. He enjoyed dressing to the nines in a suit topped off with a stylish hat. David was very dedicated to his entire family. In the years from 1967 to 2020, he never missed a Williams Family Reunion. He served as the president of his family reunion organization for many years.
He leaves to mourn and rejoice in celebration of his life: a daughter, Danyelle M. Williams (Harrisburg, PA); two sons, Brian W. Williams (Marjorie) and Leon E. Williams both of Lancaster, PA; one grandson, Andrew L. Bell of Harrisburg, PA; six sisters: Emma Jones, (Deer Park, NY), Betty McGuire, (Boston, MA), Garetha (Gail) Williams (Fayetteville, NC), Diane Thomas (Callaway, MD), Denise Williams (Fuquay-Varina, NC) and Vanessa (Michael) Loyd (Conyers, GA); four brothers: Jasper Williams (Fayetteville, NC), Dennis Williams (Fuquay-Varina, NC), Randy Williams and Claudie Toby (Corey) Williams (Sarah), both of Fayetteville, NC. He also leaves two aunts, one uncle and a host of nieces, nephews, cousins and friends.
Greeting of friends will take place on Saturday, October 2, 2021 from 10:00 a.m. to 11:00 a.m. The funeral service will follow immediately afterwards at 11:00 a.m. at the Charles F. Snyder Funeral Home & Crematory, 414 East King Street, Lancaster, PA 17602. The officiating clergy will be his sister, Pastor Vanessa Loyd. Interment will be in Mellinger Mennonite Cemetery.
Kindly consider a memorial contribution to the American Diabetes Association, P.O. Box 7023, Merrifield, VA 22116-7023 https://www.diabetes.org/donate
Leave a condolence on this Memorial Page
Condolences to the Family
October 01, 2021
Condolences to my cousins and family . We love you & May Gods peace be upon you during this time .
Freda Williams Hines
September 30, 2021
I was a neighbor of Dave's on King St. back in the early 80s. Dave was a great neighbor and always had a smile and a friendly voice. I'm sure he will be missed by all that got to know him through out his life.
George Barth
September 30, 2021
Dave is only physically gone but he will live forever in my heart. I will miss my dear friend Dave. I send my condolences to the family.
Lashon Green-Glackin
September 29, 2021
I have known Dave for 30plus years,He was a gentleman. while he was customer at the Rendezvous steak shop where I work he would stop in & talk. Dave is gone but will never be forgotten. To the family I'm sure you were proud of him,because I know I was..Jerome (Jc) Pompey
September 29, 2021
I was introduced to Dave a few weeks ago. We spoke a few times since then. I am so sorry for your loss. He was a gentleman. I just want you to know, he loved his children and spoke highly of each of you. He especially shared what a special bond he had with his daughter. I know he will be greatly missed. My prayers are with your family at this time.
Jolleen Biesecker
September 29, 2021
dave was a co-worker. always a great dresser. even i uniform he looked good. he was a good partner to have on any of the routes. when he talked people listened. he was plain, clear, and to he point. dave loved his cars. the last time i saw him, he was going down duke st. by the court house. it was a jet black cadillac escalade. i couldn't see the driver, but as i pulled along side of him, he rolled the window down. it was dave! a great man. prayers to family. the big authority in the sky sure got a good one this time. till then dave….bob.



September 27, 2021
Dave could not have been a nicer guy. Just pleasant everytime we saw him. I've known him since I was a kid riding the city bus. Our heart is broken. We will truly truly miss him. Our condolences to all of you.
Love Steven and Janine Simms
Visitation

Saturday, October 02, 2021
10:00 AM - 11:00 AM
Charles F. Snyder Funeral Home & Crematory
414 East King Street
Lancaster, PA 17602

Map and Directions

Services

Saturday, October 02, 2021
11:00 AM
Charles F. Snyder Funeral Home & Crematory
414 East King Street
Lancaster, PA 17602

Map and Directions