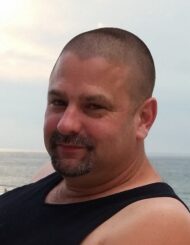 David "Bryan" Allman, 50
February 21, 2023
David "Bryan" Allman of Lancaster, PA, entered into peace and rest with Jesus on Tuesday, February 21st, 2023 in Lancaster, PA. He was 50 years old.
Bryan was the beloved son of Timothy B. Allman and Sharon (Conley) Allman and the cherished husband for 27 years of Mary (Chedester) Allman. Bryan leaves behind two children who adored him, Shara E. Allman and Joseph W. Allman. In addition, he is survived by his brother Timothy R. Allman, husband of Tammy (Mills), his sister Amy (Allman) Cornwell, wife of Michael, mother-in-law Sara Chedester, brother-in-law William Chedester, husband of Diana Arango, nieces Andrea, Victoria, and Alydia Allman and Olivia Chedester Arango, nephew Timothy R. Allman, Jr., great-niece Myla Capicola, and many aunts, uncles, cousins, in-laws, and friends. Bryan was preceded in death by his grandparents William and Rosemary Allman and Jack and Pat Conley and his father-in-law Alan Chedester.
Bryan was born in Clarksburg, WV and grew up in Good Hope farming and gardening in the hills of Harrison County with his father and grandfather. Upon graduating from South Harrison High School, Bryan studied agriculture at Virginia Tech and earned his bachelor's degree in Dairy Science. Following college, he raised cows and crops with his dad in WV for six years before moving to Lancaster County PA.
He worked for Yippee Farms for 14 years, and for Meadow Lane Dairy for 8 years. Bryan loved working with cows and people. He was an excellent cowman, specializing in reproduction. He dedicated himself to his employers as if he was managing his own herd, always striving for improvement in herd health and milk production. He couldn't wait for spring harvest season, scheduling all his plans around his favorite activity – mowing rye. He could go back and forth across the fields for hours and days and never get tired of it.
When he wasn't working, he was planning his next big family meal – searching out recipes and how-to videos for grilling, smoking, or griddling. He also loved to bake sweets and share, and his specialty was infusing fruit into liquors to create all kinds of new flavors. Everything he made he shared generously with family and friends. In recent years, he spent free weekends with Mary traveling the country visiting family and camping. Bryan loved seeing his kids grow up into independent, hard working adults, carrying on the family legacy.
Bryan was a member of Christ the King Community Church in Lancaster, PA. He lived by the mottos "If a little is good, more must be better" and "Go big or go home". His last words to his family were "Well Folks, it's time to wrap this up!" Bryan had plans and dreams that he didn't get to pursue, but he confidently looked forward to eternity with his Savior.
Family and friends celebrated Bryan's earthly and eternal life with a campfire, service, and fellowship. In lieu of flowers, please consider contributing a donation in Bryan's memory to Hospice & Community Care, 685 Good Drive, Lancaster, PA 17601 www.hospiceandcommunitycare.org or Pancreatic Cancer Action Network, pancan.org
Leave a condolence on this Memorial Page
Condolences to the Family
March 04, 2023
Dear Allman Family,
My greatest condolences on your loss. Bryan was an amazing friend for more than 45 years. All the years of working the hay fields and the farm while growing up has given me the greatest memories of Bryan and your family. All my love.
Matthew Ferrell
February 28, 2023
My thoughts and prayers are with you all. I met Bryan in high school and quickly befriended him. He was so sweet and kind. I loved talking to him. We were all so fortunate to have had him in our lives some point in time!!
Sherry Morgan
February 27, 2023
If we could take away some of your loss we would gladly do so. Mary, you and Bryan were a bright spot in our lives when we needed support. We are grateful for knowing your family during that season. Please know that we are truly sadden at the loss of Bryan.
Sue, Joanna and Megan
February 26, 2023
Allman family I am so sorry for your loss. He was a great man who loved his family and his passion and dedication for his herd was noted. My heart aches for your loss. I wish I knew when the clebration of life was to attend. Prayers to everyone. Coach Stube
February 25, 2023
I'm so sorry to hear this. I always enjoyed being around Bryan and his family. Prayers to all. Donny Nay
February 25, 2023
So sorry to hear of Bryan's passing. Always thought so much of the Allman family. You will be in my thoughts and prayers. Donald L Lechner
February 25, 2023
Sending love…I fondly remember fun times with all 3 Allman kids from my early childhood. I'm so very sorry to hear about his passing, and wish you all peace and comfort. Rebecca (Britvec) Kisner
February 25, 2023
Tim, Sharon, and family: I cannot comprehend this loss. My love and prayers are all I can give to such dear dear friends. Please know you are forever in my thoughts. Brenda Law Tuckwiller
February 24, 2023
Dearest Allman family! You may not have ever met me or even know me but in the small town we grew up in, we are all family! B, as I called him in high school, was one of the funniest kind souls and he left a positive impression on everyone's heart who met him! My heart is with you all in this difficult time but I know you will all be reunited and what a glorious day that will be! Sending you loving prayers and peaceful blessings!
February 24, 2023
So sorry for your loss. He was a great man and will be missed. Love and prayers.❤️
February 24, 2023
So sorry to hear of Bryan's passing. Bryan was one of the good ones. I felt lucky to have known and been friends with him in high school. Prayers of comfort to the family and all who love him.
February 24, 2023
Bryan was such a great guy. Have great memories of showing dairy cattle with him. Prayers for the entire family.
Fred Law
February 24, 2023
So sorry to hear of the loss of Bryan. The SHHS community mourns his loss. The family is in our thoughts and prayers.
February 24, 2023
To the Allmans,
I am very sorry to hear of Bryan's passing. It was great knowing him in high school and I know he was dedicated to his family, work, and life. I always think of him every time I pass the farm. My thoughts and prayers are with you. Rest in peace Bryan.
Ron Cork