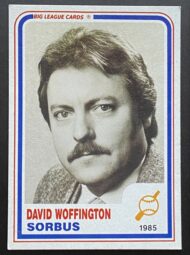 David A. Woffington Sr., 73
June 11, 2022
David Andrew Woffington, Sr., 73, of Ephrata, is at peace after many years battling diabetes. He went to be with the Lord, June 11, 2022 at Lancaster General Hospital, with his beloved wife by his side, just three days shy of their 42nd anniversary.
Dave was born in Tarentum, PA to John and LaVonne Woffington. After graduating from Tarentum High School in 1966, he enlisted in the Navy and served as a Chief Petty Officer from 1967-1971. If you've spent any amount of time talking with Dave, I'm sure you've heard a "Did I ever tell you about the time…" story (or two) and couldn't help but join along with his infectious laugh. Some would say he was the unofficial President of the Steelers fan club. After relocating to Norristown for his job with Sorbus (later acquired by Bell Atlantic) he met, married, and converted Bonnie over to the Black and Gold. He instilled the love of the Steelers to his son David, Jr. and after a feeble attempt with his son Daniel, he was given a second chance to continue the legacy by sharing his passion for the Steelers with his grandkids. Dave enjoyed many trips with family and friends to the mountain house on Lake Tinkwig. There he was able to teach his sons and grandkids how to try and catch the infamous "Walter". Dave enjoyed a long stint at Decision One, followed by a career change into car sales. After a few job changes in the field, he landed at Turner Buick GMC of New Holland, where he loved and was loved like family (not to mention infamously known by his customers) up until the very end.
He will be lovingly remembered by his wife Bonnie; daughter Nadia, and sons David Jr. (Leigh Anne), and Daniel; and his grandchildren; Amelia, Riley, Madison, Jackson and Damon. He is also survived by his brother John Woffington III (Judith) of Sewickley PA, sister Dawn Conroy (Robert) of Gibsonia PA, and numerous LOUD Greek in-laws whom he would always quip, "I'm outnumbered 100 to 1". He was predeceased by his father John and mother LaVonne.
A celebration of Dave's life will be held on Saturday, June 25 beginning at 12 PM at Charles F. Snyder Funeral Home & Crematory, 3110 Lititz Pike, Lititz. Friends and family are invited to gather starting at 9 AM until the time of the service. In lieu of flowers, memorial donations can be made in Dave's name to American Diabetes Association, P.O. Box 7023, Merrifield, VA 22116.
Leave a condolence on this Memorial Page
Condolences to the Family
June 25, 2022
Dear Bonnie & Family, You are in our thoughts & prayers at this time of sorrow.
May you feel God's peace and may your wonderful memories comfort your hearts.
Love, Winnie & Larry
My best to David & Daniel.❤️Winnie
June 25, 2022
"Woff" was one of the guys I served with in the navy. Always a great guy with a great sense of humor. My prayers go out to Bonnie and the kids.
June 22, 2022
Dave was a great guy and member of the team at Sorbus. He will forever be in my heart. Remembered for his wit and endless times of laughter. Condolences to Bonnie and the Woffington family. Mark Schulz
June 20, 2022
Thoughts and prayers with Bonnie, their children and grandchildren.
Love,
Sharon and Jim
June 19, 2022
Few people know and understand the devastation experienced from Diabetes… My heartfelt condolences to your family on your loss. Roseanne
June 19, 2022
Bonnie, I was so sad to read of David's death in this morning's paper. My heart goes out to you and to your family. I have fond memories of breakfasts at Pancake Farm where I would hear stories of your family. May you find peace in your heart as you remember. Love, Jeanette Bontrager
June 17, 2022
Very sorry and sad to lose a great man loved by so many. It's rare to hear and see so many universal accolades about a special life led. To have touched many and to be remembered with such affection is the best tribute one can receive. God Bless, Dave…. and Bonnie, his entire family and all who got to know and love him as he passes on to a higher place.🙏

Love and Resoect,
The Brode Family
Visitation

Saturday, June 25, 2022
9:00 AM - 12:00 PM
Charles F. Snyder Funeral Home & Crematory
3110 Lititz Pike
Lititz, PA 17543

Map and Directions

Services

Saturday, June 25, 2022
12:00 PM
Charles F. Snyder Funeral Home & Crematory
3110 Lititz Pike
Lititz, PA 17543

Map and Directions