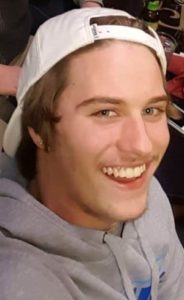 Daniel James Waite, 21
July 18, 2020
Daniel James Waite, 21, of Lancaster, passed away unexpectedly on July 18, 2020 at his home. Born in Lancaster, he was the son of Donald S. Waite Jr. and the late Christine A. (Kirchner) Waite.
Dan attended Manheim Township. A natural athlete, he excelled at baseball, longboarding, and skateboarding. He enjoyed the camaraderie and friendships with his co-workers at Outback Steakhouse, where he worked as a line cook. A fan of Call of Duty, Dan had many friends in the virtual world of gaming.
Dan was a dear friend to many. Morgan Weaver, Dan's best friend from childhood, remembers him as so; "Dan was a very interesting character. He was the kind of guy that could make friends with anybody. He was super outgoing, but also very real. He possessed a special charm and confidence with the ladies, but also knew how to throw down with the boys. Dan could truly be anything he wanted to be; witty, persuasive, compassionate, and caring. Whether he cracked a joke to lighten the mood, or if we talked seriously, man to man, he was always there when I needed him. A really cool guy, Dan was popular and well liked without having to put in much effort at all. Just being himself was all it took. Most of all, Dan was a blast to be around, He always made sure people were having a good time. He made others laugh with his hilarious sense of humor, and had a way of brightening up the room and bringing a smile to everyone's face. He was the best friend I ever had."
A kind and compassionate soul, Dan loved animals and had a special connection with Kody and Jax, pets of his childhood. His most memorable traits were his goofy laugh, beautiful smile, and his incredible sense of humor. He will be deeply missed.
Dan is survived by his father, Donald Waite Jr., his sisters; Leigh Ann Waite (Curtis Appler) and Kelly Liebl (Michael), a nephew, Carter Liebl, and a niece on the way. He is also survived by his grandparents, Mary and George Patrick, many aunts, uncles, cousins, and friends. He is preceded in death by his beloved mother, Christine A. Waite, and grandparents; John C. and Ruth Ann Kirchner and Donald S. Waite Sr.
Leave a condolence on this Memorial Page
Condolences to the Family
August 05, 2020
I've known Dan in the virtual world for many years. Always helped me in times where I was in my lowest. Me and dan talked about anything and everything and play on the game everyday. It's crazy because I was talking to him the day before he passed away. It breaks my heart to hear that he passed. He and I were very close. He was a great dude. Always knew how to put a smile on someone's face and he also cared about many people. You will be missed dude! Fly high Rest In Peace my young bull🙏🏼
August 01, 2020
damn bro i can't believe your gone off of the greatest cod players i've ever met may you rest in peace my brother❤️🕊
Ted
July 27, 2020
Dear Waite Family. As I write to tell you how very sorry i am to hear of Daniel's passing my heart weighs heavy and aches for you all. I cannot Express the hurt pain and sorrow I have been feeling since my dearest Ryanna told me . I liked Daniel. Very much so. He was kind polite helpful funny and was a joy to have at my house. I kinda thought I would end up seeing him there again. I miss him much but take comfort in knowing I will see him again someday. You all in my thoughts and prayers. Praying for peace and healing for all of us .
All my love. Tina
July 25, 2020
Dan, nothing hurts me more then knowing im writing a goodbye to you. You were such a light in this world and I wish we could of kept you safe. I will miss staying up until 9 am talking about life with you and just knowing that I had you to talk too. I miss you more everyday and I wish I could hear you laugh one more time. I'll miss and love you forever. Rest easy now.
Emily
July 25, 2020
Dan, I will miss you so much. You always had a smile on your face and you made me laugh like no other. I'll miss sitting in class with you and walking in the halls. I'll miss all of our laughs and our late night conversations. I hope you're happy & free and at peace. I will miss you so much and I love you forever.
Laura
July 25, 2020
Dan, we are so sorry your life was so short but happy you enjoyed the life you had. We won't ever forget you giving the waves a good ride at the Cove in Cape May. Also the great vacation in Marco Island 🌴 Florida. The male cardinals birds are said to be angels from heaven so please come visit us in our garden. Love Mimom and George.
July 25, 2020
Dan was always a sweetheart, everytime we were together no matter how sad someone was or upset he'd always light the room up. He was very sassy and loving, as soon as I met him he made me feel comfortable, friends immediately!! I spent a New Years Eve with him and I'm very glad I got to be brought into a new year with one of my closest friends. I always made sure he had everything he needed I was always a listener for him, he was and always will be someone who truly made an impact on my life. I truly am sorry, he will always be loved so so much. such a great friend❤️ May you Rest in Eternal Peace❤️Love, Kilee
July 25, 2020
Dan was one of my best friends we have known each other for over a year now and I never would have thought that he would pass away so soon. He is a strong funny character whenever I felt down he would always cheer me up,make jokes, and just be himself. He's a stand up guy he knows how to lighten up the mood in party chats on PlayStation. Me and had made place to chill over this weekend and to hear his passing just breaks my heart. Rest In Peace Dan I'll see you again soon brother.🥀🙏🏾🖤
Jorge Aceituno
July 24, 2020
Dan was one of the closest people to me. He always made me smile even when I didn't want to. He showed a type of care for people that most people don't have or understand. Dan is loved and he was a lover. Missing him everyday.
Mary