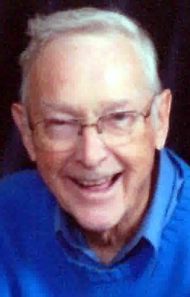 Daniel E. "Dan" Randall, 92
December 13, 2020
Daniel E. "Dan" Randall, age 92, passed away December 13, 2020 at Lancaster General Hospital. He was married to Joan Bailey Randall for 67 years. He had three daughters; Stacie, married to Mark Self, Nancy, married to Mark Tipton, and Leslie, married to Dan Jenuleson, a grandson, Max Seibert, numerous nieces and nephews, and a very good friend and caregiver, Steve Smith.
He graduated from Malvern High School, Malvern, Long Island and Hofstra University with an engineering degree.
He worked for Warner Lambert, now Pfizer, in Lititz, PA for 35 years as an engineer.
He was in the Army occupation in Japan for 2 years during World War II.
Dan was active in Highland Presbyterian Church. He served on The Highlanders and with the social committee he greeted new members to the church.
Dan was an excellent painter and woodcarver and an avid golfer and tennis player. He was a historian the research and studied the Civil War and Civil War Round Tables Discussions. He loved spending time with his family, especially his three girls.
He was a member of the Manheim Township Republican Committee and served as the Judge of Elections for the 5th District for ten years.
The family would like to thank the doctors, nurses, and staff at LGH and the Hospice team for their incredible kindness and support during this difficult time. Additionally, the family would like to thank Dad's physician, Dr. Anthony Mastropietro for all his compassionate care.
There will be a Celebration of Life at Highland Presbyterian Church at a later date. In lieu of flowers, family asks that you donate in support of the Manheim Township EMS at 1820 Municipal Dr., Lancaster, PA 17601.
Leave a condolence on this Memorial Page
Condolences to the Family
December 27, 2020
Dear Joan and Family, Peace be with you and your family and friends. My parents cherished both you Dan's friendship over the years. Please accept my condolences.
Laura Hannigan
December 23, 2020
To the Randall family – my thoughts are with you at this difficult time. Many memories of growing up in Landis Farms come to mind. Dan was a good man – very outgoing, upbeat and positive. As previously noted, you couldn't have uses a better picture of him. He was always interested in knowing about my family, where they were, what they were doing. Plain and simple, he took a liking to people. And he loved his girls. May memories of happy times with Dan carry on with you, give you comfort and bring you smiles.
Eric A May
December 19, 2020
I was a neighbor of Dan's for 10 years at KHC. I could set my watch to his daily walks for most of those years and have missed our exchange of pleasantries and witty one-liners. The first time I met him was an act of kindness. I was struggling to fix my damaged mailbox and he walked over and jumped right in. He was a great man. We will continue to pray for Joanie and the family. With Love,
Pete Rothacker
December 17, 2020
My deepest condolences to you and your family, Leslie. It's so difficult to say goodbye, but your dad is at peace now and you, your mom,and sisters need to be at peace. too. Love and blessings to you, Leslie.
Pat Hunt
December 17, 2020
I have had the great priviledge of knowing the Randall family for many years and know how much they love their Dad. All wonderful memories. Prayers and blessings to all at this time.
William H. Hager
December 17, 2020
Stacie, Leslie, Nancy , sorry to hear of the loss of you father. Thinking about and praying for all of you . John and Karen Piascinski
December 17, 2020
We recall Dan & Joan & family with appreciation. Dan was a fine person with a fine family. Our prayers are lifted for all the family.
Jack & Jean Hoffman, Hanover PA
December 16, 2020
Condolences to Joan and her family on Dan's passing. I remember playing tennis with Dan at SkyLine Pool many years ago. We won more than we lost but had fun doing it either way. Dan was a good man and I conxidered him a friend – may he RIP.
Ben Clinger
December 16, 2020
Dad – words can not express the loss and sorrow that I feel. You were an amazing Father. You supported and loved Joanie, Nancy, Stacie, and I, as well as our friends and neighbors through good times and bad. Fond memories of Dan and Hedgerow Lane will never be forgotten – you have touched the lives of many…
"Let us cross over the river, and rest under the shade of the trees." Your relative Stonewall Jackson
December 16, 2020
Dan was one of the most pleasant men I have ever known. Always a delight to see him around town and always with Joan.
Gene Groeschel
December 16, 2020
DAN-I Had three precious daughters as you had and got to see them take their first breath and was there for your last,best moments in my life.I MISS YOU SO MUCH. We had good times!GODSPEED DANIEL
STEVEN C SMITH
December 16, 2020
My mother and I were very saddened to read of Dan's passing and would like to extend our deepest condolences to your entire family. He will be deeply missed by all who knew and loved him. His warm smile is captured beautifully in his picture. May his memory be a blessing.
With much sympathy,
Cynthia and Florence Bellack
December 16, 2020
Sorry for your loss girls. Your Dad was the epitome of a gentleman for the 30 years we worked together. I could never beat him in golf, but I had better luck in tennis! Best regards.
Larry Enders
December 16, 2020
Stacie, Nancy, Leslie I am so sorry for the loss of your father. I remember him so fondly from childhood. He lived an amazing life!
Barbara Boswell Brunner
December 16, 2020
We lost another great man! I worked with your Dad at the PA Dutch Convention and Visitor Bureau. I was in the office but got to work with the staff out in the center and or able to eat lunch with them. He talked about the trips they took and all the hostels they stayed at. A lot of fun and yes very hospitable! Another one of the staff now chattering in heaven!
Marian R Gochnauer
December 16, 2020
Dan we wish you a pleasant journey. I will never forget how kind you and wife where bringing us dinner afger my bypass surgery.
Dr john and karen palumbo
December 16, 2020
Dear Leslie, Nancy and the entire Randall family – please accept my heartfelt condolences on the passing of Mr. Randall. May his memory be for a blessing.
Steve Sherman