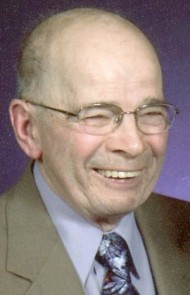 D. Clair Alwine, 83
September 12, 2014
D. Clair Alwine, 83, of Lititz, PA, passed away on Friday, September 12, 2014 at the Lancaster General Hospital. Born in Johnstown, PA, he was the son of the late David C. and Edith (Thomas) Alwine. Clair was the husband of Marian E. (Marsh) Alwine with whom he celebrated 62 years of marriage.
Clair retired in 1993 after 38 years of service with Sears in their management department. Since retirement, he drove the bakery truck for Bird-n-Hand Bakery for 18 years. He was a very active member at Community United Methodist Church. Clair enjoyed gardening, walking and spending time with his dog. He loved people and was a family man who will be greatly missed.
Surviving in addition to his wife, Marian, are two daughters: Rhonda Rombach of Ephrata, PA and Connie Reilly, wife of John, of Audubon, PA; a grandson, Dan Reilly; six siblings: Merle Alwine of Kenosha, WI, Dorcas Zook of Asheville, NC, Dean Alwine of Parkville, MD, Harold Alwine of Holsopple, PA, Sanford Alwine of Carlisle, PA and Daryl Alwine of Johnstown, PA; and many nieces and nephews.
Clair was preceded in death by a brother, Carl Alwine.
A Celebration of Life will be held at 11:00 AM on Wednesday, September 17, 2014 at Community United Methodist Church, 130 Tennyson Drive, Lancaster, PA 17602. Family and friends will be received from 10-11:00 AM at the church. In lieu of flowers, contributions may be made in Clair's name to the American Cancer Society, 314 Good Drive, Lancaster, PA 17602.
Leave a condolence on this Memorial Page
Condolences to the Family
September 19, 2014
Dear Mrs. Alwine, Rhonda and Connie,
I pray that great memories guide you through this tough time. I know I will always remember Mr. Alwine as a cheerful and welcoming man. My thoughts and prayers are with you.
Cheri Demoise Foschi
September 18, 2014
Wow. We are both so extraordinarily sorry to hear this news, Rhonda. We're with you.
Lovingly ~
Julie and Gretchen
September 15, 2014
Marion, Connie and Rhonda – My heart goes out to all of you. Every so often in life, you have the privilege to know and love a truly genuine, compassionate and remarkable man – that is my Uncle Clair. He was amazing in every way – kind, gentle, loving – full of life and laughter. He will never be forgotten – his memory will live in my heart forever.
Robin Volker
September 15, 2014
To all of Clair's family my prayers for you to help you at this time. I worked at Sears in service dept. with Clair, he was a great guy.

Bob Reed
September 14, 2014
Dear Marian and Family, We were so sorry to read of Clair' s passing. How fortunate we were to have spent that beautiful Sunday afternoon with the two of you just a few short weeks ago. May God Bless and be with you and your famly at this time. Butch and Sandy LindkeMA
September 14, 2014
Dear Marian and Family,
Clair will be missed greatly by his family at Bird-In-Hand. There is much saddness with his passing and our prayers are with you and your family. Clair loved life and always took a positive outlook with him wherever he went. May God comfort you with His peace and care during this time.
Love,
Jim Chudnovsky
September 13, 2014
Mrs. Alwine, Rhonda and Connie,
My heart goes out to you at this difficult time. May God use your happy memories to give you comfort. Much love to you all.
Yvonne Demoise Iddings
September 12, 2014
Such a dear man. His loving, caring, and kind heart and friendly smile will be missed by so many. Prayers and thoughts to Marian, Rhonda, Connie and all the family. Grateful to have net and didn't time with such a lover of life. Love, Kelly, Jason, Quinlan and Savannah Jones
Visitation

Wednesday, September 17, 2014
10:00 AM - 11:00 AM
Community United Methodist Church
130 Tennyson Drive
Lancaster, PA 17602

Map and Directions

Services

Wednesday, September 17, 2014
11:00 AM
Community United Methodist Church
130 Tennyson Drive
Lancaster, PA 17602

Map and Directions