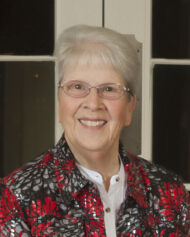 D. Anne Weaver, 88
November 20, 1933 - January 11, 2022
D. Anne Weaver, 88, went home to be with the Lord on January 11, 2022, at Landis Homes, Lititz, where she resided with her husband of 65 years, Glenn H. Weaver.
Anne was born and raised in New Danville, PA, and was the daughter of the late J. Lloyd and Elizabeth (Greider) Harnish. She attended Harmony Hall, a one-room schoolhouse, graduated from Penn Manor H.S., and after completing one year at Elizabethtown College, worked as a medical secretary for two years. She heard her calling to become a nurse and entered the nursing program at Goshen College, earning her BSN in 1958.
After graduating from college, Glenn and Anne made their home of 50 years in Blue Ball, PA.
Anne's nursing career started at Ephrata Community Hospital, then moved to New Holland Family Health Center where she worked until she retired.
Music was an important part of her life, starting in the late '60's she sang with the Lancaster/Franconia Choir. Many also remember the beautiful harmonies she created performing with a trio of friends.
Anne and Glenn were charter members of Akron Mennonite Church where they served on many committees and gave much of themselves to the work of the church. After her own children were grown, she dedicated 20 years of leadership and love to the youth of the church. Through her involvement with the Youth Group, she made lasting relationships with many young people that continued the rest of her life.
She was a strong advocate for higher education and an enthusiastic supporter of Goshen College. She served for several years with the Goshen College Alumni Association.
Her passion for serving and helping others was embodied in her support of and work with Bridge of Hope National and Camp Deerpark (NY). Recently she was a volunteer at Reuzit in Ephrata.
An excellent cook, Anne and Glenn loved to entertain guests in their Blue Ball home with her favorite recipes, games and laughter. A meal at Anne and Glenn's was always a special event.
She enjoyed traveling and especially enjoyed the time spent at the shore with her children and grandchildren.
Surviving in addition to her husband are children, David S. Weaver, Goshen, IN, Mark A. Weaver (Barbara), Lititz, Philip G. Weaver (Bonnie), Lancaster, Elizabeth A. Weaver, Lancaster, and six grandchildren.
Anne was preceded in death by her sister, Mary Elizabeth (Dolly) Spence, and brothers, Carl and J. Lloyd Harnish Jr.
The family would like to thank Hospice Services and the staff at Landis Homes and Landis At Home for their love and care of Anne. A memorial service will be held on a future date.
Memorial donations may be made to Bridge of Hope National, P.O. Box 304, Exton, PA 19341-0304 or the Memory Garden and Nature Preserve at Akron Mennonite Church, 1311 Diamond St., Akron, PA 17501.
Leave a condolence on this Memorial Page
Condolences to the Family
January 19, 2022
Glenn,
I was so sorry to see of Anne's passing. She will be missed. Our prayers are with you.
January 18, 2022
I was saddened to read of Anne's passing. I remember her fondly from our days with the Lancaster/Franconia Chorus, even though that was many years ago.
January 18, 2022
Glenn and Family
We were sorry to learn of Anne's passing. May God's love give you comfort during this difficult time.
Cheryl and Tom Weaver
January 18, 2022
It is with a heavy heart to say good bye to a brother and now cousin Anne within two weeks but as we know life goes on and one day we will meet again. Anne's warm smile, fun times growing up and together at our reunions will forever remain in my heart…especially her DELICIOUS desserts! Our deepest sympathy and love to you Glenn and your family for the loss of Anne!
Mary Jane (Herr) Graybill, Dwight, Andy, Malinda and families
January 17, 2022
So sorry to hear of Anne's passing. Craig, Dad and I offer our sincere sympathy. I have many fond memories of Anne and your family! You were great neighbors to grow up with. I know Anne was a catalyst for me becoming a nurse, now NP and attending Goshen. Please let me know when the memorial service will be as I would like to try and attend . May God bless you and your family during this time. Love , Lisa (Adams) Weaver
January 17, 2022
Anne was an amazing person. We loved being neighbors for 20 years- that hospitality & quick laugh! All the Goshen connections… we have her to thank for getting our kids to go there! Prayers for you as you remember her well lived life.
January 17, 2022
Anne was a fabulous lady, who embodied the Christian life. Ron and I loved her dearly. I send my condolences to Glenn and the whole family. Heaven has gained an angel. I have so many fond memories of being at your place and you being at our place!! Love and hugs to all of you.
January 14, 2022
Weaver family — your mother meant the world to the Peifer family — she was a Sunday school teacher to me in elementary school at AMC — and of course her and Glenn were part of the Goshen Group with my parents. Anne was as far as I can tell my Mom's 'best friend' and was so dear to her over many many years!
Blessings as you mourn your loss! Heaven is richer for your loss!
January 13, 2022
Anne will be long remembered as one who cared deeply for her family and friends and had a deep and abiding joy for working with her church communiy, espeically the youth of the congregation. She will be missed and our thoughts and prayers are with Glenn, her chldren and grandchildren