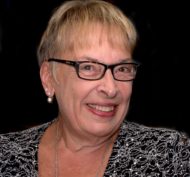 Cynthia (Rineer) "Cindy" Gehr, 74
November 26, 2020
Cynthia R. Gehr, 74, of Willow Valley and formerly of Drumore Township, passed away on Thursday, November 26, 2020, surrounded by her loving children. She was the daughter of Harold L. Rineer and Gladys (Herr) Rineer Owen. She was the loving wife of Thomas H. Gehr, with whom she celebrated 52 years of marriage in August.
Cindy and Tom's fairytale began when they met at Penn Manor High School. After graduation, they attended Millersville University together, where Cindy would go on to earn her Master's Degree in Education. She began her teaching career at Lampeter Strasburg School District in 1968. She would take a small hiatus from teaching to raise her young children during which time she worked at Maria Liss Bridal Shop in Lancaster before returning to the classroom. She would spend the remainder of her 30 teaching years at Solanco School District teaching 2nd grade and becoming school librarian at Providence Elementary and Bart-Colerain Elementary Schools.
In 1971 Cindy and Tom purchased an 18th century small farm in Drumore Township. Over the next 47 years they would restore the farmhouse, have two children of their own and see their family expand with the addition of grandchildren.
As a child and into her adult life she was part of Rawlinsville Camp Meeting. Faith played an important role in Cindy's life. She was a member of Calvary Church in Lancaster where she assisted in the nursery and participated in the Adult Bible Fellowship Class and Women's Study & Share Group. After moving to Willow Valley, she was also involved in the Ladies Bible Study Group at the Vistas of Willow Valley.
In retirement Cindy loved her part time work at Pandora Jewelry and found joy in taking art classes at Willow Valley and painting. She also enjoyed playing the piano and traveling. For the past 15 years, the entire family traveled to the Outer Banks to spend a week together in the summer. Cindy and Tom also did quite a bit of international traveling. They enjoyed trips to Israel, driving through England and Scotland, seven trips to Costa Rica and countless cruises. Cindy especially enjoyed the beach locations — the sunnier the better!
Her love will live on in her husband Tom, children: Jeremy T. Gehr, husband of Nissy E. and Rachel G., wife of James T. Bitner, grandchildren: Alyssa N. Gehr, Emma G. Bitner and Malachi E. Bitner, step grandsons: Nick and Jarrett Girvin, and her brothers: Dennis H. Rineer, husband of Debbie and Jeffrey A. Rineer, husband of Desi, all of Lancaster.
A celebration of life gathering will be held at a later date. Interment will take place at Creswell Cemetery in Conestoga for immediate family only. In lieu of flowers, memorial contributions may be made to the Leukemia and Lymphoma Society, or the Ann B. Barshinger Cancer Institute, Lancaster General Health Foundation, c/o Ann B. Barshinger Cancer Institute, 609 N. Cherry St. P.O. Box 3555, Lancaster, PA 17604.
Watch the tribute video
Leave a condolence on this Memorial Page
Condolences to the Family
December 19, 2020
Holly and I were saddened to hear the passing of Cindy. We have precious memories of choir together and sharing church life at Faith Calvary. We celebrate her life. We rejoice she is home with the Lord awaiting a great reunion day. Our prayers go out to you, asking the Lord to bring comfort to your grief and loss.
Larry & Holly Krebs
December 09, 2020
Tom and family – Prayers to you and your family. I have many fond memories of time with both of you – ice skating, toboganing, and so much more. May God's peace be with you.

Donna Duffey
December 05, 2020
Tom and Family. Thinking of you and wishing you comfort and peace.
Gerry and Doris Dunkle
December 04, 2020
"Mrs. Gehr" (haha) sold me my wedding dress at Maria Liss! It was so nice to see a familiar face!
Lisa Huber
December 03, 2020
Dear Tom and Family,

I am so sorry for your loss, I have wonderful memories serving with her (and you) at Faith Calvary. May you all be filled by the Spirit as you grieve.
Allen Apgar
December 03, 2020
Dear Tom,
I am so sorry to hear of Cindi's passing. She was always such a bright light when I would see her. I know the two of you were so very close and I am keeping you in prayer in this difficult time.
God's strength, comfort and peace to you and the family,
Sheila Druck

December 01, 2020
Dear Tom and family
We were so sorry to see the passing of "Mrs Gehr". We cherish the memories as school teacher and librarian for our kids at Providence Elem. and through Probst Family Auctions. Our deepest sympathies on your loss!
Amy(Probst)Feilmeier

November 30, 2020
Mr. Gehr, So sorry to hear of Mrs. Gehr's passing – she will be dearly missed! Bonnie Flick-Aukamp

November 30, 2020
Many prayers to your family. Cindy was my beloved 2nd grade teacher and I loved having to had the chance to learn from her.
Hillary Bauer
November 30, 2020
Dear Tom,
You have my sincerest condolences. It seems like it was only yesterday that we were all at LS together. I know you will miss her terribly. May your faith and your lovely family guide you during this difficult time.
With Love, Holly and Kim Kleimo
November 30, 2020
Dear Tom and Family – Please accept my condolences on the passing of Cindy. Know that you and your family are in my thoughts at this difficult time.
With Sympathy,
Meg Lutz
November 30, 2020
Tom and Family, I am truly sorry to hear of Cindy's passing. She was such a special lady and, beautiful inside and out. May God continue to give you all strength during this difficult time. We send our love and are upholding you in prayer❣️
Kathi Erb
November 30, 2020
Tom,
My heart breaks for you and your family's lost at this time. Cindy was such a genuine, warm, funny, encouraging woman I've ever had the pleasure of getting to know while our time at Pandora.
She will be incredibly missed.
Liz Roman
November 29, 2020
Aunt Cindy was one in a million. She brought joy to so many, including our family. She was loving, kind, talented in so many ways, and just plain fun. I am assured that the angels are singing – well done good and faithful servant, well done. We will miss her. The Greg Habecker family
November 29, 2020
Tom and Denny – I was so sorry to read today of the loss of your wife and sister. I hope your memories of her sustain you through the days ahead.
With deepest sympathy and prayers for God's loving comfort – Eileen Harnish Foxwell
November 29, 2020
I am so sorry to hear of Cindy's passing. She was such fun to work with. Great things were always happening in her classroom and library. Kathie Rickart
November 29, 2020
I am Worth Owen's oldest daughter.
I am so sorry for you loss of Cindy. May the beautiful memories you made help you during this tragic time. You are in my thoughts and prayers.
Brenda Owen Goddard
November 29, 2020
TOM, I AM SO SORRY FOR YOUR LOSS. YOU AND CINDY HAD A MARRIAGE TO BE ENVIED. IT WAS TRULY A
MARRIAGE IN ACCORDINANCE TO GOD'S MODEL. REST ASSURED YOU WILL BE TOGETHER ETERNALLY.
MIKE FUTER
November 29, 2020
Cynthia was a first friend. My Dad and mom farmed the stieman farm you lived at the bottom of the hill. If I remember your dad then became an employee of the stiemans. She has had a full Life, nice to know many blessings to you and your family. Warren Ted Myers