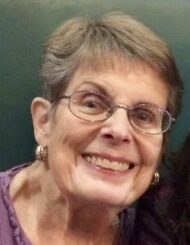 Cynthia Minnich, 86
September 19, 2022
Cynthia Minnich, 86, passed away peacefully on September 19, 2022, at Lancaster General Hospital in Lancaster, PA. She was born on October 24, 1935, in Philadelphia to the late Donald Hoaster and Clara Hughlett Hoaster. She married Albert Minnich on November 21, 1957, in Lebanon, PA.
Cynthia graduated from Hood College in 1955 with a Bachelor of Science in Home Economics. She went on to teach in the Lancaster School District from 1961 to 1993. Teaching was her true purpose in life. She and her students had a mutual adoration for each other. She was frequently one of the last to leave the school each night, typically staying late with students to help them with their sewing projects. Her passions outside work included gardening in the beautiful yard behind her house on Orange Street and working on the Alter Guild at St. John's Episcopal Church, where she served as the Rector's Warden. She also volunteered on the Lancaster Zoning Commission and at the Lancaster Police Department. Cynthia truly loved Lancaster and was often seen sporting a Lancaster t-shirt, pin or bumper sticker. Cynthia was a wonderful person who truly loved life, her friends, and her family. She enjoyed the simple things in life like a good book, a beautiful flower, or a dirty martini.
She is survived by her sister Donna (Allen); her children, Deborah Hernandez (Randolph) and David Minnich (Beth); five grandchildren and two great grandchildren.
A celebration of Cynthia's life and ministry will take place on October 24th at St. John's Episcopal Church, 321 West Chestnut St, Lancaster, PA at 11:00 am. The Reverend Amanda Knouse officiating. In lieu of flowers, donations can be made to St. John's Episcopal Church. Please wear blue in honor of Cynthia. Interment will take place in the St John's courtyard columbarium.
To leave an online condolence please visit SnyderFuneralHome.com
Leave a condolence on this Memorial Page
Condolences to the Family
September 25, 2022
Deb, I'm so sorry to hear about your mom. I have wonderful memories of her from when we were growing up and playing at your house. I'll keep you and your family in my prayers 💕
love,
Denise Bunting
September 23, 2022
I have many fond memories of volunteering with Cynthia who helped lead the Friends of Reservoir Park when it was founded in 1995. My sincere sympathy to the Minnich family.
Services

Monday, October 24, 2022
11:00 AM
St. John's Episcopal Church
West Chestnut St.
Lancaster, Pennsylvania 17603

Map and Directions