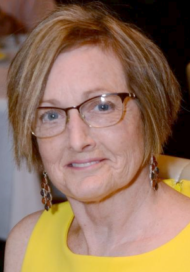 Cynthia "Cindy" Thatcher, 65
August 15, 2018
Cindy (Willems) Thatcher, 65, of Lancaster, PA, passed away on August 15, 2018 at Lancaster General Hospital surrounded by her loving family after an unexpected and brief illness. Born in Syracuse, NY, she was the daughter of the late Burton Willems and Clarence & Beverly (Jarvis) Williams.
She was a graduate of Lancaster Catholic High School. Cindy worked in the office at Wickersham Construction & Engineering, Inc. for over 30 years as a dedicated and loyal employee. Cindy enjoyed gardening, camping, going to the beach & taking cruises with the family. She enjoyed listening to country music and loved animals, especially her beloved dogs, Scooter & Riley whom she rescued. She was a Penn State fan. Cindy was committed to caring for her aging parents and selflessly gave of herself to be with them, love them and advocate for them. She also enjoyed movie night every Saturday night with her son, DJ. Her greatest joy in life was her son DJ, who may have caused a few grey hairs along the way. Cindy was a very self-sufficient woman who worked hard to overcome many challenges that life threw her way and came out stronger on the other side. She was a very practical, no nonsense kind of woman who rarely splurged on things for herself. She loved spending time with her large family both near and far and was very grateful for all the love, support, and prayers especially during her illness. She loved her family and believed that God was her light and hope and that He would heal her.
Cindy is part of a "big beautiful" family who love her dearly and will miss her terribly.
Cindy is survived by her son, DJ Thatcher; 8 siblings: Mike Willems, Gary Williams, husband of Bonnie, Kathi Colbert, wife of Steve, Terri Teaman, wife of Denny, Trudy Williams, Karl Willems, husband of Karen, Beth Berndt, wife of Marty, and Tina Hooven, wife of Mike; 14 nieces & nephews. She is part of the large Jarvis family and is most likely already playing Uno with Mom, Willy, Uncle Jack & Aunt Char and partying with other dearly departed family at Moyer's Corners North. We assume Scooter came running to greet her at the pearly white gates.
A viewing will be held from 2-3 PM with a Funeral Service to begin at 3 PM on Monday, August 20, 2018 at the Charles F. Snyder, Jr. Funeral Home & Crematory, 3110 Lititz Pike, Lititz, PA 17543. Cindy will be laid to rest at Millersville Mennonite Cemetery. In lieu of flowers, contributions may be made in Cindy's memory to the American Cancer Society /Pancreatic Cancer @ https://donate3.cancer.org/. Cindy would want any contributions to be purposeful.
Watch the tribute video
Leave a condolence on this Memorial Page
Condolences to the Family
August 24, 2018
So saddened to hear of my LCHS classmate's death. Susan Simpson Brown

August 19, 2018
Cindy will be missed by many.
The Watycha Family 915 President Ave.
August 18, 2018
Cindy be ALwaYs in our Memory Love IRENE BOB
August 18, 2018
With Deepest Sympathy for your loss. Ken, Evelyn and Kristine Miller
Visitation

Monday, August 20, 2018
2:00 PM - 3:00 PM
Charles F. Snyder Funeral Home & Crematory
3110 Lititz Pike
Lititz, PA 17543

Map and Directions

Services

Monday, August 20, 2018
3:00 PM
Charles F. Snyder Funeral Home & Crematory
3110 Lititz Pike
Lititz, PA 17543

Map and Directions