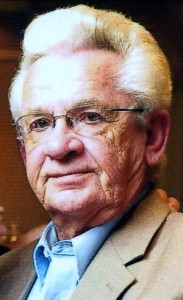 Curvin E. Weaver, 77
June 13, 2015
Curvin E. Weaver, 77, of Lititz, died Saturday, June 13, 2015, at ManorCare Health Service in Lancaster. He was born in Spry, York County to the late Curvin L. and Dorothy Irene (Myers) Weaver. Curvin was married to his loving wife Jeanie V. (Bankowski) Weaver for 51 years.
A graduate of William Penn High School, he served in the US Air Force as a weather observer. Curvin then completed his bachelor's degree at York Junior College and Susquehanna University. He worked as a salesman for Industrial Piping Systems (IPS). Curvin also sold for New Holland Supply, Raub Supply, RCA and Raybestos, retiring from IPS. A people person, Curvin stayed in contact with several of his fellow employees and business clients.
Curvin had a great sense of humor and he enjoyed people. He was an avid hunter and fisherman. Curvin loved time with his family and friends, going to Ocean City, MD, Bear Paw Camp in Frenchville, Clearfield County, and visiting on his million dollar deck at his Lititz home. His memberships included Cooper's Hill Shooting Club, Hammer Creek Hunting Club, Mosquito Creek Sportsmen's Association, Garden Spot American Legion Post #56 and Lititz Springs VFW Post #1463. He was of the Lutheran Faith.
Surviving in addition to his wife Jeanie, are, three children: Monica, wife of Brian Rhodes, Eric Weaver, husband of Christine (Balmer) and Craig E. Weaver, husband of Michelle (Eshelman), all of Lititz; seven grandchildren: Noah, Kiersten, Cody, Kendall, Reese, Samantha, and Lauren; and two great-granddaughters: Karlie and Lillian.
He was an amazing man with a huge heart and genuine personality. No matter what life threw at him, he would push through and show what true strength really is.
"Bahoba Graben"
Private services will be held at the convenience of Curvin's family.
Leave a condolence on this Memorial Page
Condolences to the Family
June 28, 2015
God bless Curvin and prayers to the family. Curvin was not only my boss at Raub Supply but my role model for future jobs in supervision. In all my jobs there has never been an equal to him. Ted Long


June 26, 2015
So sorry for your loss. May he be at peace. My condolences. From: Carol Aument Nessinger
June 21, 2015
I am so sorry for your loss. All of the Lake family will miss his steadfast friendship through all that life had to offer over the last 39 years since we first met. Thinking of all of you. Alexis Lake
June 18, 2015
I offer my condolences to the Weaver family. Curvin was an enjoyable co-worker, and a wonderful person, with a positive attitude and a great sense of humor. He will be missed.
Steve Swavely
June 17, 2015
Curvin was my supervisor at Raub Supply. He was such a great person to work for and a great all around guy. Condolences to his family on his passing. Donna Barto
June 17, 2015
We are so sorry to hear the loss of your husband, father, grandfather, and friend. May the memories of his humor and friendliness comfort you.
With sincere sympathy,
Sue and Jim Weaver
June 16, 2015
I remember Curvin from Raub Supply. He was an extremely kind and thoughtful person. Loved a good joke and always had a hug available!! Rest in peace and my condolences to his family and many friends.
Pat Ruhl

June 15, 2015
our deepest sympathies to Curvin's family.. he was a great guy and an even better friend. we met many years ago when I was calling on New Holland supply and we remained friends for all these many years and stayed in touch. I will miss our regular phone conversations….. Bill Battista, Madison Wi (Fearing Mfg)

June 15, 2015
Our deepest sympathies go out to the Weaver family. We will greatly miss our "skeeter creek" buddy.
Moonie (Carl) and Vinny


June 15, 2015
I did not know Curvin well but he made such an impact on me – wanted to say what a special man he was and always so pleasant…..he will be missed. Sending thoughts and prayers to his family. Joy Braas
June 15, 2015
Dear Jeanie and Family,not sure if you remember us but we are Joanie and Glens friends. We spent so many fun times with you and Curvin that when I saw his picture in the paper todayI recognized him right away. So sorry for your loss and may Gods blessing be with you all. Sincerely Rose and Pasquale Campanella
June 15, 2015
So sorry for your loss. Thoughts and prayers for Monica, Brian and the Weaver family at this difficult time. Your friends at the Lititz VFW. Brian and Deb Eshleman
June 15, 2015
Love you soooo much grandad! ❤️ -kendall
June 15, 2015
We are saddened by the loss of our long time friend since high school. In spite of often seperation of distance, time and daily living "Gene" has always been a part of our consciousness since our youth in York. We enjoyed his humor and admired his love of family. We share a sense of loss alog with his family and we will always have a place in our hearts for our "Best Man" from a long time ago.
Ralph and Renna Sherriff
June 15, 2015
We were so sorry to learn of Curvin's passing. We have many happy memories of being your neighbors. Jean, I'll be thinking of you. Our condolences to you all. Pat and Chuck Boxleitner
June 15, 2015
I had the privelage of working with Curvin at Raub Supply Co. Also enjoyed seeing him at the bi-annual breakfast of Raub employees at Oregon Dairy. He will truly be missed by all that knew him. He was a gentleman and a pleasure to be around.
Bless his family during this difficult time.
Denny Danner