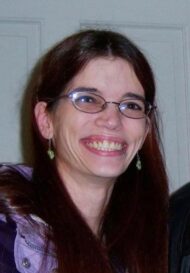 Crystal A. Barthold, 40
December 22, 2021
Crystal A. Barthold, 40, of Ephrata, passed away unexpectedly following an accident, on Wednesday, December 22, 2021. Born in Dearborn, MI, she was the daughter of the late Burnley and Gloria (Bracken) Barthold. Crystal was the wife of the late Michael Canfield.
Crystal is survived by her children: Jayda Myers, Cayden Myers, and Bella Canfield; her siblings: Shirlyn Andres, Bernice Hall, Melissa Canfield, and Burnley Barthold; Kayden N. Myers, her good friend, roommate and father of two of their children.
Crystal worked for the Novelty Manufacturing Co., Lancaster. She enjoyed crocheting, fishing, listening to country music, and attending the Fall Fest. Her favorite ice cream shop was Rolled Cold Creamery, Lancaster. The most important part of her life was her family who she loved with all her heart.
Funeral Services for Crystal will be private.
Leave a condolence on this Memorial Page
Condolences to the Family
January 01, 2022
Thinking of Crystal's family with a heavy heart. I am so so sorry for your loss. Crystal was always so kind, helpful, and giving. A dedicated coworker and we surely miss her.
December 31, 2021
Our sincerest condolences to Crystal's loved ones. She was kind , fun and the embodiment of generosity. A cupcake, acceptance it did not matter ,she shared selflessly. We pray the Lord eases the burden on your hearts .
December 30, 2021
I was very saddened to hear of her passing. Unbelievably heartbreaking. I'm so very sorry
Jamie Barnes
December 29, 2021
I am so sad my cousin is gone, I love her very much, never thought this would be the last time anyone ever got to see you again, I'm so so sorry what happened to her I'm so sorry for the family for I'm a part of her and she is part of me she will never be forgotten in my heart I love you and I hope you all remember to be kind to each other for we never know when we'll see each other again I love you all please be strong for crystal and her children
Cousin Bob
December 28, 2021
Dear Shirlyn and your family, I am so very sorry to here about your sister she was much to young to be leaving this world. If there is any thing i can do for you let me know….
Darrell Brown
December 28, 2021
no words can express how sorry I am for your loss,crystal was a great friend and person,I'm so happy I had her in my life,she was the best,I'm gonna miss her so much,and all of us from the white family send our love and sympathy to you all during this hard time,I love you crystal you will always be on my mind and in my heart,see you again my dear friend.your truly goin to be missed .
Josie white
December 28, 2021
Crystal you will never be forgotten we all will miss you you are in God's hands rest in peace I loved you like a daughter. To your family and your friends I'm so so sorry for your loss of a beautiful person
December 28, 2021
There are no words that anyone could ever say that could ease the pain that you all are feeling now. From the time Crystal was born she was loving, happy, funny, and the most adorable little girl you ever wanted to meet.
I am so very sorry for your loss and I'm praying for you all. I love you deeply.
Aunt Sandy and uncle Ron