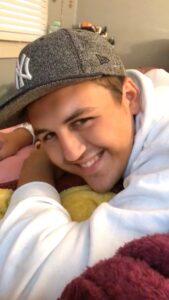 Cody Ryan Tietjens, 19
November 10, 2021
It is with great sadness that we announce the passing of Cody Ryan Tietjens, 19 of Lancaster, on November 10, 2021. Born in Lancaster, he was the son of Tabitha Rodriguez and Julio Rodriguez, his biological father Jeffrey Keller, Jr. and his partner Stacy Troop.
Cody graduated from Manheim Township School District. He always had a passion for cars and was a member of various car clubs. Cody had a heart of gold, was extremely intelligent, and was passionate about anything he set his mind to. He looked at the world with a creative eye, always knew how to make people laugh, and for being so young – Cody touched so many lives.
In addition to his parents, Cody is survived by his girlfriend Savannah Cross and daughter Callie Rose Tietjens, his five siblings: Abagail, Jordan, Jasmine, Chasity, and Alex; his grandparents: Brian and Lisa Tietjens and Donna and Jeffrey Keller, Sr.; as well as a host of beloved aunts, uncles, cousins and friends. He was preceded in death by his grandparents Herb and Marion Tietjens, and great-grandparents David and Charmaine Keller.
A time for friends and family to gather will be held from 10 AM – 12 PM on Thursday, November 18 at Charles F. Snyder Funeral Home & Crematory, 3110 Lititz Pike, Lititz, PA 17543, with a live-streamed service starting at 12 PM.
Watch the tribute video
Leave a condolence on this Memorial Page
Condolences to the Family
November 21, 2021
I am a walker who learned how sweet this young man was by his mellow and conscious eyes and soft spoken words. My heart breaks for your family. May Cody's memories and presence continue to bless you as you process his passing. ❤️
Denise Anne Vanselow
November 20, 2021
Our hearts go out to you and your family at this time. We are so sorry for your loss!
November 20, 2021
Dear family and friends of Cody,
Please accept our deepest sympathy at the tragic loss of Cody. Last Sept 8, 2020 we lost our own grandson, Tanner Derrick, who was a friend of Cody. Tanner also loved all things about cars, four wheelers, motorcycles, etc. Cody was kind to come to Tanner's service at LCBC Manheim. We are sorry to have missed your time of remembrance, but saw it online.
May God give you His strength and grace as you all grieve over the loss of Cody. If you ever wish to talk please contact us. Blessings to you all at this difficult time.
November 19, 2021
I am so sorry for your loss of Cody, keeping Alex and family in my thoughts and prayers.
November 18, 2021
Sending hugs and prayers to sweet Savahnah and Baby Callie…my deepest sympathies to the Tietjens family….Andrea Esposito
November 16, 2021
We are sorry for your loss of Cody may he rest in peace he will be missed dearly. If you guys need anything let me know❤
November 15, 2021
I am so sorry for ur loss it's a heart pain that won't ever really go away. I went to LWA with u years ago and was saddened u list Cody. I hope u remember me. U need anything let us know . Sorry tabby and hubby. Susanna Carpenter mcfadden
November 15, 2021
I pray that God gives you the strength to overcome this unbelievable loss, and to find hope and grace as your family moves foward. …..With all our love, from my family to yours.
November 15, 2021
I am so very sorry for your loss. Cody must have been an amazing person. May he rest in peace ❤
Aelah Serrano
November 15, 2021
I am so sorry about your son. It breaks my heart. I can't even imagine how you r feeling. Just know that you and your family are in my prayers during this difficult time. Hugs.
Rosanne Ruhl
November 15, 2021
So very sorry for your loss,prayers are with you all during this time of sorrow.He lives on in our hearts and in his beautiful baby girl.love yas all.
November 15, 2021
I was so sorry to hear about Cody. I am so sorry for your loss. There are no words.
Penny strohm
November 15, 2021
We are so sorry for your loss. Our thoughts and prayers are with you. Huge hugs to you Tab, Jordan, Savannah, and Callie💜💜
Diane, Ron, Cole, Tre, & Jake
Visitation

Thursday, November 18, 2021
10:00 AM - 12:00 PM
Charles F. Snyder Funeral Home & Crematory
3110 Lititz Pike
Lititz, PA 17543

Map and Directions

Services

Thursday, November 18, 2021
12:00 PM
Charles F. Snyder Funeral Home & Crematory
3110 Lititz Pike
Lititz, PA 17543

Map and Directions