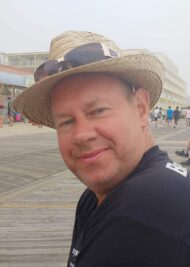 Clifford L. Martin, 58
March 16, 1963 - October 27, 2021
Clifford Lee Martin, 58, of Lititz, passed away on Wednesday, October 27, 2021, at UPMC Lititz. Born in Ephrata, he was the son of Leroy H. and Laura S. (Martin) Martin of Ephrata. Cliff was the loving husband of Roxanne (Trimble) Martin, celebrating 15 years of marriage this past June, and a loving father to their daughter, Rachel Martin.
Also surviving are Cliff's siblings, Linda Weinhold, wife of Dean of Ephrata, Robert Martin of Mount Joy, Lois Beyer, wife of Clair of Lititz, and Lorraine Oberholtzer, wife of Mike of Olathe, Kansas, as well as numerous nieces and nephews.
Cliff attended Conestoga Valley High School and received his General Education Degree, and also completed two years of Bible School. Cliff had a selfless heart, devoted to serving others and the God he loved. He was an active member of The Worship Center, Leola, serving on multiple mission trips and driving the church handicapped van. He worked most recently as a highly-skilled truck and trailer technician for Risser Poultry, Lititz. He was an avid outdoorsman with a love for fishing, motorcycling and snowmobiling. A loving husband and father, he enjoyed spending quality time with his family at the beach and taking Rachel fishing. He never met a stranger and will be remembered by all who knew him.
A viewing will be held on Wednesday evening, November 3, 2021, from 5 – 8 PM at the Charles F. Snyder Jr. Funeral Home & Crematory, 3110 Lititz Pike, Lititz, PA 17543. Funeral services will take place on Thursday, November 4, 2021, at 12:00 Noon at The Worship Center, 2384 New Holland Pike, Lancaster, PA, 17601, where the family will receive guests beginning at 11:00 AM until time of services. Interment will be private at the convenience of the family.
Watch the tribute video
Leave a condolence on this Memorial Page
Condolences to the Family
November 03, 2021
Dear Roxanne, I'm was so shocked to hear of Cliff's passing. I'm praying that the Lord will comfort you and the whole family. I'm thankful that we know that the Lord is with us always.
November 03, 2021
Roxanne,
My sincere sympathy for the loss of your husband. My prayers are with you, Margaret and Rachel during this difficult time. God bless you.
Peggy Deihm- TOPS
November 01, 2021
Roxanne, I'm very sorry for your loss. You and your Daughter and Family are in my Prayers🙏
God is Love and his Peace and Love will be with you and your Daughter through this difficult time in your Life.
May you find strength in your Family and Peace and guidance through God Love🙏❤❤ I'll keep you close in my prayers🙏❤
November 01, 2021
Roxanne,
I worked with Cliff at Trans Equipment and enjoyed every chance we had to talk or work together. He was a great person, and I was glad to learn to know him. So sorry for your loss.
November 01, 2021
We are thinking of you, Roxanne and Rachel, and praying for comfort from our good Lord and Father above. We will remember Cliff for the good Christian husband and father he was. Much love and our deepest sympathy for the whole family.
JC and Anna Hoffecker, Paul, Heather and children, and Anya and Drew Sleezer
October 31, 2021
Roxanne, I want you to know I'm so sorry for your loss. Many people prayed much for you and Cliff, but for some reason, God decided to take him home. I don't understand, but he had his reasons. You and Rachel will definitely be in my thoughts and prayers. Always remember that you and Rachel are in God's hands, he loves you so much. Lean on him for strength in these days/weeks/months to come. Let me know if there is anything I can do for you. Love and prayers, Janice
October 31, 2021
Dear Roxanne and family…so very sorry to hear of the passing of your husband .
My prayers and thoughts are with you at this time…sincerely
Suzanne Albinson (from Dr. Rocco's office )
October 30, 2021
I pray for your family that you will hold on to the loving memories that we ou were left with. I pray for hat God will give you the strength. Remember He will be with you. He will never leave you alone. God bless you and your family.
October 30, 2021
Words fail to express my deep sorrow for your loss. My heart goes out to you and your family. Wishing you strength and comfort in this difficult time. You are in my prayers.
Christina Martin
Visitation

Wednesday, November 03, 2021
5:00 PM - 8:00 PM
Charles F. Snyder Funeral Home & Crematory
3110 Lititz Pike
Lititz, PA 17543

Map and Directions

Visitation

Thursday, November 04, 2021
11:00 AM - 12:00 PM
The Worship Center
2384 New Holland Pike
Lancaster, PA 17601

Map and Directions

Services

Thursday, November 04, 2021
12:00 PM
The Worship Center
2384 New Holland Pike
Lancaster, PA 17601

Map and Directions