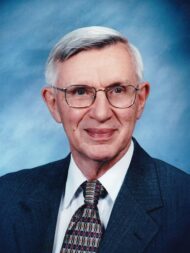 Clayton A. Frutchey, 96
February 15, 2023
Clayton A. Frutchey, 96, formerly of Willow Street, passed away at Brethren Village on Wednesday, February 15, 2023. Born in East Bangor on July 11, 1926, Clayton was the son of the late William and Flora (Long) Frutchey. He was the loving husband of the late Edna Mae (Bishop) Frutchey, who died in 2015.
Clayton graduated from Quarryville High School and joined the US Navy, where he served for two years as a radioman aboard the USS Macon. Following his honorable discharge, he attended radio school in Kansas City, MO. He worked for WLAN radio until 1955 and then began a career as an operations technician in the stock brokerage Reynolds & Company, which became Morgan Stanley/Dean Witter by the time he retired in 1995.
Clayton's faith in God was very important in his life. He was always active in the churches where he was a member. His hobbies included bowling, crossword puzzles, camping, square dancing and reading. He loved baseball and was a fan of the Phillies. He enjoyed various types of music, particularly classical and Christian.
Clayton is survived by his son, Scott A. Frutchey, husband of James F. Padgett, of Nottingham, MD.
Graveside services will be private at Willow Street Mennonite Cemetery. A memorial service will be held at 11:00 a.m. with visitation at 10:00 a.m. on Friday, March 3, 2023, at Charles F. Snyder III Funeral Home & Crematory, 2421 Willow Street Pike, Willow Street, PA 17584. In lieu of flowers, memorial contributions may be made to either the American Heart Association or the Alzheimer's Association.
Leave a condolence on this Memorial Page
Condolences to the Family
March 03, 2023
Scott, I will miss your Dad. He was such a sweet heart.
I am so sad that he passed but I know he is at peace now with your Mom by his side. .
Cathy Dando on behalf of all the Dando's
February 23, 2023
I worked with Clayton at Dean Witter, and then Morgan Stanley, from 1981 to 1992 when I was transferred to oversee our Baltimore offices. A mere three years before Clayton's retirement in 1995. I remember Clayton as a true gentleman who had a kind word for everyone in whom he came in contact. We shared a common affiliation for the Philadelphia Phillies and spent a little time each day in season discussing the most recent game. Clayton was well liked at Morgan Stanley.
Scott, my condolences over the passing of your father. He was a good man.
Jim Kirchner
February 23, 2023
Scott, I had no idea your Dad liked square dancing or Classical music! Thankful he had you for a son and care offered by the Brethren Village.
February 23, 2023
Scott, So sorry to learn of your dad's death. Your grandfather William Frutchey was a brother to my dad John Miller Frutchey. I use to visit almost every summer with Aunt Flora and Uncle Bill, and while I was there I would also spent time with your Uncle Bill and Aunt Marcy as well as with you mom Edna Mae, and dad Clayton. Take care and think about all the good times you and family had. Cousin Alice
Visitation

Friday, March 03, 2023
10:00 AM - 11:00 AM
Charles F. Snyder III Funeral Home & Crematory
2421 Willow Street Pike
Willow Street, PA 17584

Map and Directions

Services

Friday, March 03, 2023
11:00 AM - 12:00 PM
Charles F. Snyder III Funeral Home & Crematory
2421 Willow Street Pike
Willow Street, PA 17584

Map and Directions