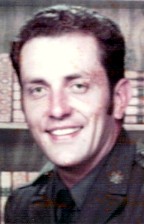 Clarence L. Gantz, 69
Clarence L. Gantz, 69 of Manheim passed away on Saturday, January 26, 2013 at United Zion Retirement Community in Lititz. Born in Columbia, PA he was the son of the late Clarence H. and Marie (Kauffman) Gantz. He was married to the late Joanne F. Gantz who passed away on December 27, 2012.
A graduate of Penn Manor High School, he went on to work for the Armstrong Cork Co. in Lancaster. He then went on to the State Police Academy and became a state police trooper for the Harrisburg-York area and retired from there after 24 years of service in 1994. After retirement, he went on to work as a courier for the former Bank of Lancaster County.
He proudly served in the US Army during the Vietnam War and was stationed in Germany. An avid softball pitcher he was a member of the former Safe Harbor Owls and a former member of the Safe Harbor hunting camp in Clinton County, PA. He was a member of Stehman United Methodist Church in Millersville, where he served on the board as a trustee for many years.
He is survived by a brother, Jerry K. Gantz, husband of Donna of Lancaster, and a sister, Janice McCourt, wife of John McCourt of Landisville. Also surviving are 2 step-children, Jeffrey R. Rutt, husband of Karen of Selinsgrove, PA, Jane R. Keenan, wife of Terry Keenan, of Lititz; 3 step-grandchildren, one step-great grand-daughter and a sister-in-law, Sharon Gantz, widow of Rodney K. Gantz.
Relatives and friends are invited to attend Clarence's Memorial Services which will be held at Stehman Memorial United Methodist Church, 485 Indian Run Rd, Millersville, PA 17551 on Saturday, February 9, 2013 at 11AM with the Rev. Helen Adams officiating. Interment will be at 1:30PM in the adjoining church cemetery with Military Honors accorded by the RRVHG and the Veterans 21 Salute Honor Guard. In lieu of flowers, contributions in Clarence's memory can be made to Hospice & Community Care, PO Box 4125, Lancaster, PA 17604-4125 or hospiceandcommunitycare.org. To send the family online condolences, please visit SnyderFuneralHome.com. Charles F. Snyder Funeral Home & Crematory 717-872-5041
Leave a condolence on this Memorial Page
I had the privilege to work with Clarence in York and Harrisburg many years ago. He was a genuinely good person and always thoughtful of others. My thoughts and prayers are with his family.
Bill Shovlin
PSP Retired
Please accept our heart felt sympathy in the loss of one of our Comrades-in-arms.
I was his second coach when he transferred to York. He has a good sense of humor and a likeable personality. He was a credit to his Country and the Pennsylvania State Police. John F. Lesher, PSP retired.
I was working as a police Communication Operator in York when Clarence was stationed there. I will always remember him as being willing to do the job and to provide assistance when needed. Myra F. Cooper (Cookie) PSP retired.
Dear Family, Please accept our condolences in the passing of Clarence. He and Joann were very quiet and considerate neighbors. We will miss them.
Sincerely,
Larry and Connie Laughman, next door neighbors