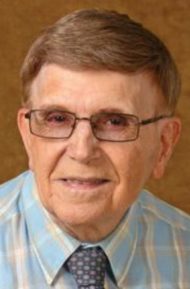 Clarence E. Yingst, 86
October 22, 2017
Clarence E. Yingst, 86, of Lancaster passed away on Sunday, October 22, 2017. Born in Lititz, PA he was the son of the late Katie and Edwin Yingst.
A dedicated Christian, Clarence devoted his life to Christ. A graduate of Lititz High School, he later attended Lancaster Business College. Clarence enrolled in the Army Engineers and served during the Korean War. Upon his return, he enrolled in Millersville State College. He taught in the Lancaster School District and retired after 33 years.
Clarence was a member the Lititz Evangelical Congregational Church where he served in the Alpha Sunday School Class and volunteered as a greeter. He also volunteered in the Hospitality Center and as an usher on Sunday mornings. He enjoyed helping out in the Fellowship Hall and Kitchen and enjoyed the friendships he made. Clarence enjoyed artwork of the Lancaster scenery, particularly the covered bridges. Clarence will be remembered as an ambassador of faith and offered his friendship to all.
He is survived by several nieces and nephews in the area and one niece in Overland Park, KS, Evonne Yingst Garman who he visited and enjoyed taking trips with. He was preceded in death by his two brothers, Gordon and Floyd Yingst; and three sisters: Carrie Heiler, Cora Richwine and Caroline Bleacher.
A Funeral Service will be held on Monday, October 30, 2017 at 11AM, at the Charles F. Snyder, Jr. Funeral Home and Crematory, 3110 Lititz Pike, Lititz, PA 17543. Friends and family will be received from 10AM to 11AM. Interment will follow at Conestoga Memorial Park. In lieu of flowers, memorial contributions may be made to AMERICAN HEART ASSOCIATION (Lancaster Chapter), 610 Community Way, Lancaster, PA 17603.
Leave a condolence on this Memorial Page
Condolences to the Family
December 29, 2020
I know this is late, but I'm in the process of scanning old photos and documents, and came across the list of my elementary school teachers. I was in Mr. Yingst's 6th grade class in George Ross Elementary School in 1963, and I remember him with fondness. I am so sorry for your loss.
Bill Koster
July 27, 2020
I know this is very late but I just learned of Mr. Yingst's passing. I have a wonderful memory of Mr. Yingst. I would appreciate it if this could be sent to the family. Sixty years ago I was a shy, chubby 12-year-old in a new school (George Ross). When it was time for the sixth grade dance I was afraid to go but my grandmother pushed me out the door. Dressed in yellow with a yellow rose wristlet, I was the perfect wallflower. I stood on the side of the gym, looking at my feet. Then I heard, "May I have this dance." It was Mr. Yingst. He took my hand and gently led me to the dance floor. Of the many wonderful dances in my life, this is the one I remember best. I am sorry for your loss.
Nenette Kress
October 29, 2017
Very sorry to have just heard of Clarence's passing. He was my 6th grade school teacher at George Rose school in Lacaster (in the 60's) — before he switched to special needs students. I remember him going on field trips with my class, including a trip to NYC where he lost one of his contacr lenses on the tour bus and there was a hectic search on the floor of the moving bus before it was found. We became good friends later but I lost contact with him when he moved to the Brethren retirement village. I also remember him as being interested in decorating his new Lancaster home with shrubs. At least as long as he was able he was an avid rececreational motorcyclist. Although he didn't have one later in life, he loved his Jock (a white energenic miniature poodle) and was very saddened when Jock passed — he had him interred close by at the dog park near Clarence's Lancaster home. He remained an avid dog lover.
— Dennis Lindsay
October 27, 2017
Clarence was such a gentle soul. We loved him dearly. We got to know Clarence at Trinity Church as a senior. He was always so kind and caring, we looked forward to seeing him each week and were concerned when he was ill or couldn't come. His is missed. He is now home with our Lord.
Michael and Leigh Romascavage
Visitation

Monday, October 30, 2017
10:00 AM - 11:00 AM
Charles F. Snyder Funeral Home & Crematory
3110 Lititz Pike
Lititz, PA 17543

Map and Directions

Services

Monday, October 30, 2017
11:00 AM
Charles F. Snyder Funeral Home & Crematory
3110 Lititz Pike
Lititz, PA 17543

Map and Directions