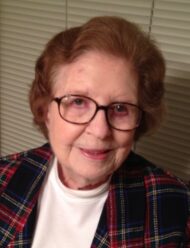 Clara Lillian Williams, 104
February 22, 2023
Clara Lillian Williams, 104, passed away on February 22 at Legends of Lititz, Lititz, PA. She was born in Hiteman, Iowa, on April 7, 1918, the daughter of Winchester Jenkins, a coal miner and Emily Jenkins, from Wales England. She was the 2nd child of six children.
Clara graduated from high school in Hiteman, Iowa and then lived most of her life in Des Moines, Iowa. She married Rodger David Williams, Jr. in 1936 following her graduation from cosmetology school in Des Moines. She was a hairdresser until soon after her first child was born. Clara was then a homemaker and mother to her three children. Her husband returned from serving in WWII and became a Des Moines, Iowa city fireman. He later became a production supervisor for FairPlay electronic scoreboards. Clara worked 17 years for Principal Financial in Des Moines, as a clerical worker. They both retired in 1977. Clara and her husband enjoyed camping on weekends in Iowa with extended family and later traveled around the country camping in national parks.
Following Rodger and Clara's retirement they spent winters in Harlingen, Texas, escaping the harsh winters of Iowa. They eventually bought another home in Texas and decided to move permanently to TX in 1986. They continued to travel around the US, visiting national parks, Alaska, and Canada in their motorhome, visiting their children in Iowa, Colorado and Lancaster, PA. Each year they went to Canada to fish, taking grandchildren on some of their trips. They also enjoyed foreign travel, having visited London, Wales, Belgium, Japan, Taiwan, and Hong Kong.
Clara moved to Lititz in 2004, from Harlingen, Texas following the death of her husband in 2003. They had been married 67 years.
When living at her apartment in The Highlands of Lititz Clara crocheted and donated baby afghans to the Linus Foundation in Lancaster, PA for several years. Those were given to many children of military parents returning from the wars in the Middle East. Newborn babies in the ICU were also recipients of her beautiful afghans. She also crocheted large afghans and donated those to nursing homes to be used as Christmas gifts, as well as full-sized blankets for all of her children and grandchildren.
Clara is survived by her three children, Pamela Roller of Burleson, TX, Rodger David Williams, III (Sharon) in Ankeny, Iowa, and Catherine Wilson, (David) in Lancaster, PA. She is also survived by many grand, great and great, great grandchildren.
A service and burial will be held at Hamilton Funeral Home in Des Moines, Iowa.
Leave a condolence on this Memorial Page