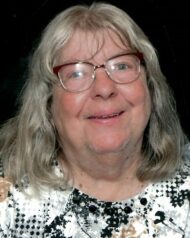 Clara E. Mangold, 79
January 07, 2022
Clara E. Mangold, 79, of Lancaster, went home to be with the Lord on Friday, January 7, 2022, after a battle with cancer, surrounded by her loving family. She was the daughter of the late George and Dorothy Laventure and the loving wife of the late Donald J. Mangold.
Clara's passion for her love of numbers helped create a wonderful business, Clara Mangold's Tax Service, which will continue on in her legacy. Her skill and devotion to many families in Lancaster County will carry on through her children. Her retired years were filled with traveling throughout the world and her love for puzzles and games.
She is survived by her four children, Patricia Turner, Paul Mangold, Doris Cooper, and Cynthia Parmer. She is also survived by eight grandchildren, seven great-grandchildren, and seven siblings. In addition to her husband, Clara is preceded in death by a grandchild and four siblings.
A Mass of Christian Burial will be held Saturday, January 15, 2022 at 10:00am at St. Philip the Apostle Church, 2111 Millersville Pike, Lancaster, PA 17603. Guests will be received starting at 9:30am. Interment will follow at St. Joseph New Catholic Cemetery, Bausman. In lieu of flowers, please send donations to St. Philip the Apostle at the address above.
Afterglow
I'd like the memory of me to be a happy one.
I'd like to leave an afterglow of smiles when life is done.
I'd like to leave an echo whispering softly down the ways,
Of happy times and laughing times and bright and sunny days.
I'd like the tears of those who grieve, to dry before the sun;
Of happy memories that I leave when life is done.
Leave a condolence on this Memorial Page
Condolences to the Family
January 20, 2022
patty….was so sorry to read of the loss of the family matriarch. a brave woman with a vision……
my sincere sympathy to your entire family.
January 19, 2022
Patty and family,
So sorry to read of Clara's passing.
Clara was such a lovely person, we enjoyed doing taxes in her living room. She made tax season a positive time. Will always remember her puzzle picture.
Our deepest sympathy to you and your family.Paul and Beth Rudenos
January 18, 2022
To Patty and family. Sorry for your loss. Thoughts and prayers to you and the family.
January 17, 2022
My sincere sympathies to the Mangold family for the loss of Clara. When I married Dominic Rose, I was introduced to the Mangold family. There was a special affection and respect for your family having been neighbors to Victor and Catherine Rose. Your mother was so kind and fun to be with when we would get our taxes done. In time, Doris became our go to and I have enjoyed and appreciate her care and excellent work. Doris you worked your magic on my husband John and helped him endure the process so well. I thank you for being so kind in helping me after John passed away. May God comfort and bless you and your whole Mangold family.
January 17, 2022
Sending love and prayers to all the family.May God grant you peace and joy in remembering Clara.J
January 16, 2022
Our deepest sympathy to your family.
Sincerely,
Denny and Denise Farmer
January 15, 2022
You have left a legacy filled with compassion, friendship, love and adventure. You truly made a positive difference in this world. Your legacy will live on. I enjoyed your friendship your laughter and quick wit.
I will remember you and smile.
Love,
Annie
January 14, 2022
Patty and family. Our deepest condolences on the loss of your Mother.
Mike and Shelia Trimble
January 14, 2022
Doris and family our Deepest Condolences and prayers go out to you and the whole Mangold family and may your mother rest in peace knowing the wonderful job she did on earth and left behind God Bless you all
Susie & Ronnie Shepler
January 14, 2022
Doris and family, Sorry to hear about MOM. We be coming to her business forever. She sure did a great job raising her family, you all can be so proud.
January 14, 2022
Dear Patty, Doris, Paul and Cynthia,
I'm sorry for your loss. I know what she meant to all of you. As a long time client of Mangold's (back to the living room days), to a one year clerical employee for Mangolds's (the year of the baby's), to Doris's neighbor, through the years, your Mother has been in the edges of my life for many years. Her "love for numbers" has touched so many people through the business that she built from the living room of the house.
My thoughts are with you during this difficult time.
Joanne and Carl Weidman
January 13, 2022
To the entire Mangold family, our thoughts and prayers go out to you all. Clara was the nicest woman you would ever want to meet, she was always so kind and pleasant. She will truly be missed.
January 13, 2022
John and I want to convey our sincere condolences in the passing of Clara. She was quite the trailblazer doing our taxes in her living room. She was always welcoming and professional, which explains her successful longevity. She and her reliable, affordable service have been part of our lives for many years.
January 13, 2022
To the Mangold family. Our thoughts and prayers go out to you all. We were and still are a client of her legacy. When ever I would want to make an appointment I would have to think of a marigold to remember the name of the business.
January 13, 2022
Mangold Family, our sincere condolences in the passing of Clara. Doris, you've taken care of us for many years and we think of you as a very good friend. Please know we will be praying for you and your family at this difficult time.
John & Phyllis Ashline
January 13, 2022
Dear Mr. & Mrs. Turner you are in my prayers. However medicaly can't come for the viewing.

January 13, 2022
Dear family of Clara, First off please accept my condolences on your mother's passing. Secondly, I really admire your mother's passion for numbers!! Having the tenacity to start her own business, especially a woman!!! I know it wasn't easy it but she persevered and became well known for her honesty and integrity in the tax business. I've always thought of Clara Mangolds Tax Service as a place I have to go once a year and I receive the best possible advice, care, and prices. It's a business for the "working-class" people. Affordable!! Again… much love and respect for your mother in starting her own business!! Thank you
January 13, 2022
Dear Patty, Paul, Doris and Cindy,
Rick and I loved your mom and have wonderful memories of both of your parents from playing cards with your Aunt Marty and attending musicals at the Dutch Apple.
We are so sorry for your loss and will keep you in our hearts and prayers. She was an awesome person.
Love,
Anna & Richard Saylor
January 13, 2022
Patty, Paul, Doris, Cynthia:
My thoughts go out to you and the family for the loss of a wonderful woman who you called mom. May you find comfort in your memories together.
January 13, 2022
Dear Children, Please accept my deepest sympathy–I didn't know you Mother was ill. I will alwasy have happy memories of your lovely family as you grew uo across the street from us. Anne Louise & Cindy were even friends through their school years. She had a good life and was so accomplished, starting her own successful business. You'll miss her terribly, but will have wonderful memories.
Love, Mary Anne Aichele
January 12, 2022
Dear Cindy and Mangold family! I am so sorry to hear about your mother passing! You are all in my thoughts and prayers!
January 12, 2022
Mangold Family: Sorry for your loss; Prayers for you all.
Joe and Dena Palacios
January 12, 2022
My deepest sympathies to the Mangold family for the loss of your mother.My thoughts and prayers are with you during this difficult time.
Dottie Karr
January 12, 2022
Patty, Paul, Doris, Cindy,
Please accept our heartfelt condolences in this saddest of times. Clara was truly remarkable in so many ways. Take comfort knowing that grief, while devastatingly painful, is an ultimate act of love. Clara and Don are smiling down on all of you now.
Love, Aunt Pauline and Uncle Tom
January 12, 2022
Out deepest sympathies to the Mangold families for the loss of your Mother. Her earthly pain is over and she is now in the arms of your father and our Lord and Savior. Her memories and legacy will live forever in your hearts and minds. Prayers for your families during this difficult time.

Clair and Louise Kreider
January 12, 2022
Doris, Patty and the rest of your family, may you know that my thoughts and prayers are with you during this very difficult time. Your mom was a true matriarch and your family is a legacy that will live on forever.
Andrea Lamphere
Visitation

Saturday, January 15, 2022
9:30 AM - 10:00 AM
St. Philip the Apostle Church
2111 Millersville Pike
Lancaster, PA

Map and Directions

Services

Saturday, January 15, 2022
10:00 AM
St. Philip the Apostle Church
2111 Millersville Pike
Lancaster, PA

Map and Directions