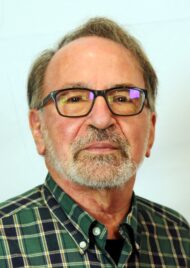 Clair E. "Gene" Gehman, 67
August 30, 2021
Clair E. "Gene" Gehman, 67, of Lancaster, passed away unexpectedly at Lancaster General Hospital, on Monday, August 30, 2021. Born in Fort Knox, KY, he was the son of Clair R. and Carol J. (Ranck) Gehman. Gene was the loving husband of Carol L. (Law) Gehman with whom he celebrated 48 years of marriage.
Gene honorably served in the US Navy during the Vietnam War era. After his honorable discharge, he worked as a hydraulic tech for Ladder Towers, a fire truck manufacturing company, for 25 years. For the last 19 years he worked as a hydraulic engineer for Advanced Fluid Systems. Gene found great satisfaction in his job and enjoyed being with his co-workers.
Gene was a man of faith and was an active member of Paradise Bible Fellowship Church where he served as a deacon. He enjoyed spending time with his church family, working in the yard, and sitting out back enjoying the view. More then anything, he loved his family, especially his grandchildren.
In addition to his wife and parents, Gene is survived by his children: Jonathan T. Gehman, husband of Jeannie Rice Gehman, of Akron; and Laura Meghan DiBenedetto, fiancé of Marc E. Nimick, of Lancaster; 3 grandchildren: Day Decker, Skyler Gehman, and Phineas Nimick; and 2 siblings: Melissa Ellen Gehman, wife of Roger Culp, of Massachusetts; and Lee David Gehman, husband of Joom Wunluan Gehman, of New Holland.
A Celebration of Gene's life will be held at 11AM, Saturday, September 11, 2021, at Paradise Bible Fellowship Church, 3092 Lincoln Hwy E., Paradise, PA 17562. In lieu of flowers, memorial contributions in Gene's memory may be made to the American Heart Association at www.heart.org/donate or to the American Cancer Society at www.cancer.org/donate.
Leave a condolence on this Memorial Page
Condolences to the Family
September 10, 2021
I worked with Gene for 13 yrs at Advanced Fluid Systems. I talked to him every morning by the coffee pot (that man loved his coffee). Didn't matter how busy Gene was, he was always willing to help me. He was also an engineer who wasn't afraid to grab a wrench and dig in. He taught me so much about the electromechanical side of my career and I will forever credit him for that. Gene, you will be missed by many and I send my deepest condolences to your family.
September 10, 2021
I first met Gene in 1978 at Ladder Towers He was a great guy and will be missed
John DeRemer
September 08, 2021
My loss is deep. i will never forget Gene. He is an honest, kind and generous person.
For over fourty years Gene and I worked on many projects together. Early on I came to know his genius. Twenty years ago the opertunity developed when he was available to join me at my company. Duruing the last twenty years, Gene was his own boss. I would give Gene a project and get out of his way. We were amazed of his many accomplishments.
Most of all, i will miss Gene as a friend and confidant. The rest of my life I will remember Gene.
Jim Vaughn
September 05, 2021
Carol my heart hurts for what you are going through . Having gone through it myself I know. I am here for you and just wish there was more I could do. Love you, Cheryl Davis
September 04, 2021
Carol and Family,
Sorry for your loss, we are thankful we will again see him in heaven someday. Will be praying for you. Love ye Bob and Karen Hershock
September 04, 2021
Carol my heartfelt thoughts to you and your family. You all are in my thoughts and prayers.
September 03, 2021
Dear Carol,
I was so sorry to hear of Genes passing. I know this is a hard time for you and your family. I've gone down that road myself. Praying for Gods strength and peace for you and the coming months ahead. Many thoughts are with you.
September 03, 2021
Dear Carol and family. So sorry for your loss. My thoughts and prayers are with you. My heart aches for you, but know he will be waiting for you in Heaven. Love, Jan.
September 03, 2021
Talking to Gene on the Terra Sonic shop floor on practically a daily basis for the past couple months was always a highlight of my day- he was so genuine and practical, brought light to every subject we discussed. He had a special place he would sit out back behind the shop in our testing area under a shade tree, where he would work on his programming for our new drill rig. We are all crushed by his passing, and will do our best to make certain our new drill rig design makes him proud and will be used all over the world for years to come! We are dedicated this new line of Sonic Drilling rigs to the memory of Gene, and will make certain his name goes on each and every one we build. Thank you Gene, you will be missed.
Mark Knolle
September 03, 2021
Carol, my heart aches for you and your family. My prayers go up for you, God hears us. Never lose faith. I love you and wish I could do more.
Bonnie Painter
Services

Saturday, September 11, 2021
11:00 AM
Paradise Bible Fellowship Church
3092 Lincoln Hwy E.
Paradise, PA

Map and Directions