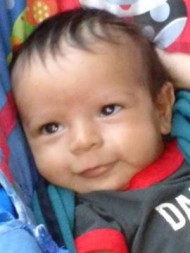 Christopher Roman Randolph, 1
October 02, 2014
Christopher Roman Randolph, of Lancaster, PA, passed away on October 2, 2014 at the Children's Hospital of Philadelphia. Born in Lancaster, he was the son of Cory L. Randolph and Melanie S. Hersey.
In addition to his parents, Cory and Melanie, Christopher is survived by 5 siblings: DeVon A. Randolph, Charles F. Hersey, Jimiel E. Torres, Jr., Jayden L. Torres and Emma S. Randolph; paternal grandparents: Roxanne and Stan Day; paternal great-grandparents: Shirley and Robert Garlic; maternal grandparents: Patricia Boatright, James Callaghan, Charles and Sandra Wold; and great-grandmother, Patricia Forrester.
A viewing will take place from 12-1 PM on Monday, October 6, 2014 at the Charles F. Snyder Funeral Home & Crematory, 414 E. King Street, Lancaster, PA 17602 with a Funeral Service to follow at 1 PM. Interment will be at Mellinger Mennonite Cemetery. In lieu of flowers, contributions may be made to the Children's Hospital of Philadelphia Foundation, PO Box 781352, Philadelphia, PA 19178.
Leave a condolence on this Memorial Page
Condolences to the Family
October 07, 2014
I am so sorry to have read of your loss. Please accept my sincere condolences. The Bible is a great source of encouragement at times like this. Something that I have personally found to be of great comfort is what the Bible says at John 5:28, 29 ( Do not be amazed at this, for the hour is coming in which all those in the memorial tombs will hear his voice and come out, those who did good things to a resurrection of life, and those who practiced vile things to a resurrection of judgment.) As well as Revelation 21:3,4 (With that I heard a loud voice from the throne say: "Look! The tent of God is with mankind, and he will reside with them, and they will be his people. And God himself will be with them. 4 And he will wipe out every tear from their eyes, and death will be no more, neither will mourning nor outcry nor pain be anymore.) These verses show us that soon God is going to bring about a resurrection of our loved ones as well as do away with all causes we have for suffering including sickness and death. Knowing this has always comforted me and it is my sincere hope that these thoughts comfort your family as well. Again I am so sorry for your loss and May Jehovah God bring you comfort during these difficult times.

October 06, 2014
So very sorry for your loss. He is now your precious angel. I don't know you personally but I was friend with your parents Stan and Roxanne Day many years ago. They were wonderful friends so I know you are wonderful people also. Regards, Lynda Gibbons and Pete Petrozzino.

October 06, 2014
So sorry for your loss of precious christerpher you now have an angel god bless all of you at this diffucult time my heart goes out to you all R.I.P baby boy. Love Cheryl Gamber.
Visitation

Monday, October 06, 2014
12:00 PM - 1:00 PM
Charles F. Snyder Funeral Home & Crematory
414 East King Street
Lancaster, PA 17602

Map and Directions

Services

Monday, October 06, 2014
1:00 PM
Charles F. Snyder Funeral Home & Crematory
414 East King Street
Lancaster, PA 17602

Map and Directions