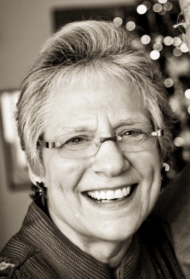 Christine M. Eshelman, 69
September 25, 2021
Christine M. Eshelman , 69, of East Petersburg, passed away Saturday, September 25, 2021, following a courageous battle against ovarian cancer. Born in Hazleton, she was the daughter of the late John B. and Margaret C. (Vacula) Oleksa. Christine was the loving wife of Vincent R. Eshelman, II, with whom she celebrated 30 years of marriage.
After graduating from Camp Hill High School, she went on to earn her Bachelor's degree from Shippensburg University and a Master's degree from Philadelphia University. She worked as a manager for several financial institutions, most recently at Members 1st.
Of the Catholic Faith, Christine was very active in the community, serving on the board of Leadership Lancaster and also serving as Vice President of the Conestoga Valley Education Foundation. Christine enjoyed socializing and being around people. She was a selfless person, who, even while in the midst of her own battle with cancer helped and encouraged others fighting the same battle. Christine enjoyed family get togethers, spending time watching birds and butterflies through the back window of her home, and annual family vacations in Ocean City, Maryland. The most important thing to Christine was her family who she loved greatly.
In addition to her husband, Vincent, Christine is survived by her daughters: Janelle C. Harding, wife of Matthew R., of Mountville and Jessica L. Heil, wife of Thomas, of Newmanstown; three grandchildren: Milo Kerns, and Alexander and Olivia Heil; and two siblings: Patrice A. Taleff, wife of Peter, of Bradenton, FL and John B. Oleksa, Jr., husband of Wendy, of Aaronsburg, PA. She was preceded in death by her son, Randall T. Paules in 2011.
Family and friends will be received 2PM to 3PM, Saturday, October 2, 2021, at the Charles F. Snyder Jr. Funeral Home & Crematory, 3110 Lititz Pike, Lititz, PA 17543. Funeral Services will follow at 3PM. Interment will be private. In lieu of flowers, contributions in Christine's memory may be made to the Conestoga Valley Education Foundation, 2110 Horseshoe Dr., Lancaster, PA 17601 or to Hospice & Community Care, PO Box 4125, Lancaster, PA 17604.
Watch the tribute video
Leave a condolence on this Memorial Page
Condolences to the Family
October 16, 2021
Vince & Family, just watched the Tribute Vid, what a Wonderful Family. Wishing you all the Strength at this Time. Never Easy 2 say Goodbye. Take Comfort in knowing that You all will meet up again, God Speed! in Your Grief! Prayers sent Your way.
October 07, 2021
Chris hired me as a branch manager almost 9 years ago. She was an amazing lady and leader, someone who I really admired and looked up to. I will never forget her. My thoughts and prayers to her family, I'm so very sorry for your loss.
Rebecca Prehoda
October 06, 2021
Dear Vince and Family- our thoughts and prayers are with all of you at this difficult time. We all loved Chris. She was always so positive and loving. A sweet and wonderful neighbor. We are so sorry for your loss. She will be missed by us all! Stacie & Mark
October 03, 2021
Vince and family, I was so sad to hear about the passing of Chris! She was such a happy and caring person and I will always hold her close to my heart! Rest in peace sweet Chris, until we meet again 🙏❤️
Debbie Heckard
October 03, 2021
I will always remember Chris with a smile, nice word for everyone and a positive attitude. Praying for comfort to Vince and family during this difficult time.
Rhonda Acri
October 01, 2021
Dear Vince and Family…Larry and I want toexpress our deepest sympathy to all of you. We are so sorry that we cannot attend tomorrow because Larry was just diagnosed wirh "breakthrough " covid. I am especially sad because that means I can't be there to give you hugs and love. The last time I saw Chris is when I gave up the girls. We had intentions of getting together after you did some upgrades in your home.Then Covid struck and then it was out of the question. I wish I would have given her the "best hug ever" Saw her once buzzing down the street in her convertable lovin'life!From day one she faced her journey with a SMILE on her face and MUCH courage in her heart. Getting very sad by now ….have to go. God bless you and grant you Peace. Love, Larry and Sandi
October 01, 2021
Chris was an amazingly inspirational person. She was always full of life, and she never stopped smiling. To the family, we pray for comfort at this time, and that times of refreshing.
Erik Monastra
October 01, 2021
Chris' smile and positive attitude was always uplifting and made my day so much better. Thanks for all of your wisdom and guidance. Rest in Peace now, prayers for Vince and family.
Tyler March
September 30, 2021
Oh Christine, you are always in my heart…and will be forever! Your smile and open arms will be missed. I am so proud to be your brother and Love You Alot!!! (PEACE & VIBES)
John B. Oleksa jr.
September 30, 2021
Chris was a wonderful person to work with that eventually became a friendship. Laura and I both truly enjoyed getting to know her on a personal level. Our deepest condolences to you Vince and the rest of the family. She will truly be missed as her smile and positive attitude always lit up a room professionally and personally. RIP dear friend.
Al and Laura Pioppi
September 30, 2021
Chris was truly an amazing person, one of a kind for sure. I will never forget when she played the Phareell Williams song "Happy" at a regional meeting. That sums up Chris….. Happy, with the most infectious smile.
Vince and family, I am so sorry for your loss.
ChristyLee Kuchak
September 29, 2021
Dear Vince
We are so sorry to hear about your loss. Chris was a special person and you were a wonderful couple
Our thoughts and prayers are with you and your family
Deb & King Knox
September 29, 2021
That smile! She was gorgeous inside and out, and my heart bleeds for those she leaves behind. aunt Margie and Uncle John and her son are waiting for her! May God grant her eternal peace!
Chris Slovik Harasymczuk
September 29, 2021
Vinny and family. I'm so sorry to read of the passing of Chris. I was fond of her when we all worked at the bank. Was happy when the 2 of you became a couple. My thoughts are with you during this time. ❤️
Sherry Lenhart
September 29, 2021
Chris was a remarkable person – strong, intelligent, and independent! Always with a smile, and always upbeat! Chris, like her mother, had the unselfish trait of caring about other people's feelings and difficulties before her own! One always felt welcome in her presence!
Chris will surely be missed, but she will never, ever be forgotten! Rest in Peace!
Tom Paules
September 29, 2021
I only met Chris a few times, but I know she has positively impacted so many associates at Members 1st. She leaves that legacy behind, showing us how to be a leader that is always there with positive words of encouragement. She was an important part of our credit union and will be missed.
Sara Kennedy
September 29, 2021
Dear Vince & family,
What a beautiful Lady, who had the greatest heart. She leaves a wonderful legacy to all the lives she touched. Her passion for life & her family will be forever engraved in our hearts. Her sweet smile & those beautiful dimples will always be a cherished memory. What a blessing & Joy to know Chris❤️Vince, please know that you will be in our daily prayers and know how much you are loved. You were such an amazing husband.
With much love & deepest sympathy,
Barbi
September 29, 2021
Chris – you were an inspiration to me and so many others. You will be missed dearly every day. Condolences to Vince and the entire family.
Chris Birch
September 29, 2021
Dear Vince and family;
Christine came into my life at a crucial time after my surgery and treatment of cancer. She was such an inspiration to me during her battle – always so positive and upbeat – no matter what the outcome. Her smile was so infectious! I am so blessed to have crossed paths with her and she has touched my ❤️ for life. Praying peace to you and comfort at this time. I send you my most heartfelt sympathy and may you find strength in the days ahead to live life to its fullest, just as Chris did.
Bev Doughty
September 28, 2021
Dear Vince and family,
We are so sorry to learn of Chris's passing. Although we have seldom visited as adults our childhood memories are priceless. We will not be able to join you for Chris's viewing. Our prayers for strength and guidance are with you.
Aunt Anna's children,
Tom Fritz
Dawn Fritz Fudge.
Visitation

Saturday, October 02, 2021
2:00 PM - 3:00 PM
Charles F. Snyder Funeral Home & Crematory
3110 Lititz Pike
Lititz, PA 17543

Map and Directions

Services

Saturday, October 02, 2021
3:00 PM - 4:00 PM
Charles F. Snyder Funeral Home & Crematory
3110 Lititz Pike
Lititz, PA 17543

Map and Directions