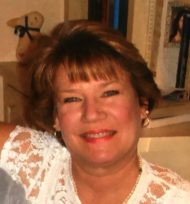 Christine Ann "Chris" Waite, 60
February 15, 2020
Christine Ann "Chris" Waite, 60, of Lancaster, passed on Saturday February 15, 2020 at Lancaster General Hospital. Born in Lancaster, she was the daughter of the late John C. and Ruth A. (Eckman) Kirchner and the beloved wife of Donald Waite.
Chris graduated from Manheim Township High School in 1978. She attended Elizabethtown College for two years before transferring to Widener University, where she earned her RN, BSN in 1982. A nurse all her life, she worked at Lancaster General Hospital from 1983 until 1997. At that time, she began working at United Zion Retirement Community and then Luther Acres, where she worked until her retirement in 2015.
She was a member of St. John Neumann Catholic Church in Lancaster, where she was married there in 1983.
Chris loved a lot and lived life to the fullest. She was the life of the party and enjoyed filling her days with fun, family, and friends. She enjoyed bowling, rock 'n roll, watching "Dirty Dancing", and cheering on the Eagles. Along with her family, she would go camping, fishing, skiing, and bike riding. Often would she gather with her siblings at the lake or the farm to spend time together. Her favorite activities including swimming and lounging at her pool and going on vacation to Avalon, where she would hang out at the beach all day. Most important to her were her husband and her children all of whom she loved deeply and cherished time that they spent together.
Chris will be missed by her husband of 36 years, Donald Waite, her children; Leigh Ann Waite (Curtis Appler), Kelly Liebl (Michael), and Daniel Waite, grandson, Carter Liebl and a second on the way. She is also survived by her sister Laurie Koch, brothers Michael and Stephen Kirchner, and several aunts, uncles, cousins, nieces, and nephews. She is preceded in death by her parents, John and Ruth Kirchner, and a brother Thomas Kirchner.
A Memorial Service will be held Monday, February 24, 2020 at 11:00AM at Charles F. Snyder Jr. Funeral Home & Crematory, 3110 Lititz Pike, Lititz, PA. Guests will be received prior to the service starting at 10:00AM.
Leave a condolence on this Memorial Page
Condolences to the Family
November 10, 2020
I just learned of Chris' passing yesterday, from seeing a picture on FB that her sister Laurie posted. We both graduated from MTHS class of '78. I remember her being very social and outgoing, and always nice. Very sad to learn that she passed. My condolences to her husband, and the Kirchner and Waite families. Rest in Peace Christine.
Beth Sheaffer McCallister
July 20, 2020
Chrissy, My heart breaks for you, and now your precious Danny. After 45-years of knowing you, I cannot grasp all the tremendous losses. The Kirchners have always been my family and I have no words to express my grief today, or ever. My only comfort is in knowing that my mom is with Shirley and, together, they are taking all of your hands as you enter into the Kingdom of Heaven. May all of you rest together in eternal comfort and peace. God has a plan. Elaine

February 25, 2020
Deepest condolences to the family. I enjoyed working with Chris at LGH. May God bless all of you.
Sincerely,
Missy Droege Deascenti
February 24, 2020
Condolences to all families and friends of Chrissy. So very sad. Patty Cantando
February 23, 2020
Don
Our deepest condolences and sympathy are with you and your family at this most difficult time. May your wife Chris Rest In Peace in the arms of Our great Savior!
Bill & Linda
February 23, 2020
Donnie, we are so sorry to hear about Chris. You and your family are in our thoughts and prayers. With sympathy,
Dennis and Angela
February 20, 2020
Mr. Waite, Dan and family. We were very sadden to hear of ur wife/mother's passing. I know there are no words to take your hurt and pain away. But know that our hearts are heavy hearing this and you all are in our thoughts and prayers.
All our love, Tina Ryanna and Miyah
February 19, 2020
MY CONDOLENCES TO THE WAITE AND KIRCHNER FAMILIES ON THE PASSING OF CHRISSY, MAY SHE REST IN PEACE
anthony roschel
February 19, 2020
Seeing this today was definitely a shock . Such a nice person. I am so sorry for your loss. Keeping all of you in our thoughts and prayers! Treasure your memories. She is now your forever guardian angel !
Angela and Cate Gorham
February 19, 2020
My heart goes out to you all, the loss of a wife and a mother can not be expressed in words. Her light shined brightly for all in her life…as she always enjoyed music I'll end with this elton john quote..it seems to me you lived your life like a candle in the wind….your candle burnd out long before you legend ever did. You are forever in our hearts.❤ Judy Rose Weisman
February 19, 2020
This is such a shock, Mrs. Waite was always so good to us kids while we were growing up. She always welcomed us and goofed around with us! I will miss her deeply and send my condolences to the family. Love you guys Erin
February 19, 2020
I worked with Chris at Luther Acres for many years and greatly enjoyed getting to know her! She was a wonderful and caring nurse! I am so sorry to learn of her passing, she will be missed.
Prayers to all of her family during this difficult time!
Kristen Loose
February 19, 2020
I miss you so much already. What am I going to do without my sissy poo and best friend. Always have and always will love you. See you when my time comes…..don't be late at the pearly gates pour moi. Again, I love you with all my heart. I will always treasure the fun we had together even though you cut the hair off my baby boo doll 🙂 ! Playing barbies for hours, riding our wooden baby doll carts down the garage ramp, you always in control of the car we were supposed to share,yeah right, playing sports together, the one year we spent together at Elizabethtown college. Then having our kids together. All the fun in the sun buy your pool. All of our beach vacations where we wouldn't leave the sand till 6:00. I love you my dear sister and already miss you big time. Be happy in heaven with Mom, Dad, Tom, Shirl, all other family members and friend who will be there to greet you. I will think of you everyday. Love your sissy poo 👩‍❤️‍💋‍👩
Laurie
February 18, 2020
Very sorry for your loss. We will say extra prayers
George Hennessy
Visitation

Monday, February 24, 2020
10:00 AM - 11:00 AM
Charles F. Snyder Funeral Home & Crematory
3110 Lititz Pike
Lititz, PA 17543

Map and Directions

Services

Monday, February 24, 2020
11:00 AM
Charles F. Snyder Funeral Home & Crematory
3110 Lititz Pike
Lititz, PA 17543

Map and Directions