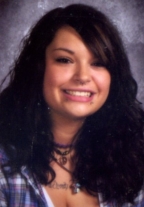 Christina M. "Kitty" Albright, 18
Christina M. "Kitty" Albright, 18, of Columbia, died unexpectedly Saturday, June 4, 2011 at Hershey Medical Center. Kitty graduated from Hempfield High School last January. Born in Lancaster she was the daughter of Roshella M. "Shelly" Marshall and the late John D. Albright.
Kitty worked as a clerk at the Turkey Hill in Mountville. She was a member of Holy Trinity Catholic Church, Columbia. She loved communications and arts. Kitty played soccer, she enjoyed swimming, dance and horseback riding and she had been a cheerleader. She especially enjoyed going to Ocean City, MD. She loved hanging out with her boyfriend, Mason Greenawalt.
Kitty's family includes her mother Shelly Marshall, companion of Troy Spade, Columbia, her great-grandmother Carmen W. Jones, Columbia, her grandparents Lydia T. Marshall, companion of Steven J. Lepore, Columbia, John and Jean Albright, Landis Homes, and Richard Marshall, Arizona, and her stepbrothers James Wells and A. Troy Spade.
A Viewing will take place Friday, June 10th from 2:30 to 4 pm and the funeral at 4 pm, with The Very Rev. Kenneth F. Lawrence VF officiating, at the Charles F. Snyder Funeral Home & Crematory, 3110 Lititz Pike, Lititz, PA. Interment will be private. Please omit flowers. Contributions can be made in Kitty's memory to the Humane League of Lancaster County, 2195 Lincoln Highway East, Lancaster, PA 17602. To send the family online condolences, please visit SnyderFuneralHome.com. Charles F. Snyder Jr. Funeral Home & Crematory 717-560-5100
Leave a condolence on this Memorial Page
No words we say could express how sorry we are. We will always remember Kitty for her smile and her fun and loving personality. You are in our prayers.
The Riggin Family
Shelly,
You have been and will continue to be in our thoughts and prayers. May you somehow find peace at this difficult time.
Sincerely,
Kim McCarty Z.
Shelly & Family,
My family @ 153 Stonehouse Lane, sends our deepest sympathy For the loss of your Beautiful daughter,"Tina". We will miss her,as I know you miss her tremendously!
We are here for you if you need us,in any way we can help! Please call on us or me anytime. We Love You!

Your Friend & Neighbor,
Brenda,Michelle & Alize
Shelly, Lydia & Steve,
So sorry to hear of the recent loss of your beautiful daughter and granddaughter. Please accept our condolences.
You are in our thoughts and prayers.
With deepest sympathies,
Sandi Cauler and Walt Wall
Dear Shelly and family,
I met you and tour daughter several years ago. My heart went out to you when John left us, and now it breaks at the loss of your daughter. I will hold you all in my heart, and pray you find peace.
Katherine Mundale
Dear Lydia,
My thoughts and prayers are with you and your family during this most difficult time. I can not imagine how it must feel to lose a child and grandchild so young. May you find peace in the memory of "Kitty"
Joan Yeager McEvoy
I remember Christina "Kitty" from when she went to Pre-K at Magic Years with my daughter Alexis Snyder. Kitty was a beautiful child and had grown into a more beautiful young lady. She had such a smile that you couldn't forget. May God's angels watch over your family during this difficult time. Memories never fade away.
Kandi Koltz & Alexis Snyder.
We were deeply saddened to hear of the loss of your beautiful Christina. You are all in our thoughts and prayers during this time of grief.
May God bless everyone in your family.
Sincerely,
Jack & Kathy Mentzer
Shelly:
Words cannot express my sorrow for he loss of your daughter Tina.
May you find peace and love in the memories and good times spent together.
My thoughts and prayers are with you and your family
your neighbor
Shelly and Steve
Shelly,
Im so sorry to hear about Tina my thoughts and prayers are with you and your family.
Sincerely,
Sue McCarty
Shelly and family
Our thoughts and prayers are with you. We know your pain all to well.
Bob and Debi Wells
HEY BABY GIRL I LOVE YOU AND MISS YOU MORE THEN YOU COULD IMAGINE TINA!!! YOU WERE THAT DAUGHTER I COULD NEVER IMAGINE A SISTER BEING TO MY GIRLS HAVINGS.. TINA YOU WERE NOT MY BLOOD BUT YOU WERE MY HEART MAMMA!! REST YOUR HEART, MIND AND PAIN REMEMBER YOU WERE AND ALWAYS LOVED THEN, NOW FOREVER AND ALWAYS… BABY GIRL I WANT MY LAST HUG, KISS, HELD, AND MOST IMPORTANT I LOVE YOU MORE THEN YOU KNOW BABY GIRL… LOVE YOU MY GIRL!!
Shelly:
I met Kitty thru my daughter Ashley Riggin. Kitty was a good friend to Ashley and they had many great times together. We all will miss Kitty very much.
I will pray for you and your family thru this most diffcult time.
Sincerely
Douglas W. Riggin
thamk u all for loving my beautiful baby she was n is my world n the earlier years n all the pics we have are all the great memories wen she let us n all the pics of her good smiling face wth friends will good times memories i will never ever forget n tu for being such great grandparents Ilove her n miss her but n understand more than u no rite now that i have to b strong n prevent things from happening some groups or tell story maybe steve wilkos again lol but that would b something god says to forgive love ur enemies m i love n believe thru all my extra hairs ivebeen saved by him! read in my state earlier n now is the time like its always been thru god all things are possible if u let him in ur heart n been forgiven so vengence is not the key justice for her n saving other lives is y im here i truly feel that now after all these years of longing for god! love u mom always b forever plus a day or two love u all tu all for being so generous please read psalms 116:8 i am so absorbed in the book of the truth the way n the light amen love u all baby girl is in peace hopefully watching as an angel in a babys arms like aunt sandy got heer love u all