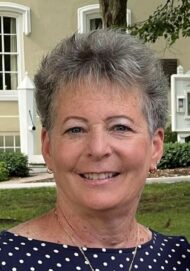 Cheryl Ann Ludwig, 65
January 23, 1957 - July 31, 2022
Cheryl Ann Ludwig, of Lititz, the light of our lives, left us to be enveloped in the eternal light of Jesus Christ in heaven on Sunday, July 31, 2022, at the age of 65. Born in Columbia, PA, she was the daughter of the late Isaiah E. and Anna R. (Hartman) Lichty. Cheryl was the beloved wife of Kevin S. Ludwig, and they would have celebrated 43 years of marriage on August 11.
Cheryl graduated from Hempfield High School with the Class of 1974. During high school, she was a member of the National Honor Society, the Yearbook Club, the Hempfield Singers, and the gymnastics team. She formerly worked as a dental assistant for James Heslop and as a Special Education Aide for the Warwick School District. For the past 24 years, she worked as a Job Trainer with Lancaster Lebanon IU13.
A loving and devoted wife, mother and grandmother, Cheryl is survived by her husband, Kevin, and two children, Philip S. Ludwig and his wife Sarah of Leola, and Julie L. Carlson and her husband Robert of Lititz. Also surviving are her grandchildren, Marshall and Lincoln Ludwig and Declan Carlson, as well as her brother Charles Lichty and his wife Julie of York. She was preceded in death by her sister, Tyann Lichty.
A Memorial Service will be held at 11:30 AM on Saturday, August 6, 2022, at the Charles F. Snyder Jr. Funeral Home & Crematory, 3110 Lititz Pike, Lititz, PA 17543, where the family will receive guests beginning at 9:00 AM. Interment will be private. In lieu of flowers, contributions in Cheryl's memory may be offered to the Lancaster Lebanon Education Foundation, 1020 New Holland Avenue, Lancaster, PA 17601, or the Adopt A Boxer Rescue, P O Box 154, Olyphant, PA 18447 – both of these organizations were dear to Cheryl's heart.
Watch the tribute video
Leave a condolence on this Memorial Page
Condolences to the Family
August 08, 2022
Dear Kevin and family,
I am so sorry for your loss. Peace be with all of you during this very sad time.
August 07, 2022
Dear Kevin, Philip, and Julie,I am so very sorry for your incredible loss. Cheryl truly radiated life and light to all she met and she will be dearly missed. I knew and loved her simply as "Momma Ludwig," which is how she first introduced herself to me. Her passion for loving and serving others, especially her kiddos, was unrivaled and her big heart and warm smile are irreplaceable. Cheryl was the most faithful supporter of our Flannel Friday's at Donegal High School and donated dozens of flannel shirts to our program to foster a sense of unity, belonging and community amongst our DHS students. Flannel Fridays this fall will be held in her honor and memory! She boldly lived out her faith with generosity and compassion and leaves behind a powerful example and legacy. Keeping you and your entire family in prayer now and in the days to come. Much love to you all. Justin NeideighDHS Social Studies Teacher
August 05, 2022
I had the pleasure of meeting Cheryl at Spooky Nook when she came with her group. We had many good talks and discussions. I will miss her smiling face and hellos

August 04, 2022
I am so very sad to hear this news. I worked with your wife, Mom at Donegal. I loved her enthusiasm when helping the kids and loved our conversations 💗. Prayers for comfort to you all during this most difficult time. I will miss her so much!
Tracy Donnelly
August 04, 2022
Cheryl was an amazing person.. I loved working with her with her students at Donegal. She will be so missed. She always put others first, was extremely helpful to those with disabilities. Hard working, always thinking outside the box to help others succeed in life. I am so sorry to see her go so soon.
Rachel Wagner
August 04, 2022
Dear Kevin, Philip, and Julie,
I've known Cheryl since we worked together at John Beck. She always had a spark for life and a positive attitude. I am so sorry for your loss.
Gloria Rodman
August 04, 2022
Cheryl was my colleague at Donegal High School. She was a champion for our students and we will miss her greatly. Cheryl has impacted more lives than we can imagine and has helped so many students find success simply because she believed in them. I will personally miss our story time in the hallway that were always filled with laughs.
Gretchen Beaudoin (Colwell)
HPE Teacher
August 04, 2022
Dear Philip and Julie,
I am so saddened for the loss of your mother. I worked with her at John Beck and she was, of course, impressive. I knew her better, however, as your mom when you were both in my sixth grade classes. She and I knew she had special children, but you and I know you had a very special mom. She will be missed by many.
Shirley Hunter
August 04, 2022
Dear Kevin, Phil, Julie, and families,
Words cannot express our sadness at the grief and emptiness you are feeling.
We cherish the times we've shared with your family and will hold onto our special memories of that laughter and love. We've been in Vermont this past week, but have been aware of your trials. Unfortunately, we will miss the services, but know that our prayers for strength and peace surround you.
Much love,
Gary, Mary Ann, and all of the Shellys
August 03, 2022
I can't even begin to express my sadness. Cheryl was a one of a kind Queen of the Paid Work Crews, we called her. She held the title with pride. She offered guidance and support for all around her. Our work crews will never be the same and she will be greatly missed!
Teresa Rivera
August 03, 2022
Cheryl was an amazing colleague and friend! Our job training family is heart broken!!! I know you are with God and his perfect eternal light, but you will be so missed!!! 🙏❤️🙏
Sandy Harnish
August 03, 2022
Kevin and Julie So Sorry to hear about Cheryl Ludwig Kevin your wife was my Job Trainer for Yurchak Printing Take care of yourself Kevin…
Hollis Thorbahn
August 03, 2022
Kevin and Julie
i met Cheryl because she worked with my daughter Allison Kerr. The last time I saw her was at a car show in EPete. She was her usual lovely self. She will find a way to let you know she will be watching over her family. I wish you peace and comfort as you move through this very difficult time.
Cappy Panud

August 03, 2022
So sorry to read of your loss.Seems like yesterday that you bought our home.Have thought of all of you often.Hope Cheryl's years were happy there as I was….
Carol Gingrich
August 03, 2022
We are so terribly sorry for your loss and are holding you in our hearts with prayer.
Christie and Henry Hissrich
August 03, 2022
Dear Julie,
We are all thinking of you and your family. Our deepest thoughts and prayers are with you during this difficult time.
With love,
Your Acute Care Family
August 03, 2022
Julie,
I just read with exreme sadness the obituary for your mom. I remember her wonderful enthusiasm at your track meets and her warm smile. The world is indeed diminished by her passing. My deepest sympathy.
Mr. Fitz
August 03, 2022
So sorry Kevin or yoour loss. Keep your faith and God will comfort, strengthen and guide you in the days ahead.
August 03, 2022
Dear Kevin I am so sorry to learn of the passing of your wife. I remember your family from your time at trinity. Trust in the Lord and He will help you through this. Jim Klopp
August 03, 2022
May the Holy Spirit, Our Comforter surround you, her family with deep peace. May you feel His arms around you as you mourn and grieve. You are loved
August 02, 2022
To Cheryl's family:
My heart goes out to you all and praying that God's spirit will stay ever so close to each & every one of you. I worked with Cheryl with the Youth Aid Panel program when she was the County Director. What an INCREDIBLE lady and outstanding person to work with & for. My prayers are with you all.
Allen Leed
August 02, 2022
My heart breaks for the family. I've known Cheryl since we worked at John Beck together and then as job trainers. She left us too young.
Lorraine (Donnelly) Hall
August 02, 2022
Cheryl was such an inspiration to me at the IU. She was intimidating to me at first, since she seemed to know everything, and I was so unsure. But, she went above and beyond to help me find my place with advice and so many new ideas. She was an incredible person who touched so many lives in wonderful ways. Sending prayers and love to her family!
Michelle Kauffman
Visitation

Saturday, August 06, 2022
9:00 AM - 11:30 AM
Charles F. Snyder Funeral Home & Crematory
3110 Lititz Pike
Lititz, PA 17543

Map and Directions

Services

Saturday, August 06, 2022
11:30 AM
Charles F. Snyder Funeral Home & Crematory
3110 Lititz Pike
Lititz, PA 17543

Map and Directions