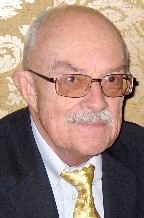 Charles W. Allabach, 78
Charles William Allabach, 78, of Lancaster, PA, passed away on Wednesday, September 19, 2012 at the Hospice & Community Care in Mount Joy, Pennsylvania. Born in Flushing, NY, he was the son of the late Charles Franklin Allabach and Helen Farrell.
Charlie began working in sales for Rheem Manufacturing Company in Linden, NJ at age 19. He later served in US Army stationed in Italy from 1957-1959. In 1976, he transferred to Cary, North Carolina where he retired after 36 years of service in 1989 at age 55. Charlie recently relocated from Raleigh, NC to Lancaster, PA in 2009 and became an active member of Highland Presbyterian Church. He was a man of strong faith, and loved Lancaster and living here with his daughter and grandson.
Charlie was witty and had an inquisitive mind. He loved to ask questions and possessed a wealth of knowledge on multiple subjects. He was full of life, tough as nails and always had a great story to tell. He was a longtime, avid New York Yankees fan and loved talking baseball history in general.
Charlie is survived by his children: Christine Allabach Westbrook, fiancée of Bruce Quinn, of Lancaster, PA; Joseph Allabach of Raleigh N.C.; and Gretchen Allabach, fiancée of Chris Lopez, of New York, NY; and his grandson Jackson Garrett Westbrook, of Lancaster, PA. He was predeceased by his daughter, Patricia Allabach Brumfield.
A Funeral Service will be held at 11 AM on Monday, September 24, 2012 at Highland Presbyterian Church, 500 East Roseville Road Lancaster, PA 17601 with Rev. Ann Osborne officiating. Family and Friends will be received from 10-11AM at the church. Interment will be at Indiantown Gap National Cemetery. In lieu of flowers, contributions may be made in Charlie's name to Highland Presbyterian Church or to Hospice & Community Care, 685 Good Drive, Box 4125, Lancaster, PA 17604, or online at www.hospiceandcommunitycare.org. To send the family online condolences, please visit SnyderFuneralHome.com. Charles F. Snyder Jr. Funeral Home & Crematory 717-560-5100.
Leave a condolence on this Memorial Page
Dear Christine and Jackson: The Bang families in NC are so very sorry for your loss. Please know that you are in our thoughts and prayers. You will always be welcome in our homes as an extended part of our family.
"Precious in the sight of the LORD is the death of His saints." (Psa. 116:15)
Our love,
Wil and Judy Bang
Joseph, Christine and Gretchen,
I was sorry to learn of your father's death. I saw his obituary in the Raleigh News & Oberver this past weekend. I showed it to Bonnie Skinner who use to work in sales with your father here at Tipper Tie, Apex.
Joseph,
I did not know how else to reach you, can you contact me at 919-362-8811 or sbrantley@tippertie.com.
Our condolences on your loss.
Sonja Brantley
On behalf of the Stephen Ministers of Highland Presbyterian Church, we'd like to extend our deepest sympathies to Charlie's family. Please know that we care and are praying for God's healing peace in your lives.
Sincerely,
The Stephen Ministers of Highland Presbyterian Church