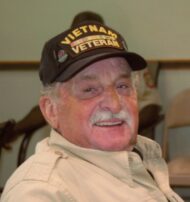 Charles R. Sauder Jr., 73
March 14, 2022
Charles R. Sauder, Jr. went to be with our Lord on Monday, March 14th, 2022. He was born on May 18th, 1948 and was the son of the late Charles R. Sauder and Betty Jane (Witmer) Sauder. He is survived by his sister Mary Commero and his 5 children that he deeply loved and were proud of; Sarah Miller, Ashley Sauder, Jennifer Sauder, Cynthia Branson and David Sauder. He loved his 7 grandchildren and 4 great grandchildren.
Charles was a proud USMC Vietnam Veteran serving 2 years. He was the current Vice President, past President and Squad Leader of VET21 Salute Honor Guard. He honored over 1000 Veterans and loved the camaraderie. He was an active AA Sponsor with almost 32 years of sobriety as of April 1st, 2022 and enjoyed his fellow community at the 521 Club. Charlie loved God, Jesus, and his church at Grace Baptist and being a leader at the downtown Discovery Recovery Ministry. He spent 40 years of his working life in carpentry and building repair. He enjoyed riding his motorcycle and his farm house. He took pride in living to be a benefit to others.
Friends and family are invited to gather on Saturday, April 9, 2022 at 1 PM at Mellinger Mennonite Cemetery, 11 Greenfield Rd., Lancaster, PA 17603. A Celebration of Life gathering will be held at 2 PM at Grace Baptist Church of Lancaster 1899 Marietta Ave Lancaster, PA 17603.
Leave a condolence on this Memorial Page
Condolences to the Family
September 30, 2022
Hi Dennis Studenroth here, it has been awhile since Charlie has passed over to be with Jesus ! He was my mentor and my Spiritual Guide thru the steps and my closest confidant! He showed me how to trust him and that allowed me th trust Jesus! I think of him everyday ! Love ya Brother !
April 09, 2022
Wonderful man, always had a great message to share.
April 09, 2022
Sorry for the loss. Charlie was a very loving and grateful man. Will always remember his smile and his kindness. He would light up the AA rooms. RIP.

April 08, 2022
Rest in peace my friend you left our program stronger and better for the examples you said for others you had touched my life in many ways and I'm sure many others your family and friends are in my prayers thank you for everything you have given us
April 06, 2022
I knew Charlie for just 2-1/2 short years, but gained so much from him in the rooms. He was an inspiring example of recovery, and truly loved God and the fellowship. Thanks Charlie for allowing God to use you. My deepest sympathy to his family and closest friends. May God bring peace to your hearts to know that Charlie is indeed home.
April 05, 2022
Charlie was a great example of walking the walk. He will truly be missed.
April 05, 2022
Will miss you brother
April 04, 2022
We are so sorry for the lost of Charle, he will be missed, he was a wonderful man!

March 31, 2022
i first met Sir Charles close to 16 years ago. I myself am a Veteran of 7 years in the Army, Jan.'69-Jan'76. Immediately he seen something in me. He told me mostly everytime we got together that, I had the SPIRIT in me. He was my Brother in Arms, my Brother in the Trinity, and my Brother in my Recovery. I will miss him dearly. My heart felt condolences to his ENTIRE FAMILY…
March 29, 2022
So sorry for your loss. Charlie helped a great number of people. He was an inspiration!
March 29, 2022
Charle was a awesome friend. A man of God. He loved peaceful moments. I always enjoyed having lunch with him and the gang on Saturdays. He will be greatly missed.
March 26, 2022
So sorry for your loss. Charlie was a wonderful, white hat, guy. Rick and I will miss him like everyone else.
Our condolences are with you all.

March 25, 2022
My wife and I only knew Charlie for a short period of time but found that we had a lot in common. He was a Marine, I was Navy, but we had many issues in common and I found that Charlie was a true Brother, under God. He and his smile will be missed. He is Loved and we will keep him in our thoughts and prayers, always! Dick and Polly Anglin :See you in the morning Charlie!!"
March 25, 2022
When I think of Charlie, I think of kindness. My deepest sympathies for your loss. Charlie will be missed be everyone who knew him.
March 24, 2022
Sincere condolences to Charlie's children and family, and those also who were closest to him. I feel very blessed to have known him throughout the years and will always remember him fondly. He was a wonderful person who was a blessing to so many of us. Rest in peace my friend. You are loved.
March 23, 2022
MY CONDOLENCES AND PRAYERS TO THE FAMILY OF A BROTHER MARINE. MAY HE REST IN PEACE GUARDING THE GATES OF HEAVEN. CPL. KARL F. SCHUBERT 62-68
Visitation

Saturday, April 09, 2022
1:00 PM - 2:00 PM
Mellinger Mennonite Cemetery
11 Greenfield Rd.
Lancaster, PA 17603

Map and Directions

Services

Saturday, April 09, 2022
2:00 PM
Grace Baptist church
1899 Marietta Ave
Lancaster, PA 17603

Map and Directions