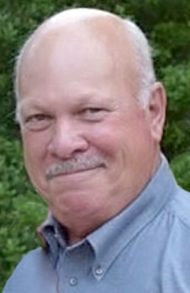 Charles L. Thourot, 74
September 05, 2018
Charles L. Thourot, age 74, died on Wednesday, Sept 5, 2018. Born in Lancaster, PA, he was the son of the late Charles L. and Mary E. Ward Thourot. He lived in Willow Street and more recently in retirement at the Willow Valley Lakes Campus. He was the loving husband to Donna (Laukhuff) for over 53 years.
Upon graduating from Lampeter- Strasburg H.S.in 1962, he joined the U.S.A.F. He married the former Donna Marie Laukhuff and was employed as a lineman for 38 years at PPL. He and friend Harvey were known as "the Bruise Brothers". Not to be deterred, he spoke out on issues even when not the popular thing to do. Today linemen of Charlie's age are referred to as "the dinosaurs". They most likely set a high bar, on which skills continue to be measured.
Participating in family life was of the utmost importance to him. He found time to volunteer at the local fire department and his church, coach little league baseball, collect antiques and refinish furniture. Always ready to lend a helping hand, Charlie was known as a good neighbor. Fostering lasting friendships, making the best of bad situations, solving mind boggling problems, encouraging fairness and good sportsmanship were attributes passed on to his children. You can almost hear him say "we're going to make it" with always a hug and positive attitude in difficult times.
He looked forward to hunting in the winter months, spending time at the Hillegas cabin with his nephews, son and grandson. His greatest pleasure however was making memories at the beach home with family and friends. Sitting on the surf with Harvey, Troopie, and Joe, waiting for "the big one to bite", while telling outrageous stories, brought many a laugh to those who would listen. He enjoyed sitting on the front porch in Delaware, watching the hummingbirds feed while getting the scoop on what's new in the neighborhood from Brenda and Dave; this brought relaxation after a busy work week. These are the simple things he sought out in life. He was a fan of family and traditions.
In addition to his loving wife of 53 years, Charlie is survived by his daughter Lori T. Smith (Edward) of New Providence, son Chad Thourot (Jennifer) of Millersville, grandchildren Caitlyn and Cade Thourot, sister Sally Hillegas of Conestoga, nephew Keith Hillegas (Tricia)also of Conestoga, nieces Lauren and Lindsay Hillegas, Dr. Kristofer Hillegas (Dr. Amanda) of Mooresville, New Jersey, and their children Avery and Andrew. He was predeceased by nephew Kevin Hillegas, for whom he had great fondness. He will be missed by his fishing buddies Harvey Drace and Bill Troop. They called themselves "the three Amigos". Joey is probably already sharing his favorite fishing spot with "Bubby" and enduring evermore hassling, yes even in heaven. Thanks go out to neighbors, friends and family who kept in touch and for the invaluable support of Rod & Ann Laukhuff. Special thanks to all the staff of Meadow Ridge and Lakeside on Lakes Campus, who helped make Charlie's life pleasant despite his illness. Pink Team of Hospice was available to provide counsel and comfort to the family as well.
Charlie was a member of St. Philip the Apostle Catholic Church. A Christian Prayer Service will be held at St. Philip the Apostle, 2111 Millersville Pike, Lancaster, PA 17603 on Wednesday, September 12, 2018, at 11AM. Friends and family will be received from 10AM to 11AM prior to the service. Burial will follow at St Joseph Catholic Cemetery.
In lieu of flowers, please donate to St. Jude's Hospital for children, 501 St Jude Place
Memphis, TN 38105 Source Code: IIQ180788777 or Disabled American Veterans, 4219 Trindle Rd, Camp Hill, PA 17011.
We will all miss Charlie's helpfulness and comforting bear hugs. May his hands be outstretched in greeting when we enter God's kingdom. May we all have been blessed to have known and loved Charlie Thourot here on earth.
Leave a condolence on this Memorial Page
Condolences to the Family
September 12, 2018
Donna, I wish to extend my sincere sympathy to you and your family. I graduated with Charlie at LS and the two of you were sharing at the table when we celebrated with having our class reunion dinner last fall, how much you both enjoyed living at Willow Valley. Saddened by your loss, he was a great guy. Full of fun! With Sympathy, Marian Herr Witmer
September 11, 2018
With much love and sympathy. He was an amazing man and a great friend to have. Dad adored him and Mom loved him to pieces. My heart goes out to all.

With love- Cathy Potter (McHose) and family.
September 10, 2018
I am deeply saddened by the news of Charlie. I remember when both of you came Antique Shopping in the Adamstown area and stopped in and reminisced about our family. I pray that God will grant you the strength. My most sincere condolences. Jerry and Audrey Thomason

September 09, 2018
I am so sorry for your loss, I remember Charlie always had a smile. Prayers go out to you and your family. Kathleen Resch Kissinger.
September 09, 2018
Donna and family, My thoughts and prayers go out to all of you. I was just one of the privileged one to know him through my families picnics. He would have us laughing crying with his sense of humor and stories. He will truly be missed.
Ron, Adam, and Doris Beaner
September 09, 2018
I was lucky enough to have Charlie as an uncle, he was a wonderful man and will be missed greatly. The Hillegas family loved him very much.
September 08, 2018
The angels led Charlie through the Heavenly Gates to meet his friend and Savior , Jesus. All who knew Charlie soon learned that he always gave of himself in what ever way he could. We will mourn him but heaven rejoices and welcomes him. Until we meet again. Love and prayers to you Donna and family.
Carole and Harry
September 08, 2018
I am very happy to have known Charlie.He was a very great father I law to my daughter. I know now he is in heaven casting that fishing line,a smile on his face. Audrey
Visitation

Wednesday, September 12, 2018
10:00 AM - 11:00 AM
St. Philip the Apostle Catholic Church
2111 Millersville Pike
Lancaster, PA

Map and Directions

Services

Wednesday, September 12, 2018
11:00 AM
St. Philip the Apostle Catholic Church
2111 Millersville Pike
Lancaster, PA

Map and Directions