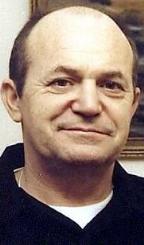 Charles E. "Charlie" Abel, 80
Charles E. "Charlie" Abel, 80, of Lancaster, passed away, Friday, July 23, 2010 at Conestoga View Nursing Home. Born in Lancaster, he was the son of the late Lyman J. Gilbert and Lyda Abel. Charlie was the husband of Grace P. (Dimitris) Abel with whom he celebrated 59 years of marriage this past September, 3rd.
A 1948 graduate of Stevens Trade School, Charlie was employed by Schwalm's Watch Dial as a Tool and Die Maker. He enjoyed bowling, camping, and was a member of the AMVETS Post #19.
Surviving in addition to his wife Grace, is a son, Robert Abel husband of Marjorie of Lancaster; two granddaughters, Sherry Davis and Lisa Herr, both of Lancaster, 4 great grandchildren, and sister, Darlene, wife of Earl Williams.
He was preceded in death by a son, Richard Abel, and a daughter Cathy Herr, wife of Douglas Herr, Peach Bottom.
Services will be private and at the convenience of the family.
In lieu of flowers memorial contributions can be made to Hospice of Lancaster, 685 Good Drive, Box 4125, Lancaster, PA 17604.
Arrangements by Charles F. Snyder Funeral Home, 414 E. King St. Lancaster, PA 17602. To send an online condolence or for more information please visit SnyderFuneralHome.com
Leave a condolence on this Memorial Page
So sorry to hear of your loss, you are in our thoughts and prayers. He is in a much better place. I am sure the many memories will keep your spirits up. Just know that we are thinking of you.
Patty and Ronnie Keen
You have our sincere sympathy. We have been thinking of you and hope that the happy memories will comfort you in the days to come.
THIS IS A LITTLE POEM THAT HELPED ME THROUGH THE PASSING OF MY FATHER
When I must leave you for a little while,
Please go on bravely with a gallant smile-
And for my sake and in my name,
Live on and do all things the same-
Spend not your life in empty days,
But fill each waking hour in useful ways-
Reach out your hand in comfort and in cheer,
And I in turn will comfort you and hold you near.
Helen Steiner Rice
KAREN & BUTCH TSHUDY