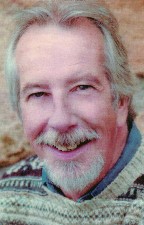 Charles E. Ganse
Charles E. Ganse died suddenly on Thursday, September 27, 2012 at the Saint Anthony's Hospital in Lakewood, CO. Charlie was a longtime resident of Evergreen, CO. Charlie moved to Evergreen in 1976 following years of travel around the United States, Europe and Mexico. He began what would become his lifetime career at Bear Tub Company where he learned his trade. Charlie went independent in 1977 when he started his business with hot tub repairs, years past and his business grew to sales and service with the opening of Peak Hot Tub and Spa. He was considered the original "Dr. Spa".
Charlie began his never ending childhood in Morehead City, NC and was raised on Cabbage Hill in Lancaster. Charlie was a person of knowledge, having attended Millersville University studying Biology. Always a naturalist, Charlie's love of the outdoors was evident in a lifetime of bird watching, fly fishing, star gazing and hiking. Charlie spent countless hours on the ski slopes in Colorado, golfing, and driving around in his TR3 sports car in Evergreen. He was also an avid Broncos fan, and many a night or afternoon was spent in front of the television with dear friends, beer in hand, cheering for their team. Clearly, Charlie's wit was known by all. He was an exceptional brother and uncle-his thoughtful and playful presence cannot be replaced.
Charlie was preceded in death by his parents, Edward J. Ganse, Sr. and Mary E. Ganse. Charlie is survived by his brother: Edward "Buddy" Ganse, husband of Kathy Ganse, sister, Mary C. "Cathy" Roth, wife of Harry Roth and sister, Margaret "Mooge" Steele, wife of Michael Steele. Charlie also had five adoring nephews and nieces: Michael Steele, Tyler Steele, Annie Roth, Emily Steele and Eddie Roth.
A Mass of Christian Burial will be at 9:30AM on Saturday, October 13, 2012 at St. Joseph Catholic Church, 440 St. Joseph St., Lancaster, PA with Rev. John D. Schmalhofer as Celebrant. Family and friends will be received from 9-9:30AM at the church on Saturday. Interment in St. Joseph New Catholic Cemetery. In lieu of flowers, memorial contributions in Charlie's memory can be made to the Hawk Mountain Sanctuary, 1700 Hawk Mountain Rd., Kempton, PA 19529. To send the family online condolences, please visit SnyderFuneralHome.com. Charles F. Snyder Funeral Home & Crematory 717-872-5041
Leave a condolence on this Memorial Page
Buddy, Cathy, Mooge and Family – I was so sorry to hear of Charlie's passing. He was such a wonderful person and I am sure you will miss him deeply. I have a lot of memories of him through times spent with your mom and dad, who are also greatly missed. You are all in my thoughts and prayers. God Bless!
Cindy Hughes
To Buddy, Cathy & Mooge:
My heart is hurting for you guys. Charlie was such a great presence. I learned a lot from him. My very deepest sympathy.
Sincerely,
Ann Gallagher
Dear Cathy, Mooge and Buddy,
I was so very sorry to hear of Charlie untimely death and I'm I know your loss is profound. I remember that summer when we were all on the beach in North Carolina… such fun! That's how I'll remember him.
Meg Hyman
Buddy sorry to hear about your brother. Did not know he lived out here in the midwest. Take care my friend. Thoughts and Prayers with you and your family.
Donnie Spangler
Cathy, Mooge and Buddy,
I was very sorry to hear of Charley's passing. It brought back many memories. Smoking corn husks in the shed behind your house, Charley breaking his arm trying to pole vault over the wash line. I could go on and on.
Liz and my visit to Evergreen was also very special. Beautiful place. I'm sorry to say that I won't be able to attend the service. Liz and I are in France until the end of November.
I was very happy to see that Father John Schmalhofer will have the service.
Please give my best to Father John and Tim.
This is one time I wish I was home! My thoughts are with your family.
take care,
dick stipe
To Buddy, Cathy, and Mooge, I am sorry for your loss. I remember many of our days growing up on Poplar St. As Dick Stipe said, I also remember the day he broke his arm. He was a great person, almost like a "big' brother to me. Also, please say hello to Father John Schmalhofer. I apologize for not being able to attend, but I am working this weekend. Please all Take care, my thoughts are with all of you.
Brian Brandt
Cathy, Mooge, and Buddy,
I want to offer my condolences but don't know what to say. What can be said. My heart is broken for you all. Keeping you in thought and prayer. Lots of Love,
Susie Murph
Charlie, was one of my father's best friends (John Coomes), and my Godfather sense the day I was born. I will never forget him, such a kind and free spirit. He gave me my first nickname (Juiceface), and my first snow globe which I still have. My condolences go out to his family, and many many friend. Charlie was easy to love.
Love and light,
Corina koonzt (Cori "Juiceface" Coomes)