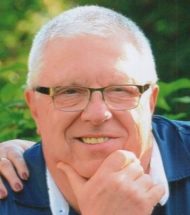 Charles Clifford Carver Jr., 66
June 01, 2021
Charles "Chuck" Clifford Carver Jr., 66, of Lititz, formerly of Sayre, PA passed away suddenly on June 1, 2021. He was the devoted spouse of Michele (Spence) Carver since 1979, the loving father to Kevin Todd (Becca Rhoades), of Lancaster, and Jeffrey Aaron (Gayle Kauffman), of Mechanicsburg, and the best PopPop to Chase Charles and Jordan Jeffrey.
Born on June 16, 1954 in Troy, Ohio, to the late Hilda Iliene (Sullivan) and Charles Clifford Carver Sr., Chuck was a graduate of Miami East High School (1972) and The Ohio State University (1976), where he earned a bachelor's degree in broadcast journalism.
He moved from Ohio to Sayre, Pa. with his childhood friend and college roommate Todd Bowers to work at WATS Broadcasting in 1976, eventually becoming co-owners of the stations until his retirement in 2020. He served as President and General Manager of WATS-WAVR from 1980-2020. During his time at WATS, Chuck created the award-winning Scholarship Challenge (1980) and Christmas is for Kids (1986). He was the recipient of more than 100 state and national awards for broadcast excellence.
Chuck was heavily involved in the community in Sayre, having recently been named WATS/WAVR Individual of the Year for his dedication and service to the community, an award he created almost four decades ago. He served as a certified lay minister through the United Methodist Church having preached in more than three dozen area churches. He was the past president of the Greater Valley Chamber of Commerce, the Sayre and Athens Rotary Clubs, the Sayre Library Board and the Sayre Business Association. Chuck also was the Chairman of the Valley Energy Board, was a member of the New York State Broadcasters Board of Directors, spent time as the Sayre High School Athletic Director while also serving multiple stints on the Sayre School Board.
He loved his community, but family was the most important thing to him. He loved the Ohio State Buckeyes, the Cincinnati Reds and the Big Red Machine, golf, playing cards, reading and traveling, especially to tropical paradises with his wife, Michele, and Bethany Beach, DE with his family, and spending time with his grandkids. In 2020, he moved to Brethren Village in Lititz, Pa., to retire and be closer to his sons and their families. He is also survived by his sister Judy Thuma (Craig) and his brothers Rick Carver (Bridgette) and Gary Stewart (Kat). He is predeceased by his brother Doug Carver.
A Memorial Service celebrating Charles's life will be on Friday, June 18, 2021 at 3PM at the Charles F. Snyder, Jr. Funeral Home & Crematory 3110 Lititz Pike, Lititz, PA 17543. The family will receive friends from 2PM-3PM. There will be a Memorial Service in Sayre, PA on August 14, 2021 with details announced at a later date.
In lieu of flowers, memorial contributions may be made in Charles's memory to the Cherish Love Honor Capital Campaign for Lancaster Catholic High School 650 Juliette Ave. Lancaster, PA 17601.
Watch the tribute video
Leave a condolence on this Memorial Page
Condolences to the Family
July 28, 2021
To The Carver Family, I am so deeply sorry to hear about Chucks passing. You have such a beautiful family and I know he was so proud of each one of you. Chuck was such a joy to be around as he filled the room with so much laughter. Keeping you all in my prayers
Sue ThumaTroy, Ohio

June 20, 2021
Dear Michele, Kevin, and Jeff,
Anne and I are so sorry for your loss. Chuck's participation and leadership at Sayre United Methodist Church was so important to that congregation life and ministry. He was a sparkplug of change trying to get the engine of the church to turn over. I appreciate the support he gave to me and his positive attitude. God bless your friends. Earl Roberts
June 18, 2021
Sending heartfelt sympathy to all the family- just hard to believe this wonderful man is gone but thankful I had the privilege of calling him friend. He will be missed!
Nancy Schrader
June 10, 2021
We have lost a special person with Chuck's passing. Michele, Kevin, and Jeff our thoughts and prayers are with you. We all know God called him home because he was needed. God bless you!
Gail & Bob Spence
June 09, 2021
When I came to work for Chuck in late 1995, I learned a fast lesson on what the word " community " meant. Chuck was a pillar of " The Valley " and " Twin Tiers " and one of the most respected men I have ever met. My only regret is that my time working with him didn't last as long as I had hoped. My heart remains with his wife Michele and sons Kevin and Jeff, who were teenagers last we saw each other. This loss will be felt for a long time over a great distance.
Robert P Comstock
June 09, 2021
Michele and family,
I was so saddened to hear of Chuck's untimely passing. He was always so full of life and so happy to lend a hand and share a kind word. He will be missed by many, and I for one will be forever grateful to have known this wonderful man.
Linda Politi
June 08, 2021
Our family was totally shocked and heartbroken when we heard about this. Warren has a tribute going in column form in the Rocket-Courier this week. Chuck was his first boss and a very good man. He will be sorely missed and it's going to take a long time for us to recover from this hit. Your family is in our prayers during this time.
Lisa (and Warren) Howeler
June 08, 2021
Michele and Family,
It is with great sadness we send our sympathy and prayers to all of you on the the loss of Chuck. He will be remembered as someone who gave his all to community, family and friends. We will miss hearing his unique voice again. We were lucky to have had him in our community.
Sincerely, Ed & Kate Jones
June 07, 2021
To Michelle and all of Chuck's loved ones;
So sorry to hear of the recent loss. I remember his meaningful sermons at Wilawana Methodist Church. I know that Jesus and His boundless love will help you through this hard time.
GOD bless, Lowell 'Lee' Potter
June 06, 2021
I am so very sad and sorry for you and the family. I have so many great memories of my years with Chuck doing morning drive at the Choice back in the 90s. Sending you love and prayers that as you make your way through the loss and grief, you will cherish the time you had together and the richness of those decades. Barbara Caum
June 06, 2021
So sorry to hear of Chuck's passing. What can I add to all the wonderful things others have said about Chuck? He often filled in for our pastor at the Sayre Presbyterian Church. I was always so impressed by the way he spoke when referring to his wife, Michelle, with the utmost respect and honor. It was very clear he loved her and held her in the highest regard. So very sorry for your loss. Sherry Pinkard
June 06, 2021
So sorry for your loss. Prayers to the family.
Debbie G.
June 06, 2021
We are so sorry for your loss. Chuck was an exceptional person whose life and work touched so many people here in the Southern Tier. Our Owego connection through the Scholarship Challenge is only one example of his giving nature and positive outlook on life. Ben & Linda Frisbie
June 06, 2021
Michele,
So saddened to hear of your loss. You are in my thoughts and prayers.
Nancy Frey
June 05, 2021
Michele, Kevin, and Jeff, we were devastated to learn of Chuck's sudden passing. We both felt privileged to call Chuck a friend for almost 40 years. I'm so glad that we continued to keep in touch through FB and emails even after you moved. He was one in a million, and his presence will be missed by all who knew him, and certainly bu us. Our sincere condolences to you all and your family. Jackie and Steve Bowen
June 05, 2021
The valley lost a great icon this week as well as a wonderful husband, father, and grandfather. No words can express the loss you and your family are feeling Michelle. My prayers and condolences go out to you and I hope that the wonderful memories will help to ease the pain💔💔
June 05, 2021
Michelle and family
So very sorry for your loss. Chuck will be sorely missed. Our thoughts and prayers are with you all.
Gloria and Bob Ward
June 05, 2021
I met Chuck shortly after he arrived at WATS-WAVR, where I worked on and off parttime on breaks from college. He was a good and kind boss, and though I moved away, I made a point when I returned to the Valley to listen to the Adult Choice to hear what he was doing. It was obvious that Chuck thought the station could be a powerful community asset and devoted a great deal of effort to ensure that it would be–which it obviously was. My occasional communications with him always reminded me why I thought he was a good and kind boss. His was a life well lived. My condolences to the family and his many friends.
Kevin Cole
June 05, 2021
My deepest sympathy to Chuck's family. I will forever hold memories of our friendship in my heart. My heart is breaking for the loss of this wonderful man. I will forever be grateful for the friendship we had. When our paths crossed, I knew this may was genuine, sincere and such a caring man. Rest easy my friend and thank you for our friendship. Shelli (Place)Silkman and family
June 05, 2021
Michele,Kevin& Jeff;
So sorry to hear of Chuck's passing. He brings very fond memories to so many. Chuck was an inspiration to the entire Bradford County & New York State region. We knew him best thru Rotary and all his great work he accomplished for the Valley.
He was Ohio Sport's best fan ever, and he is now with God boosting the Best

Al & Jeanne Crosby
June 05, 2021
To Chuck's Family,
Chuck was a Valley and Bradford County legend. He touched more facets of our lives than anybody I ever met. He "walked the talk" as a Christian. He brightened the corner everywhere he went and we are all better having known him. He loved his family and has left a great legacy. He was truly a good man. I send my deepest condolences to his wife and family.
Tom Abell
June 05, 2021
Michele, Kevin and Jeff, I am so very sorry to hear of Chuck's passing, I have so many fond memories of all the banter between him and Joe. Probably the best would be the time we woke up and he was doing the sports from our deck or the time he switched Joe's ND plate to his Ohio State. I hope that they have met up and are back at their banter. I will be keeping you all in my prayers. Linda Murrelle
Services

Friday, June 18, 2021
3:00 PM
Charles F. Snyder Funeral Home & Crematory
3110 Lititz Pike
Lititz, PA 17543

Map and Directions