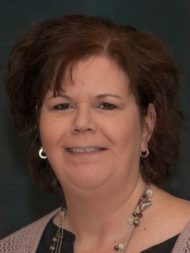 Carolyn J. Griess, 48
February 20, 2020
Carolyn J. Griess, 48, of Mount Joy, passed away on February 20, 2020.
Born in Norristown, she was the daughter of Rev Norman W. and Jean E. Ernst Griess of Lancaster.
Carolyn earned a double Bachelor of Arts in Bible Studies and Elementary Education at Cairn University. She then earned both her Masters of Education and Doctorate degrees from Penn State University. Her life-long dream was to be a teacher and she taught on many levels, most recently as an Associate Professor at Penn State Harrisburg, teaching behavioral sciences and education courses in the Elementary Education program. She was also very active in the Early Childhood community where she provided training on quality care at local conferences and numerous child care settings. She loved her students and made a lasting impact on their lives. She also worked at ARAMARK, Work/Life Partnerships and in Camden, NJ connecting children and families to community services.
She was a member of Lancaster County Bible Church (LCBC) Manheim and was instrumental in the development of the book store and café at the church.
Carolyn served on the Board of the Community Action Partnership of Lancaster (CAP) for several years most recently as the Board Secretary.
In addition to her parents, she is survived by her sister: Elaine J. married to Jim Bendinsky of Lititz and her niece, Heather and nephew, Adam. She is also survived by two uncles and their wives, and three cousins and their spouses.
Carolyn's Celebration of Life will be held on Saturday, March 14, 2020 at 10:30 AM at LCBC Manheim Campus, 2392 Mount Joy Road, Manheim, in the West Wing Auditorium. Please enter at the south auditorium entrance. Friends and family will be received from 9:30 AM until time of service. Interment will be private. In lieu of flowers, please make contributions in Carolyn's memory to the Community Action Partnership of Lancaster, 601 S. Queen St., Lancaster, PA 17603.
Leave a condolence on this Memorial Page
Condolences to the Family
March 17, 2020
Dear Pastor Griess & Family: My deepest sympathies to you on the home-going of Carolyn. She was a former student of mine at Valley Forge Christian Academy (Grade 5). Although not having the pleasure to connect with her as an adult, I have fond memories of her as a bright and dedicated student. From what I read about her earthly journey, Carolyn lived a life that was pleasing unto the Lord. The comfort of Jesus be with you during this time of temporary separation. John 11:25-26
David Hegedus
March 14, 2020
I am a former student from the '2017 Cohort' at Penn State. I am still in contact with all of the members of my class and I hope it will be alright if I take a moment to speak for all of us. We were heart-broken to learn of the passing of Dr. Greiss. To say that she was a mentor and guide for us is truly an understatement. Please take comfort in knowing that she touched our lives deeply. Her practices and ideals are shared in classrooms across this country and will go on to benefit countless children; we are truly grateful. She will always live in our memories and in our classrooms. Several of us had planned to attend the services today but given that we are all educators, and with this virus that is causing so much concern, we decided that it would be irresponsible and s possible danger to all for us to attend. We are so sad that we cannot offer our condolences in person. Your family is, indeed, in the thoughts and prayers of many today. God Bless you and Carolyn.
Karin Hall
March 12, 2020
There are no words…
Karen Rucker
March 11, 2020
Norm, Jean, Elaine, Jim and ALL family: We were not ready to hear of Carolyn departing from this earth, but know we will be rejoicing with her some day in glory. She was very special to us in many ways. Please know we are praying for you all as you go through the coming days. Just think of the joy she must be having to be with her Saviour celebrating her homecoming. Won't it be grand "When We All Get To HEAVEN".
Dave and Sandi Weidner
March 09, 2020
She is remembered with love. Prayers to all.
Sara
March 02, 2020
My deepest sympathies. Your family will be in my thoughts and prayers. Cling to the blessed hope that you will see her again one blessed day !
Patricia Pennell
March 02, 2020
With deepest sympathies to Carolyn's family and friends. May God grant you peace in as you celebrate Carolyn life and her memory. Words can not express the sadness I feel for the loss of my friend. I will carry her in my heart forever as a friend and mentor. I have such wonderful memories of the many LAAEYC events together, countless meals laughing and discussing ECE, family and life's struggles. She was my "think tank" through difficult times in my career and I will forever be grateful for our little chats. Until we meet again, rest in peace my dear friend. Peace be with you.
Rose Snyder
February 29, 2020

I am so saddened with Carolyn's passing. She was a dear colleague and friend. I have such fond memories of our times working together on accreditation and education programming at Penn State Harrisburg. I could always count on Carolyn to be a "team player." She was smart, kind, reliable, and passionate about education. I also have fond memories of taking a trip to a conference in Florida, working on accreditation requirements on my deck, meeting for lunch dates, and shopping for Michael Kors' handbags. I am so happy I had the opportunity to talk to her a few days before her passing. Her laugh is etched in my brain. I am a better person having known her.

To her family: She loved all of you, especially her niece and nephew who had a special place in her heart. May memories of her remain vibrant as you walk through this difficult journey. My prayers and best wishes are with you all.
Denise Meister
February 28, 2020
We will miss Carolyn for a brief season and until we are reunited with her in Heaven. I thank our savior Jesus Christ for her life here on earth and for her eternal life in heaven.
We are praying that her family finds comfort in fellowship with one another and with the endless peace given by our Lord Jesus Christ.
We miss her.. but know we will see her again.
Chris Callender
February 28, 2020
I am so very grateful Carolyn shared with me so many important experiences during her time at Penn State while she earned her doctorate and I was priveleged to be her academic advisor and co-dissertation advisor and I will always cherish the memories of her loving kind nature that went along with her work ethic and exemplary dedication to our field of early chilhood. My relationship with her and her wonderful nature will last forever and I hope that what Carolyn means for us continues having benefits for young children and families who she loved and cared about so much and dedicated her life to. Thank you Lord for the gift of Carolyn to our lives.
Jim Johnson
February 27, 2020
My sincerest sympathies on the loss of Carolyn. You are in my thoughts during this difficult time. She was a great educator, it is truly a loss in the Early Childhood community, as well.
Christelle Bolton
Visitation

Saturday, March 14, 2020
9:30 AM - 10:30 AM
LCBC Manheim Campus
2392 Mount Joy Road
Manheim, PA 17545

Map and Directions

Services

Saturday, March 14, 2020
10:30 AM
LCBC Manheim Campus
2392 Mount Joy Road
Manheim, PA 17545

Map and Directions