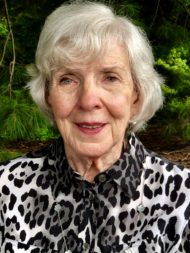 Carole Lynn Althouse Abert, 88
March 17, 2021
Carole Lynn Althouse Abert, (88), a resident of Willow Valley, died on March 17th. Carole was born in Lancaster. She was the daughter of L. Bruce and Mildred (Myers) Althouse, and the sister of Janice (Althouse) Schlimm and was predeceased by her brother, L. Bruce Althouse Jr. Her husband James Goodear Abert predeceased her on April 1st 2018 shortly before their 60th wedding anniversary.
Carole graduated from Manheim Township High School in 1950 and graduated from Albright College with a B.S. in Biology and Chemistry. Then she fulfilled the qualifications to become a Medical Technologist at Lancaster General Hospital.
Carole worked at the New England Deaconess Hospital in Boston for several years as a Medical Technologist. Then in Philadelphia, she worked at Smith, Kline and French where she conducted experiments to determine the effects of varying doses of medication. Carole was then briefly a flight attendant for TWA. While raising children in DC she worked as a docent for the Smithsonian Institution in the History and Technology Museum. In 1982 she obtained a Master's Degree in Special Education from American University. With that degree, Carole successfully tutored high school students with special needs in mathematics.
Carole and Jim returned to Lancaster in 2002. In retirement, Carole kept busy as a member and Officer of the Lancaster Woman's Symphony Association and as a tour guide at the Landis Valley Farm Museum.
Carole is survived by four children and nine grandchildren, Steven (Catherine, James), Janice (Anna and Matthew), Susan (Caroline, Elizabeth and Julia), Michael (Shrey and Tejas), and her sister Janice Althouse Schlimm.
Friends will be received on Saturday, June 12, 2021 from 12-1PM at the Charles F. Snyder Jr. Funeral Home & Crematory, 3110 Lititz Pike, Lititz, PA, with the Memorial Service to begin at 1PM. Interment will follow in Conestoga Memorial Park. A reception will be held afterwards with more details to follow. In lieu of flowers, memorial contributions may be made to The Lancaster Symphony, Sound Discovery Community Engagement Fund, 48 North Christian Street, Suite #200
Lancaster, PA 17602, https://lancastersymphony.org/sound-discovery-community-engagement-programs.
Leave a condolence on this Memorial Page
Condolences to the Family
June 07, 2021
We have the most positive memories of our time with Jim and Carole in the Navy and some contact thereafter. Carole had a very strong influence on our early married years. She trusted us to take care of Steven for a few days in Hawaii and we revelled in that. Our sympathy to her wonderful family.
Jack and Betty Hubbard
May 01, 2021
I have known and stayed in touch with Carole and her late husband Jim since my Naval Officer years at Villanova University, 1956-1958. That was the beginning of a long and delightful friendship with visits to them in Washington, DC and then again back in Lancaster. They both were very special friends, and I will miss them greatly. My sincerest sympathy to their four remarkable children!
Eldon Park
March 25, 2021
Carole was a wonderful person. We will miss her. Sending love to all the Aberts.
Polly Noonan
March 24, 2021
Sincere sympathy to Carole's family. I spent alot of time with Carole when I worked at connections at home. A good friend that always had a smile. RIP Carole
nancy waltz
March 23, 2021
God has called a beautiful angel back to Him! Carole has done her work on earth and has impacted the lives of many. Her precious children are testament of the love ,warmth and kindness that filled her heart. Carole will be greatly missed but her legacy will forever live on through her powerful ancestry. Rest your wings dear Carole we will all fly together again one day!
Clover Lewis Beezer