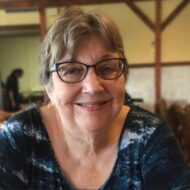 Carol E. Mays, 69
February 16, 2023
Carol E. Mays, 69, of Lancaster, passed away after a courageous battle on February 16, 2023. Born and raised in Lancaster, she was the daughter of the late Lawrence Jr. and Betty Jane Bisking, and was the loving wife of the late Jerry Mays Jr. for over 49 years.
Carol was a Penn Manor graduate of 1971. She worked at St. Joe's, Lancaster Regional, UPMC in Lititz until her retirement in 2021. She loved spending time with family especially her great grandsons. Carol was a member of St. Philips Catholic Church, GBU and Millersville Auxiliary #7294.
She will be greatly missed by her children, Tammy L. Mays of Lititz, and Jeremy M. Mays, husband of Elizabeth Fisher of Lancaster; granddaughters, Samantha Mays, and Kylie Mays; great grandsons, John & Jacob; and siblings, Lawrence Bisking, Sharon Frey (Robert), Brenda Zander (Richard), Raymond Bankus (Dawn Roberts), and Joseph Bankus, as well as extended family.
The family will receive guests on Monday, February 27, 2023, at the Charles F. Snyder Jr. Funeral Home & Crematory, 3110 Lititz Pike, Lititz, PA 17543, from 10 AM to 12 PM, with a service thereafter. Please omit flowers and consider memorial contributions to Susan G. Komen.
Leave a condolence on this Memorial Page
Condolences to the Family
March 09, 2023
My heartfelt sympathy to Carol's family. She was a truly joyful person and I enjoyed hearing how much she loved all her family when working with her at UPMC. I am sure she is brightening Heaven with her smile and sense of humor.
Aimee Fernback
February 26, 2023
Oh Carol. Gone to soon. I know you are in a better place and what a happy reunion you must be having with loved ones. I can see the smile on your face. Rest in peace sister.
February 25, 2023
My deepest sympathy to Sharon and family. Your in my thoughts and prayers. Doreen Carroll
February 25, 2023
My friend,you are now at peace and with Jerry, we had many great times, you would always include our family to your functions,and had great times working together. Your fight is over and now you will enjoy the heavenly kingdom. For now my friend we will meet again.
February 24, 2023
My dear friend, you have left this earth way too soon, but God must have needed you more. I will cherish all the memories of working together at Lancaster Regional/UPMC, our breakfast's, dinners all our talks and laughs. You will be missed when the breakfast club gets together, but we will leave an empty seat in your memory. You are now reunited with your Love, Jerry. I will miss you my friend…until we meet again❤️
February 23, 2023
My dear sister, you have left this earth way too soon! Your memory will never leave me. I always said " you were my hero." Simply by how you handled what life dealt you these last few years. I miss you already so much! Until we meet again…. and safe home ….
Brenda Zander
February 22, 2023
May we all find comfort in our hearts knowing Carol and Jerry are together once again, what a joyous reunion they must be having, keeping your family in my thoughts and prayers. Blessings PJ Mays
February 22, 2023
Carol was a great person who will be missed by everyone who knew her. Praying for her family and friends during this difficult time. She's reunited with Jerry, the love of her life.
February 22, 2023
Carol will be truly missed. She was a kind and caring individual. RIP my dear!! God knew what he was doing and took a good one!!
Deana
February 21, 2023
Carol was such an amazing and kind person. Jerry and Carol's wedding was our first cousin wedding I attended. May the angels surround her family and give them comfort and peace.
Diana Kast Nadu
February 21, 2023
Beautiful woman who loved her family fiercely and enjoyed spending time with them and playing games. Devoted wife, mother, grandmother and greatgrandmother. Carol had a wonderful sense of humor and was joy to be around at the many family reunions and picnics. I wish there would have been more……grateful for the many memories Carol!
Brenda Whitaker
Visitation

Monday, February 27, 2023
10:00 AM - 12:00 PM
Charles F. Snyder Funeral Home & Crematory
3110 Lititz Pike
Lititz, PA 17543

Map and Directions

Services

Monday, February 27, 2023
12:00 PM
Charles F. Snyder Funeral Home & Crematory
3110 Lititz Pike
Lititz, PA 17543

Map and Directions