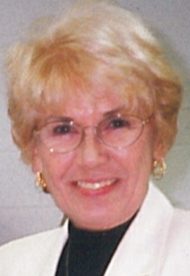 Carol A. Abicht, 81
December 27, 2018
Carol A. Abicht, 81, of Millersville, formerly of Columbus, OH passed away Thursday, December 27, 2018 at Hospice & Community Care in Mount Joy. Born in Columbus, OH, she was the daughter of the late John and Geneva (Nevius) Coverdale. She was the loving wife of Danton B. Abicht with whom she shared over 48 years of marriage.
She was a member of the Millersville Woman's Club for a number of years where she served for two years as their president. Carol enjoyed golfing, playing bridge, and taught herself to play the piano which she did rather well. She loved animals.
In addition to her husband she is survived by her son, John Giddens, husband of Dina and their sons, Jacob and Gabriel, of Columbus, OH, daughter, Tabitha Hammer, wife of Matthew, of Mountville, PA. She was preceded in death by her sister, Betty.
A Celebration of Carol's Life will be held at a later date in Columbus, OH. In lieu of flowers, contributions in Carol's memory may be made to the American Cancer Society, 314 Good Dr, Lancaster, PA 17603.
Leave a condolence on this Memorial Page
Condolences to the Family
January 10, 2019
To the family and friends of Carol Abicht I am sorry to hear about your loss. I know this is a tough time for you and so may the God of comfort help you through (Isaiah 25:8).
January 06, 2019
CAROL, I WAS TOLD ABOUT YOUR OBITUARY BY DOTTIE YOUNG WHO WORKS IN THE MILLERSVILLE POLICE DEPT. IT WAS A SHOCK TO HEAR THIS MY DEAR FRIEND! BUT, WHAT IS GREAT, IS THAT ALL YOUR PAIN IS NOW GONE!! YOU ARE FINALLY WITH GOD IN YOU HOME IN HEAVEN! WHEN I THINK OF YOU, CAROL I ALWAYS THINK OF YOU SMILING AND ENJOYING A GOOD LAUGH! WE HAD SOME GOOD TIMES WHEN YOU, ME, DORIS HERR AND MARYLOU STRAYER WENT OUT TO RESTAURANTS TOGETHER! i REMEMBER YOU, CAROL WERE ALWAYS THE ONE TO START US ALL LAUGHING AND THE FUN STARTED! WHEN I AM DOWN AND NEED A GOOD LAUGH ALL I HAVE TO DO IS THINK OF YOU AND I WILL START LAUGHING TOO! DON'T FORGET TO SAY HELLO TO MARYLOU FOR DORIS AND i. YOU TWO CARRY ON UNTIL DORIS AND i GET THERE!
January 03, 2019
Dear family, It is very difficult to lose a love one so precious to the heart. May your greiving hearts be comforted by the Loving Promise given to Miss Carol by God. It is written in His Holy Word at Acts 24:15. May your hearts be comforted in Knowing that God has Miss Carol in His Loving Memory and will not forget her.