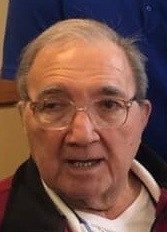 Carmine J. Taglieri, 86
April 03, 2020
Carmine "Coach" "Tag" Taglieri, 86, of Lancaster, passed away peacefully at St. Anne's Retirement Community on Friday, April 3, 2020 after a brief battle with cancer. Carmine was born in Brooklyn, NY to the late Cesare and Adelina (Eramo) Taglieri. He was the beloved husband to Elizabeth (Ackerman) Taglieri for over 61 years.
Dad, Grandpa, Brother will be lovingly missed by his children: Eugene Taglieri of Millersville, Maria Hayes (Herb) of Elizabethtown, Paula Riola (Larry) of Myrtle Beach, SC, Patrice Mull (Mark) of Ephrata, Harriet Wenner (Tony) of Lancaster and Katrina Krady (Brian) of Lancaster; his 7 grandchildren: Hannah, Sarah, Eliza, Theresa, Natalie, Gregory and Philip; his siblings: Dena Shapella of Morrestown, NJ, Lena Sokola (Ray) of Wilmington, DE, Mary Bowers of Sound Bound Brook, NJ, Anna Taglieri of Freeport, NY, Barbara Roesch (George) of Reston, VA, Julius Taglieri (Sandy) of Birdsboro, PA, and Dr. Larry Ackerman (Pat) Andrews, NC. He was preceded in death by a son, Philip Taglieri and his siblings: Dora Michel and Dante Taglieri. Uncle Carmine will also be deeply missed by many nieces and nephews.
Carmine served in the US Army Medical Corp as a Corporal in the Korean Conflict from 1954-1955. He was stationed in South Korea as a Medical Tech.
Carmine graduated from King's College in Wilkes Barre, PA in 1959 with a degree in Economics. He later studied at Villanova, Seton Hill, Millersville College and West Chester College. Carmine taught at Lancaster Catholic High School for over 36 years. He served as the Athletic Director for 25 years. Tag coached football, track, basketball, and oversaw some of the greatest sporting achievements in LCHS history. He truly bled Purple and Gold.
For over 40 years, Coach was a PIAA official for football, basketball, softball, swimming, track and field. He was also an ASA Umpire and a MPFLA referee. Tag was active in the Quarterback Club.
Carmine was a founding parishioner of St. Philip the Apostle Catholic Church and a very devout Catholic. Tag was a charter member of the Serra Club of Lancaster, was associate Captain and second in command of the Malvern Palm Sunday Retreat Group since 1960, a Fourth Degree Knight of Columbus Santa Maria Assembly and an active member of Lancaster Council #867 of the Knights of Columbus.
Carmine was an active member and volunteer in many community organizations including: American Legion Post 34, VFW Post 7294 of Millersville, the former Italian American Citizens Club, the Yankee Club of York, Commercial Traveler's Association, Hubley Social Club and Rainmakers Assoc. Lodge #203. Tag's last volunteering adventure of 20 plus years involved delivering donated food from local stores to many nonprofit organizations around Lancaster City. Giving back was a true passion of his.
Interment will be private at St. Joseph New Catholic Cemetery.
In lieu of flowers memorial contributions may be made to St. Anne's Retirement Community, Benevolent Fund, 3952 Columbia Avenue, Columbia, PA 17512, Lancaster Catholic High School Scholarship Fund, 650 Juliette Ave, Lancaster, PA 17601, or Hospice & Community Care, 685 Good Dr Lancaster, PA 17604.
*The service previously scheduled for Saturday, July 18, 2020 is now postponed due to restrictions.
Leave a condolence on this Memorial Page
Condolences to the Family
December 01, 2020
Always larger than life at Lancaster Catholic, he was my inspiration for attending King's College. Thank you, Mr. T., you helped another student make good choices in life. May you Rest in Peace. Condolences to Maria and family.
Meredith
July 18, 2020
Our sincere condolences to all the members of Taglieri family and friends. My dad was a friend of Tag's, and my husband officiated football with Tag in York County. Mr. Taglieri was a kind and strong man who was dedicated to people. He always made his opinion known and was respected for his knowledge and ability to treat everyone well. Tag made a difference in many people's lives. A very special man, and disappointed we can not celebrate his life on Jule 18, 2020 due to the COVID 19 pandemic.
Kay Ella Bleecher and Kerry j Spangler.
June 30, 2020
Coach Tag was a compassionate, caring coach, teacher, role model and just plain human Being. My adolescent world at LCHS was enriched by my relationship with Coach Tag. He saw and nutured something in me that I was not yet aware of– toughness tempered with a love of the game– of life. After a difficult summer football practice Tag had the lineman practice blocking him. I made contact with coach and engaged him with my block. Tag gave ground in a way that I hadn't experienced. He then sent me for lunch.
During lunch hour Coach showed up with a bandage on his nose and told me I broke his nose. I was terrified, thinking all the worst possible scenarios when Tag smiled and congratulted me, " Schreder, that was the best block you ever made." Tag gave of himself unselfishly–a true mentor, coach and friend.
Only Love is strong enough to fill the space his loss creates.
Dick Schreder LCHS'62
May 30, 2020
Paula, Patrice and Taglieri family, my condolences to you all. I remember our CCD classes at St. Phillip's church and of course your Dad. My Mom passed away last month so I have been going to her house a lot lately. On the way to Colonial Manor neighborhood I pass by your childhood home on the corner of Fairway and Stone Mill Roads, makes me think of the Family. My God bless you all. I'm not sure if y'all "study" the sports page like I do…but Mike Gross, sports columnist for Lancaster Newspaper, wrote an article about your Dad that appeared in Sunday May 17th paper. I thought it was a great story and brought a big smile to my face. Hope y'all got to read it and smile as much as I did!! If you didn't,l took a picture of it and would be happy to send it you. Doug Miller (223) 221-0708
April 14, 2020
Dear Betty and family,
Please accept our deepest sympathies on the passing of "Tag". He was one of the finest gentlemen we have ever met and will remember all our memories of him, and your family as parishioners at St. Philip's. May God bring you comfort and peace and bring eternal peace to Tag.
Please know you are in our thoughts and prayers and hopefully, we'll be able to support you all in person in July.
John and Nancy Straw
April 14, 2020
Tag, we will miss you. Our sympathy to Betty, Harriet and Tony, and the rest of the family. We will keep all of you in our prayers. Donna and Joe Storz
April 13, 2020
My sincere sympathy to the family. Mr. Taglieri was my teacher freshman year, 1964. He patiently taught me algebra. Over the years our paths crossed at the "corn wagon" or St. Philips Church and I was always greeted with a big smile and warm hello. How did he remember?! I won't forget him, a super gentleman! Denise Dougherty Ziegler
April 13, 2020
Our condolences to Betty and the entire Taglieri family on the passing of Carmine. He will be forever linked to Lancaster Catholic for his contributions as a teacher,coach,mentor,and AD. His kindness to all, his love for all things regarding Lancaster Catholic, and the energy and attention that he gave to everyone he met were his enduring qualities. He was a very special father, husband, and a good man. May he rest in God's peace.
Tim and Sharon Drevna
April 12, 2020
Please accept my condolences on the death of "Tag." He was a beloved fellow teacher when I taught at Catholic High. He will always be remembered for his friendliness and warm heart. My special regards to Elizabeth and children Eugene, Paula, Patrice, and Katrina, some of whom I taught World Cultures! Tag will always be remembered fondly in my heart.
Tana (Margaret) Woodcock
April 11, 2020
Our condolences to the entire Taglieri family. I have many fond memories of Tag. Always a gentleman.
Karen and Ron Ferry
April 10, 2020
Our deepest sympathy to Betty and the Taglieri family. Tag was a people person. He seemed to know and be friends with everyone in the community. He was a casual, carefree person who made everyone feel welcome in any situation. I enjoyed working with him at Catholic High. RIP Tag
April 08, 2020
Our condolences and prayers go out to "coach's" family at this very difficult time. We are so sorry for your loss. Coach Tag was a very personable and loved teacher and coach. I had the pleasure of playing football for coach Tag in the late 50's, he was a great person with a great family.
Tom & Lorraine Yeager 60'
April 08, 2020
Dear Taglieri Family
As a young coach and teacher, Tag's guidance during my early years at Catholic High was priceless. He went out of his way to make me feel comfortable and welcome at LCHS.
Sharing the same office for years, I witnessed, first hand, his amazing ability to hold down his job as full time Athletic Director while carrying a full time teaching load. Incredibly he accomplished this without the luxury of help from an assistant athletic director or a secretary, even though the number of sports teams at LCHS continued to expand. His love for Catholic High went far above and beyond the call of duty.
As a testiment to Betty and Tag's parenting skills, they raised a wonderful family.
Please take comfort in knowing our thoughts and prayers are with you! So many share in your loss!
Tom and Jo Vargo
April 08, 2020
My heartfelt condolences to the Taglieri family. He was a man I always looked up to. A mentor to me not just in athletics, but more so academically. He was the definition of "A GOOD MAN". I know he is resting peacefully now!
Tim Tymn
April 08, 2020
Elizabeth and Family, my deepest condolences. Tag was one of the most honest and sincere people that I have had the pleasure of knowing. In swimming, track and field, and softball officiating he was a constant reminder of sincerity and honesty. May God Bless you in your loss. Tag will be remembered by many of us who worked with him.
Kenneth James Adams
April 07, 2020
Taglieri Family: So sorry to hear of Mr. Taglieri passing. May he rest in peace. He was a wonderful teacher and good person. The world needs more people like him.

Claire Roda Van Cleve "65
April 07, 2020
To a great friend, coach, mentor. I will always remember your kindness and have good memories. I will always remember the times at Catholic High.
Condolences to your family.
John Palko
April 07, 2020
My sympathy goes out to Bette and your whole family on the passing of you Husband and Father. Whether it was seeing him at LCHS athletic events or passing him in the halls as co-workers at Catholic High, he always had a warm greeting and a big smile. As I'm sure you've witnessed he touched many lives not only at Catholic High but in the many volunteer efforts he had in the Lancaster community. He has truly earned a warm welcome in Heaven. Sheila Schoeplein
April 07, 2020
We are so sorry for your loss. Mr. Tag was a great role model for the LCHS community. Our deepest sympathy,
Tim and Sue Roehm '81
April 07, 2020
I was a senior at LCHS when tag arrived. Played football on his first team. Good coach, man, and Catholic, and will be missed.
Leon McCloskey. 1960
April 07, 2020
My condolences to the Taglieri family . Tom Zangari ( St. Anne's )
April 06, 2020
A man with a golden heart! Words cannot Express what a great guy Tag was. I am very thankful for the opportunity to have known him throughout the years. Tag was very helpful and would do anything for anyone. My entire staff send our prayers and thoughts to the entire family. Tag, thank you for all you did for us!
Steve Marinos and the staff of Cravings Gourmet Deli
April 06, 2020
Rest in peace, Tag. He made such a difference in my high school career. He always had a smile and a joke!
My prayers are with the Taglieri family.
PJ White Kegel '87
April 06, 2020
Prayers and thoughts from the Richard "Dick" Koller family.
April 06, 2020
Maria, so sorry for the loss of your dad! As you know, we always enjoyed seeing one another! And he was over the top welcoming to me at your home! He will be missed! My thoughts and prayers go out to you, Eugene, Paula, Patrice, and Harriet! Love, Brad
April 06, 2020
My sincere condolences to the Taglieri family. He was the best. As a coach at LCHS tag left his mark on a lot of young people with his simple but stern guidance. Later he became a good friend going out of his way to help many he new and some he didn't know. He helped raise an wonderful family. Thanks for a job well done, Tag. I'm sure you are enjoying your rewards.
Tom Young – '62
April 06, 2020
Betty & Family-
Words cannot describe the loss of someone very special. I know how I feel, I cannot imagine what you and your family are going through. My heart goes out to you. I can only say that I am extremely proud to say that I had the opportunity in life to have Tag as a friend. He was truly a roll model of what a good Catholic Husband, Father, Grandfather, Mentor, Friend, and Family Man should be. Again I say "I'm Proud to have known him". God Bless You All. Till we meet again Tag…..
Paul J. Kralicek, Jr.
April 06, 2020
Coach Tag set an example for all of us to follow.
Henri Hoover
April 06, 2020
My deepest condolences to the Taglieri family. I met Mr. Taglieri at a very young age at the Italian-American Club, then through playing Basketball in the Parochial School league, and then on to Lancaster Catholic High School. To me he was always larger than life. He always had my respect and always will. The one event I will always remember of him was during the 1974 LCHS Girl's Basketball team's run to the State Championship. He gave one of the most rousing speeches that I had ever heard. This was his infamous "Veni Vidi Vici" speech which translates to "I came, I saw, I conquered". As he predicted, the girl's team did just that. They conquered every opponent. But as I read Mr. Taglieri's obituary, I realize that he lived his life using that mantra. He always showed up, he saw a need to help, and he made life better for others. Rest In Peace Mr. Taglieri. You have earned your reward. Respectfully, Dominic Pisano ('76)
April 06, 2020
Taglieri family,
Our sincere condolences to your family. We knew Tag through many years of officiating both football and basketball with him. He was a good guy and will be missed within the local sports community.
Ernie Hartranft
Henner Weaver
April 06, 2020
Was great friend and helped me when I was a student. Inspiration to me
Jamie Santiago
April 06, 2020
Many of us were fortunate to be coached by, then remain lifelong friends of, Coach "Tag". He influenced thousands of young men & women in a positive manner. The world is a better place because of Coach "Tag's" influence. He was God's blessing to many.
Tony Mann
April 06, 2020
To the Taglieri Family, Tag took a group of us under his wing in the late 50's at LCHS and kept us there ever since. At our annual holiday gathering he would do the cooking at the Knights until we could eat no more. As usual. Betty was there to keep order. Thank you Coach, you can not be replaced.
Bill Binzen '61 for the DADA guys.
April 06, 2020
Taglieri Family… Tag was a good man who will be missed by all who knew him and who's lives he touched, both professionally and personally. It's fitting that his date of passing would have been the first day of this year's Palm Sunday weekend retreat at Malvern, a time and place I know he loved. I have no doubt he is celebrating this Holy Week in very good company. Tag, until our paths cross again, "Prosit", John Carroll
April 06, 2020
To Patrice, Mark, and the girls –
Our sincere sympathy to you and to the entire Taglieri family.
Jan & Pat
April 06, 2020
We are sorry for your loss of a wonferful man. We are sending our deepest sympathies to the Taglieri family and anyone else whose life he has touched. We are keeping you in our thoughts during this time and are sending you infinite love.
Kenny Myers, Suzanne Myers and everyone at Kegel's Produce
April 06, 2020
We'll all miss you, Tag. Rest in the peace that only the love of Jesus can give.
Greg Burger
April 06, 2020
Mr. Taglieri. (My parents wouldn't have it any other way! smile) Always had a kind word with a pat on the shoulder. My condolences are prayers are with the family at this time. He was a special and caring individual.
Charmaine Williams
April 06, 2020
So sorry to her about Tag. He touched so many. My heart goe sout to you all.
Lora Zangari
April 06, 2020
Tag was a man of great integrity. A true family man and a good friend, with a heart of gold. He will be missed, but he and his family will be remembered in my daily prayers. My deepest sympathies to his wife and family. May his soul Rest In Peace. Victor Lombardo and Family
April 06, 2020
Dear Family,
we are deeply saddened to hear Coach Tag has passed away. He was 1 in a million & loved by everyone who knew him. You are in our thoughts & prayers.
Sincerely,
Tom & Jane Burger
April 06, 2020
so very sorry to see Tag passed away. such a fine man. Our thoughts and prayers to his family Love Jeff Davis and Donna Speece
April 06, 2020
This world lost a great man, who influenced many. Driver's Ed was always fun. Beyond that…Mr. Tag was so much more than a teacher. He always, always had a smile for me and a hug…and I can't tell you how much that meant to me! Much love and my condolences to his family and friends. ❤
Jennifer Nobile Comfort '91
April 05, 2020
I am so sorry for your loss. Rest in peace Mr. Taglieri.
Anne Marie Lombardo (73)
April 05, 2020
Mr. Tag was one of the greatest at LCHS. I had him for Driver's Ed…and boy do I have stories (I don't know how he put up with me)! He holds a very special place in my heart and he will be missed! You all are in my thoughts and prayers! Love to all!
Lisa Knapp Zimmerman
April 05, 2020
Deepest sympathies to the family for a wonderful man! Mr. Tag had a profound impact on me and many others at Lancaster Catholic. He will be missed and will be forever remembered in my memories Lancaster Catholic. God bless him and his family !
Gregory Miklos
April 05, 2020
Sorry to read about Carmen's (Tag as I knew him) passing. He was one of Lancaster Catholic High School's faculty that made me feel welcome and was the atheletic director who helped guide my early coaching. He was always positive and just a lot of personality. Carmen was a true family man lovingly relating about his children and I enjoyed meeting the Taglieris at games and social events. My deepest sympathy to his family.
Barry Sussmann
April 05, 2020
My prayers and sympathy are with you and your family.
Sr. George Ann Biscan, ASC
April 05, 2020
Tag RIP. I will miss seeing you in church and at the Malvern Retreat Center on Palm Sunday; there you showed how much love you had for Jesus.
John Campbell
April 05, 2020
My name is George May. I coached at Manheim Central. I have so many fond memories of Tag and his sense of humor. He will be missed by all who were fortunate enough to have known him.🙏
April 05, 2020
God Bless. Rest In Peace
John Gardner
April 05, 2020
You will sorely missed at council 867 it has been a great pleasure to have known you I'm sure you are with the LORD already we love and miss you
Bill Davenport
April 05, 2020
dear coach Tag. you influenced thousands of young people including me. thank you.
pat krushinsky
April 05, 2020
Betty and family,
Our deepest sympathy to all of you. Tag will surely be missed buy so many. My husband John, was a student of his and went on to be a friend as an adult. He was always there for me if I needed anything during the days I worked at the Knights Of Columbus. I'll miss those famous love taps!!
God Bless,
John and Lisa (Cunningham) Banzhof
April 05, 2020
Grace,peace and sympathy to a dear family on the passing of a much loved,respected and godly man.
Christine Schmalhofer
April 05, 2020
Our sympathy to his entire family. I have known Coach since 1970 and of course most recently at Saint Anne's. He led an amazing life and positively influenced me and so many others. May he truly rest in peace.
Bruno S. Schmalhofer & family
April 05, 2020
God Bless you coach! You truly left a great impact on all of us you taught & who were around you during our high school years!
Scott Roda (LCHS Class of 77)
April 05, 2020
Tag was truly an icon at LCHS. I am sure that God is taking care of him now.

Steve Senkowski
April 05, 2020
Betty,
I so sorry to hear of Tag's passing. You and your family are in my thoughts and prayers. Rose Derr
April 05, 2020
Maria, I am so sorry for your loss.please I think of all of you often. With blessings and love, Sherry
April 05, 2020
Sending love, hugs and prayers for comfort and peace to all of his family and friends. He and Mrs Tag were wonderful friends to my grandparents and I was lucky to spend a lot of time with he and his family through the Knights of Columbus. I hold fond memories of those times and enjoyed seeing them most recently at LCHS football games.
Shannon Wolpert
April 04, 2020
My thoughts and prayers for you and your family Harriet.
Mary Shook
April 04, 2020
Well written obit that conveyed Tag's life of impact. God, family, friends, L.C.H.S. , sports & community all were priorities. Old school to the max. May he now enjoy his eternal reward after hearing our Lord's welcome "well done good and faithful servant"
John Boyer LCHS '73
April 04, 2020
The world is a sadder place without You Coach. You will be missed by many, especially by the Crusader community. Your legacy of hard work and dedication to helping others will be felt for years. Thoughts and prayers from the class of "79".
Ursula Hauck-Fiorill
April 04, 2020
Deepest condolences to the Taglieri family. He was one of the best. Debbie "Bagnoli" Donahue
April 04, 2020
You were a special person to us all Tag💓
Patricia Henehan Frazier
April 04, 2020
From one of his nieces he loved to spoil, love to each of you. Much love
💔
Valerie
April 04, 2020
To the Taglieri Family:
With sadness for your loss but appreciation for the great influence and impact that Coach had on the Bennett family. He was indeed a great example for us and all Catholic men.
Tom Bennett
Services

Saturday, July 18, 2020
11:00 AM
St. Philip the Apostle Church
2111 Millersville Rd
Lancaster, PA 17603

Map and Directions