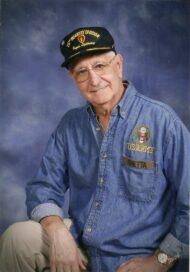 Carmelo (Carl) Chetta, 87
January 07, 2022
Carmelo (Carl) Chetta, 87, of Ronks, PA, passed away Jan. 7, 2022.
Born in Manhattan NYC, he was married to Theresa Fruoco Chetta since 1959.
Carl was employed by Grumman Aerospace, Drakes and Entenmann's Bakeries, raising his family on Long Island, and retired to Ronks, PA.
He served in the US Army, stationed at Schofield Barracks in Hawaii, from 1955 to 1957, and then with the National Guard.
He enjoyed camping, fishing, dancing, playing guitar, chess and telling jokes. He was a member of Our Lady of Lourdes Catholic Church in New Holland.
Carl was blessed with 4 children, 3 grandsons and over 100 foster children.
A Mass of Christian Burial will be celebrated at a later time in the spring.
Leave a condolence on this Memorial Page
Condolences to the Family
January 21, 2022
Terry what a beautiful man!`Carl loved life and his family so much. May you find peace and comfort of knowing he is now at peace. May all the memories of the life you shared sustain you and all whose lives he touched. Our thoughts and prayers are with you. Love always Mary and all the Giardina family. 💔🙏😘
January 20, 2022
Dear Terri and Family, We lost an angel, and Heaven gained one. What a wonderful man, who loved life, laughter and, most of all, his beloved Theresa and his family. It was a joy, honor and pleasure to have known him. May God grant all of you His peace, love, comfort and strength. Rest In Peace, "Earth Angel." Sending My Love and Prayers, Sandy Heisey
January 17, 2022
Carl supplied our Calamus Estates neighborhood with many good memories. He was a friend to all and a happy guy. I remember how he would always have a joke or two to share and he enjoyed our activities at the Community Center. RIP good neighbor.
January 16, 2022
The Best Foster Father a little girl could have. My eternal love, gratefulness, and appreciation for a funny, kind, and very varied interest, talented gentleman, and beloved father figure. He made people smile and he loved to share his joy. Missing you Mr. Carl Chetta. My heart goes out to you, Theresa Chetta and the family, RIP Mr. C, aka "Dad" Love always.
January 14, 2022
Terri Carl will be so missed. He was Calamus Estates. He always had a nice word for everyone and a good joke. Ed and I pray that you will find the peace of Jesus and remember only all the good times. As I look back and count the neighbors that have lived here longer than us(18 yrs) the number keeps dwindling. We look forward to seeing you out and about as spring comes once again. You are truly in our prayers.