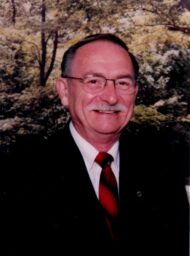 Carl W. P. Mueller, 85
June 06, 2022
Carl W.P. Mueller, Sr., age 85, of Lancaster, passed away at Hospice and Community Care in Mount Joy on June 6, 2022. Carl was born in Montreal, Quebec, Canada, to the late Fred C. and Erna Mueller.
Carl was a tool designer and consultant for Kerr Glass Manufacturing in Lancaster. In his spare time, Carl loved trains, reading, studying his genealogy, and spending any spare moments with his grandchildren who were the delight of his life. He was a member of the Society of Mechanical Engineers (SME) and former president of the Lutheran League of Canada. In addition, he was a member of the Knights of Columbus and was an usher at St. Leo the Great Catholic Church. He was affectionally remembered for distributing candy among the youngsters at church who were not old enough to receive the sacrament of Holy Communion.
Carl is survived by his wife Mary Shank Mueller of Lancaster, his son C. W. Paul Mueller, Jr., of British Columbia, Canada; his stepsons: Kevin C. Shank (husband of Tracey) of Lakewood Ranch, FL., Jeffrey S. Shank (husband of Lisa Rae) of Elizabethtown and Brian C. Shank (husband of Joni) of Wrightsville; 9 grandchildren: Amanda, Caitlin, Emily, Jennifer, Thomas, David, Christopher, Jillian, and Brenden; 2 brothers: Eric Mueller (husband of Debra) and Franklin C. Mueller both of Maple Leaf, Ontario, Canada; and 2 sisters: Wanda M. Stuart (wife of Gerald) and Joanne Braund both of Brantford, Ontario, Canada, and his step-mother Grace Mueller of Brantford, Ontario, Canada.
In addition to his parents, Carl is preceded in death by his first wife, Roberta (Kuntz) Mueller and one brother, Kirk Mueller.
A Mass of Christian Burial will be celebrated by Reverend Stephen J. Logue Friday, June 10, 2022, at St. Leo the Great Catholic Church, 2427 Marietta Ave, Lancaster, PA 17601 at 11:00 am with visitation being held one hour prior to Mass. Interment to follow at St. Anthony's Catholic Cemetery.
In lieu of flowers, donations may be made to Hospice and Community Care, 685 Good Drive, PO Box 4125, Lancaster, PA 17604.
Leave a condolence on this Memorial Page
Condolences to the Family
June 11, 2022
RIP Carl….<3
Suzanne O'Brien
Services

Friday, June 10, 2022
11:00 AM - 12:00 PM
St. Leo the Great Catholic Church
2427 Marietta Ave
Lancaster, PA 17601

Map and Directions