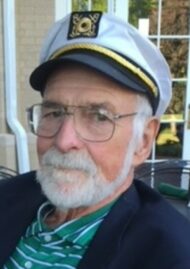 Carl Leo Bernhardt, 86
December 17, 2021
Carl Leo Bernhardt, 86, of Lancaster, passed away at Hospice & Community Care in Mt. Joy on Friday, December 17, 2021. He was the loving husband of Patsy Ann (Lewis) Bernhardt. Together they shared 67 years of marriage.
Born on December 25, 1934 in Lancaster, Carl was the son of the late Carl Nicholas and Catherine (Cremer) Bernhardt. He grew up in the Cabbage Hill neighborhood and was a member of Sacred Heart parish. He worked as a Group Leader for Trojan Yacht for 33 years and eventually retired from Wyeth Labs.
Carl loved the outdoors and spent a lot of time tending to his backyard. He was a sports fan, following the Eagles and the Phillies in particular. He loved music, his favorite song was "Take This Job and Shove It". He spent a good part of his life "Trying to get to know what good is". He was a master in the use of Duct Tape. Most of all, Carl was a loving husband, father, and grandfather.
In addition to his wife, Carl is survived by his daughter, Cynthia Marie Bernhardt Porta and her companion Curt Hilton; his sons Patrick Bernhardt and his wife Julia Russell Bernhardt, and Christopher Bernhardt and his wife Minda Denlinger Bernhardt; his grandchildren Zachary and Megan Mary; his brother Regis Bernhardt and his wife Betsey and their children Greg and Julie; and brother and sister in-law Paul and Peggy Brackbill and their children Steve and Sherri; sister in-law Harriet Eschelman and her children Andy and Jenny Lewis.
Due to unforeseen circumstances, services for Carl on Wednesday, December 29 and Thursday, December 30 have been cancelled. Burial will be private and at the convenience of the family. A Celebration of Life will be scheduled at a later date.
In lieu of flowers, donations can be made to Water Street Rescue Mission at www.wsm.org or 210 S Prince Street, Lancaster, PA 17603 or to Hospice & Community Care or 685 Good Drive, Lancaster, PA 17604.
Leave a condolence on this Memorial Page
Condolences to the Family
January 04, 2022
Pat, So sorry to hear of Carl's passing. He was such a nice guy. I realy appreciated him giving me rides to fu nerals and to our tour bus for our many trips. My sincere condolences to you and your family. May his soul rest in peace. Grace Polak (Water Classes at the Y)
December 31, 2021
Patsy and Family.
We were so sorry to learn of your husband's passing. May God's love give you comfort during this difficult time.
Tom and Cheryl Weaver
December 29, 2021
Dear Pat,
We were so saddened to hear of Carl's passing. John remembers Carl as 'a character' who made the days at Trojan Yacht much more enjoyable. More importantly, Carl was a great friend. Our hearts are with you and your family. We hope you find peace knowing he is at rest and waiting patiently for the days you will be together again.
John and Robin Miller
December 27, 2021
I have never met Mr. Carl Bernhardt but I sincerely wish I had. Upon seeing his photo, reading his story, and sharing the same last name, I instantly felt a powerful connection. Then, after consulting my family tree I was utterly astonished to discover that he and I shared the same Great-Grandparents. That's when I read his story again, and saw the beautiful "quintessential Bernhardt" come to light. And now, somehow, I feel he finally knows 'what good is'. I truly wish I had known him. God Bless, GeorgiaRae B. Bernhardt Manheim,Pa.
December 27, 2021
Patsy and family
I am very sorry to hear of the passing of Carl you have my sympathy and prayers at this time.
I have very fond memories of working with Carl or Pappy as he was fondly known to us at Wyeth.
December 26, 2021
To Cindy and the entire Beernhardt family,
I am so sorry for your loss. Many prayers go out to you. I'll light a candle for Carl at Mass next Sunday. I'm positive that he is at peace now.
December 26, 2021
Aunt Pat, Cindy, Patrick & Christopher,
I was saddened to see the news of Uncle Carl's passing from this life. Despite that reality I had to smile at the rush of many, many happy memories of family times together where Uncle Carl brought humor and lightheartedness along with much caring and love.
His physical presence will be missed but the memories will last.
may God give you all peace and comfort at this difficult time.
John Boyer Jr
December 26, 2021
Dear Pat, Cindy & Family:
My sincere condolences to the Bernhardt family regarding my cousin Carl.
My prayers are with all of you. Rest in peace cousin Carl!!
Lee & Parke Good's son….Greg & Diane Good


December 25, 2021
Dad, you will always be with me in my heart. Tell Grandma, Grandpa, and everyone that I love and miss them. Give my fur babies a hug. Until we are all together again. Rest in Peace. 🙏💕