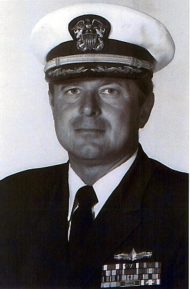 Captain John Alden Standish, USN (Ret)
July 31, 2017
Captain John Alden Standish, United States Navy (Ret), passed away in Lancaster, PA on July 31, 2017. Born in the Bronx, NY, he was the son of the late Victor J. and Ruth V. Standish of Lancaster. He was preceded in death by his son Matthew in December 2005 and his twin brother Vic in May 2008.
CAPT Standish was raised in Lancaster and graduated from Lancaster Catholic High School and Franklin and Marshall College. He also attended graduate school at the University of New Mexico, studying industrial psychology. He served nine years in the US Navy and US Army Reserves while attending high school and college and rose to the rank of Army Staff Sergeant.
Mr. Standish, known as Jack, graduated from the Naval Officer Candidate School, Newport, Rhode Island, in 1962, and was assigned to destroyer duty as a surface warfare officer. In his 21 years of naval service, CAPT Standish served in five ships, which included four deployments to Vietnam. He also served a tour of duty in the Republic of the Philippines.
Mr. Standish was selected for Captain, USN, prior to his retirement. For his service to his country, he was awarded the following decorations, among others: two Meritorious Service Medals; two Navy Commendation Medals, one with Combat V; the Navy Achievement Medal with Combat V; the Combat Action Ribbon; the Navy Unit Commendation, the Vietnam Service Medal with five campaign stars; the Republic of Vietnam Campaign Medal, the Vietnamese Meritorious Unit Citation (Gallantry Cross); the Armed Forces Expeditionary Medal, (Korea), and the Humanitarian Service Medal.
Upon retirement from naval service, Mr. Standish served as a logistics engineering consultant to major Navy and Coast Guard shipbuilding Project Offices in the Washington, D.C. area. These Project Offices were responsible for overseeing the civilian shipyards building the Ticonderoga Class Guided Missile Cruisers, the Arleigh Burke Guided Missile Destroyers, the Seawolf Attack Submarines, and the new Coast Guard Sea Going Buoy Tenders. Jack was an avid fisherman and fished for big game fish with his twin brother Vic in Venezuela, Mexico, British Columbia, and Costa Rica. He also enjoyed traveling in Asia with his youngest brother Tom and vacationing in the Hawaiian and Caribbean Islands. He had a passion for sports cars and over the years had owned six, including three Porsches. CAPT Standish attended Catholic Mass and was a member of the Naval Institute, the Military Officers Association of America, the Tin Can Sailors Association, the Billfish Foundation, and the Porsche Club of North America.
Surviving is a daughter, Alissa Michele, married to Christopher Booth of Millersville, PA, two grandsons, Zach and Cody of Willow Street, PA and Philadelphia, PA respectively, a sister Kate, of Newport Beach, CA, married to Rennie Bosch, two brothers, Richard T. of Smyrna, GA, Thomas G. of Lancaster, and his ex-wife and good friend, Lee Ann G. Standish of Sterling, VA.
A Funeral Service will be held at the Charles F. Snyder, Jr. Funeral Home & Crematory, 3110 Lititz Pike, Lititz, PA at 2:30PM on Friday, August 4, 2017. Friends will be received from 1:30-2:30PM immediately preceding the service. Interment will be in Arlington National Cemetery, Arlington, VA, with full military honors at a future date. In lieu of flowers, contributions should be made to the Blinded Veterans Association, 125 N. West St., Floor 3, Alexandria, VA 22314.
Leave a condolence on this Memorial Page
Condolences to the Family
August 05, 2017
Tim,
My thoughts and prayers are with you at this time. Your brother accomplished so much in his lifetime and now he continues "up there".
Take Care
Josie (Ransing)
August 04, 2017
Thoughts and Prayers are with you at this difficult time May you find comfort in God for the days ahead.
Robin and Doug Dimitris
August 04, 2017
Having known Jack for over 47 years I can honesty say ' I knew Jack ,' and it was my pleasure .
Missed but ever remembered .
D'Lorah Gothard
August 03, 2017
I had the honor of knowing, Captain Jack for around 4 years, he was a special friend to me, who would talk with me about every thing from cats or navy destroyers. I love to study naval history and I have a large library of books regarding the subject, and I often lent books to Jack to read at the home. I would truly miss stopping by and having humours chats. RIP, Captain Jack, Thank you for the friend you are and I will never forget the times we shared.
Tom Bates
August 03, 2017
My sincere condolences to the Standish family. I will miss hearing Captain Jack's adventures in the Navy.
A Petticord
August 02, 2017
You will be missed, Captain Jack. Smooth seas on your voyage!
We love you!!
Erin
August 02, 2017
Our deepest sympathy to the Standish family with the passing of Captain Jack. We loved him and will miss him. He and brother Vic always made us feel as part of his family and we were proud and honored to know him. A wonderful man.
Love, Jeb, Robin, Chad, Kyle and Trey Young
Visitation

Friday, August 04, 2017
1:30 PM - 2:30 PM
Charles F. Snyder Funeral Home & Crematory
3110 Lititz Pike
Lititz, PA 17543

Map and Directions

Services

Friday, August 04, 2017
2:30 PM
Charles F. Snyder Funeral Home & Crematory
3110 Lititz Pike
Lititz, PA 17543

Map and Directions