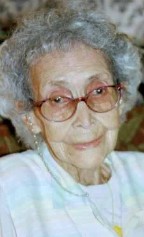 C. Helen Torres, 99
C. Helen Torres, 99, of Lancaster, PA was called home to The Lord on November 29, 2012 at her home, where she resided since 1980. It was a home she had shared with her late husband, Manuel S. Torres.
She was the mother of 15 children and is survived by 9 children and over 50 grandchildren, several great grandchildren, over 5 generations.
She was loved and cared for by her sons Ricky Torres, Manuel Torres, her daughters Doris N. Torres, Helen Lopez, and Helen Tellado, wife of David, and their children.
Helen enjoyed many days of crocheting and creating gifts for her children and friends, as well as playing cards, enjoying music and flowers. Her days were filled with laughter and playing her "numbers". Her strong-willed spirit will be greatly missed by her family along with Larry Hensen and Debbie Blough who remained by her side. She was a member of her beloved St. Anthony of Padua Catholic Church.
Friends will be received on Tuesday, December 4, 2012 from 930-1030AM at the Charles F. Snyder Funeral Home & Crematory, 414 E. King St., Lancaster, PA. The Mass of Christian Burial will follow at St. Anthony of Padua Catholic Church, 501 E. Orange St., Lancaster, PA 17602 at 11AM, the Rev. Daniel Mitzel as Celebrant. Interment in Mellingers Mennonite Cemetery. Memorial contributions in Helen's memory may be made to St. Anthony of Padau Catholic Church at the above address.To send an online condolence, please visit SnyderFuneralHome.com. Charles F. Snyder Funeral Home & Crematory 393-9661
Leave a condolence on this Memorial Page
MAY GOD BE WITH YOU IN THIS TIME OF GRIEF I WILL MISS HELEN VERY MUCH SHE WAS MY BUDDY LIKE THE GRANDMOTHER I DID NOT HAVE. SHE IS AT A BETTER PLACE NOW NO MORE PAIN. EVEN THOUGH I COULD NOT ATTEND THE FUNERAL MY HEART WAS THERE. I WILL MISS HER SMILE.
Nancy Henson