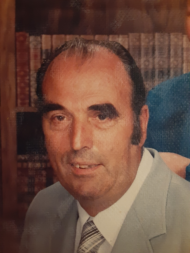 Bruno Schmalhofer, 91
August 12, 1930 - December 20, 2021
Bruno Schmalhofer, 91, passed away at St. Anne's Retirement Community on Monday, December 20, 2021. He was married for 47 wonderful years to the late E. Louise (Darrenkamp) Schmalhofer who died in 1999.
He was born in Pocking, Bavaria, Germany to the late Josef and Maria (Degenhart) Schmalhofer, came to the United States in 1951, and became a naturalized citizen in 1954 while serving in the US Army. Bruno served during the Korean war as a PFC(T) with the 647th Quartermasters Company and was honorably discharged.
Bruno worked for Armstrong World Industries at the flooring plant for 35 years, retiring as a mechanical department supervisor.
A faithful member of St. Mary's Catholic Church, Bruno served on Parish Council, spent 12 years as co-chair of the annual Lenten Appeal, and was an active volunteer. Bruno was a 3rd Degree member of Knights of Columbus with Council #867, and a member of Lancaster Liederkranz.
Bruno's surviving family include his 11 children: Elizabeth S., wife of George D. Dete of Carlisle, Bruno S. Schmalhofer, husband of Sylvia L. of Lancaster, Joseph J. Schmalhofer, husband of B. Beverly of Elizabethtown, Gregory R. Schmalhofer, husband of Brenda K. of Lancaster, Christine M. Schmalhofer of Lancaster, Andrew P. Schmalhofer, husband of Jennifer of Washington Boro, Heidi S. wife of Joel P. Harnish of Lancaster, Theresa A. wife of Brent O. Stoltzfus of Lancaster, Kevin F. Schmalhofer, husband of Tina R. of Leola, John J. Schmalhofer, husband of Patsy D. of Montoursville, and Kyle E. Schmalhofer, husband of Rachel K. of Mount Gretna; 25 grandchildren and 22 great-grandchildren; and his brother Andreas Schmalhofer, husband of Inge of Pocking, Germany.
In addition to his parents and wife, Bruno was preceded in death by 8 siblings: Mary Jakob (Ludwig), Zensi Spreitzer (Hans), Josef Schmalhofer, Alois Schmalhofer (Anni), Rosie Warta (Franz), Therese Danninger (Rupert), Irmie Knon (Willi), and Hans Schmalhofer (Ruth).
Bruno lived his life as a model for his children and the most important lessons were how he loved his wife, loved his children and grandchildren, loved his faith, and worked hard; these were his greatest accomplishments.
A public viewing will take place on Monday, December 27, 2021 from 6 to 8 PM at the Charles F. Snyder Jr. Funeral Home & Crematory, 3110 Lititz Pike, Lititz, PA 17543. Masks are preferred to be worn.
A Mass of Christian Burial at St. Mary's Catholic Church, and Final Commendation and Farewell in St. Joseph New Catholic Cemetery will be private.
Please omit flowers, and kindly consider a memorial contribution to St. Mary's Catholic Church, 119 S. Prince St., Lancaster, PA 17603 or Lancaster Catholic High School, 650 Juliette Ave., Lancaster, PA 17601 or to St. Anne's Retirement Community, 3952 Columbia Ave., Columbia, PA 17512.
Watch the tribute video
Leave a condolence on this Memorial Page
Condolences to the Family
January 09, 2022
Dear Schmalhofer family, my deepest sympathies on your father's passing. I know Bruno from St. Anne's because my mom is a resident in personal care. He always had a smile and hello! I would frequently see Christine, but seeing the tribute video was a blessing to see his entire family. You are the jewels in his crown and he was well loved. My prayers are with you all.
January 07, 2022
Was für ein trauriger Start in ein neues Jahr! What a sad start in a new year.Wir werden Onkel Bruno so vermissen! We will Bruno miss so much! Von Herzen Danke für all die wunderschönen Augenblicke, die wir mit ihm und seiner Familie in Amerika und Bayern erleben durften. Es waren goldene Zeiten voller Glück. Thank God for all the wonderful moments we spent with him and his wonderful family. Ich werde die große Liebe Brunos für seine Luise und seine Kinder immer in meinem Herzen tragen. I will keep all in my heart forever! Tröste alle, die jetzt traurig sind und gib ihnen Kraft! Wir werden hier in unserer kleinen Barockkirche für Bruno und alle, die ihn vermissen, beten. Er mochte die Kirche so gerne. I will pray here for Bruno in our small baroque church he like so much when he was here.Für mich war Bruno der tollste Onkel, den man sich nur vorstellen kann. Bruno was the greatest man ever! Claudia, Benedikt und Clemens, Sulzschneid,Bavaria

January 05, 2022
Fron Inge Freudenstein – Ernie grew up with Bruno in Pocking, Germany also known as Bavaria. They were the same age and attended school together along with Tassilo (Richard) Bosman. It was wonderful they were able to stay in touch over the many years. It was quite amazing all three imagrated to America and lived within about 100 miles of each other. We always enjoyed our family gatherings for the infamous Bruno Big Roasts and skeet shooting among others. Tag football, hiding in the tobacco barn, riding the ponie, baby kittens and more. We have many fond memories and send our best wishes. Inge Oma, Inge Hissa, Janet Carter
December 29, 2021
The Family had made arrangements to have the Funeral Mass recorded with the expectation that anyone interested would be able to view. Sadly this did not happen.
Father Hahn and Father Lavelle co- celebrated the Mass and Father Hahn gave a wonderful homily.
Below were the comments shared by the eleven siblings in a Family Eulogy.
Thank you to all for your kindness and memories.
The Schmalhofer Family
December 29, 2021
Bruno Schmalhofer-Family Eulogy 12/28/21

Intro–Thank you Father Hahn for celebrating this Mass and thank you to Father Lavelle for his years of friendship with our Dad and family. Our Father loved both of you and also that missing Italian immigrant– Father Pistone! Thank you to all of the St. Mary's staff that helped and especially to the beautiful music by the choir. Our parents loved St. Mary's and we did too.

Elizabeth Louise–I think of Daddy as a handsome, young immigrant.
Shortly after he arrived in America, he met a beautiful young girl.
For she really was just a girl.
I think of how he has been with us these last few years so funny, cute, silly, friendly……tipping his hat to everyone.
And I think that maybe this is how he was with Mom when they first met– playful, light and happy, perhaps for the first time in his hard, young life.
A life of illness, poverty, war and loss.
But with Mommy all things seemed possible.
He believed that all his dreams could come true with her.
And they did come true!
What a wonderful life.
Bruno Stephen–My first memories of St Mary's were at the 5:45 am Sunday Mass. Our Dad worked every weekend and the only Mass we could attend was then—and of course we never missed. We drove from Manheim Township and Dad quickly drove us home before clocking in at SEVEN am at Armstrong. He even suggested to a young Father Acri that his homilies went a little too long.

Joseph James—Don't think I fully understood or appreciated Dad until I became a Dad – then so many things made sense! So many memories so little space and time – so from one Cookie Nut to another – thanks Dad for everything!
Gregory Robert—Opa lived an amazing life. He grew up as a young boy during World War II and later travelled by himself to the United States at age 20. That was quite a daring trip to take and yet Opa took it and started a brand new life in America. That was very much like Opa. He had a vision of what he wanted to do, and then he did whatever was necessary to make it happen. Opa was not one to talk much, but he taught his 11 children valuable life lessons that he lived out every day. Opa came to America as "a poor immigrant" and by his life well lived, he became "A Legend" to all those that knew him!

Christine Mary—We had a great Dad. Honest, true and faithful.
Am very Grateful to God for him.

(Special thank you to Christine, Heidi and Theresa who were amazing with their care of Dad over these last few years.)

Andrew Patrick—Dad was happy I served in the Army like him and was Happy I spent some time in Germany.
As the Number SIX child I qualified the family for the "Six Plus Club" family picnics at the farm. Dad's annual pig roasts were a huge success too.

Heidi Marie— We were at St. Anne's in the community room and everyone was sharing stories about Dad and our childhood….and I asked Dad what he thought?
He said, "I did somethings right and somethings wrong but I always supported my kids!" He was a wonderful Dad and I love him dearly and I know he loved us all dearly too!
Theresa Ann—After Mom passed away, I would often go down and clean Dad's house but Dad really just wanted to sit and TALK. We always had tea or Cafe Vienna and after a couple hours I would tell him to GO outside so I could clean! We often laughed about how I chased him outside.
I will always cherish those times on Second Lock Road, in His kitchen, around the table where we had many amazing meals, and then later with Brent and my girls.Thank you Jesus for this amazing family of ours.

Kevin Frances—As we know Dad was a hardworking man. He deserved the successful and rich life that he enjoyed.
Dad taught me many things. But I think most importantly he gave me the ability to know that if I really put my heart and mind into something–That anything is possible. And at some point you just might need to get under the hood and use bubble gum to keep the headlights on.Love you Dad. Rest In Peace.

John John–When Patsy and I started our family and I grew older looking back at my childhood, it amazed me the example Dad set: his Catholic Faith, his love and devotion to his Wife and children, and his work ethic. I am glad that He held each of my sons when they were born. Jakob has Bruno as his middle name; Zackary shares his birthday with his Opa, and Dad liked Oskar's name with its unique German spelling.
Kyle Edward—I have great memories of running errands with Dad on the weekends, driving around in his pickup truck.
In retirement he dismantled our neighbor's barn and moved it across the street onto his property and rebuilt it piece by piece. He did this almost entirely by himself. Amazing!

After Mom passed he astounded us all by baking thousands of Christmas cookies to share with family, friends and yes his Doctors, Dentist and their staffs. I am sure Mom was beaming.



_______________________________________________________

Our Dad had a few rough edges but all anyone really needs to know about him is that our Mom was a Saint and she loved him with all of her heart. He was one lucky man.
May GOD bless our Mom & Dad and all of us. Thank you for sharing this Mass with us today.



December 28, 2021
Schmalhofer Family,Please accept our sincere condolences on the loss of your father.He was an amazing man and we have fond memories of he and your wonderful mother.We hope you are comforted by what a full and purposeful life he led.Warmly,Eva and Paul Benner,Maggie Hart and Anne Helm (cousins)

December 28, 2021
My deepest condolences to the family. I know Greg from our time at Millersville where we were Computer Science majors together, and then met his lovely wife Brenda. I also had the good fortune to work with Bev at RRD and met her husband Joe as well. I'm sorry for your loss but what a blessing to have had him with you into his 90's!
Take care, all.
Nina Wolf
December 28, 2021
To Christine (Mr. Bruno's daughter): you were such a wonderful and loyal daughter. I always thought it was cute how you called Mr. Bruno "daddy" when you were into visit which was daily. He loved you much and always said you were the charm of his eye. We will miss seeing you at St. Anne's a lot. ~One of the caregivers
December 27, 2021
To my Schmalhofer kin-
If we reckon the purpose of one's life is to proclaim the Good News then we can say that Bruno had a purpose driven life and he has already heard the words 'well done good and faithful servant'
We never know how each life touches another, I recall the great living witness of Bruno and Louise when I was a small child, and what it look liked to raise up a strong family.
Decades later I was fortunate to have some excellent conversations with Bruno on life and faith. I learned tons from him, too much to say here but I can share the next time I see you all.
United in grief and in the Blessed Hope.

December 27, 2021
Hi Christine it is Margaret from St Anne's. I want you to know I pray for you and your family. I miss you.
December 27, 2021
My parents,Jimmy & Glenrose Dinkel & family,Jimmy,Lynn,Robert,Patricia were very close friends of Bruno,Louise & children for many many years with my father working at Armstrong & my mother visiting with Louise at the Darrenkamp home on Wabank Street. Such a wonderful family to know. Visiting always brought good German food,the gardens,laughter & special friendship. It's a joyful feeling to know that at this beautiful season our parents have been brought together once again. I say to you children,grandchildren & great-grandchildren:" Two precious gems are a very special gift to be cherished for eternity in each of your hearts". Live in their memory!
Sincerely
Lynn Landid/Dinkel
Born & raised on Cabbage Hill !!!!
December 26, 2021
Our dear Schmalhofer family
Our family started as neighbors and grew to a beautiful friendship. Oh how I cherish the memories we had at the farm with sleepovers (when we never slept) and of course the famous pig roasts. Your mom and dad always opened up their hearts 💕 to the three of us and our mom. Bruno and Louise are together again. Our thoughts and prayers of peace are with your families. Love Dominic and Linda Liepa Giangiulio
December 26, 2021
I was one of Bruno's main caregivers for many years at St. Anne's until they required the vaccine for COVID and that turned me away from working there no more. I always thought he was a good man and always said "thanks dear" with a smile after I helped him with his ADL's or other things. He always liked hot chocolate too.
December 26, 2021
Ich bin sehr traurig, dass Bruno nicht mehr ist. Bin aber sehr froh, dass sein Leiden beendet ist und er endlich wieder mit seiner
Louise vereint ist. Meine liebste Erinnerung ist, wie sehr er das Leben geliebt und seine Besuche in Bayern genossen hat. Bruno wird immer einen großen Platz in meinem Herzen haben. Ich bin in Gedanken in diesen schweren Tagen bei seiner Familie. Eva

December 25, 2021
I am sorry to learn of Mr. Schmalhoffer's passing. Your father and mother were highly regarded, respected and loved by my parents. They shared the same values of faith, family and decency. As long time members of St. Mary's Church their paths crossed many, many times and their affection for Bruno and Louise only grew. Please know we share in your sorrow and are keeping you in our prayers.
As a rather young boy I recall one Thanksgiving when I first experienced (and loved) fresh brussel sprouts. They came from the Schmalhoffer garden. I think of that often at Thanksgiving time. Wishing you peace.
Lou Jackubowski
December 24, 2021
We remember Bruno from many sporting events over the years at St. Anne's and LCHS.. Such a pleasant gentleman. Our condolences to his entire family.
The Mattaini Family
December 24, 2021
My love and prayers go out to all my wonderful cousins for the loss of their dear father Bruno. I will always have wonderful childhood memories of going to the pig roasts on their farm and him speaking to my dear mother Francis in German. Love to all❤️🌹🌹🌹
December 24, 2021
Opa,
I love and miss you but I know that you are in a better place with Oma and other deceased family members who you loved so much. Thank you for being an excellent role model to your children, grandchildren, and great grandchildren. I'll never forget the many times you would take Kurt and I out for breakfast to whatever diner you felt had the best deal on eggs and home fries at the time. I always enjoyed those conversations and without fail there always seemed to be someone you knew there. Thanks for everything Opa, I will see you later.
Love,
Kyle Bruno

December 24, 2021
Our deepest sympathy to your family.

December 23, 2021
Opa,
We love you and cherish all our memories with you. Sleepovers on the farm, adventures down by the creek, donuts getting dropped off at our back door on fausnaught day. Sitting in the middle front seat of your car!! Meeting Joe for the first time and telling you about Aurora on the way.
We miss you and love you!
December 23, 2021
Dad/Opa, we love you and miss you. It gives me great comfort to know that you and Mom are reunited in Heaven.
Love, John, Patsy, Jakob, Zackary, and Oskar
December 23, 2021
Dad/Opa, we love you and miss you. it gives me great comfort to know that you and Mom are reunited in Heaven.
Love, John, Patsy, Jakob, Zackary, and Oskar
Visitation

Monday, December 27, 2021
6:00 AM - 8:00 AM
Charles F. Snyder Funeral Home & Crematory
3110 Lititz Pike
Lititz, PA 17543

Map and Directions