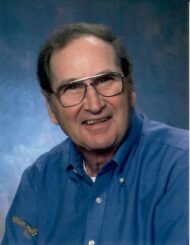 Bruce Wayne Greiner, Sr., 81
August 23, 2940 - December 17, 2021
Bruce Wayne Greiner, Sr., 81, of Lancaster, passed away on Friday, December 17, 2021 at Rose City Rehabilitation Center. He was born in Lancaster to the late Elam Ross Hershey and Margaret Ruth (Geiter) Greiner, and raised by his mother and adopted by her husband William N. Greiner, Sr.
He was known as "Tex" as a teenager because he wore a cowboy hat.
Bruce marked 61 years of marriage with his wife Georgia Faith (Schlater) Greiner. He was an ice cream and milk deliveryman for Penn Dairies for over 40 years, and then drove cars for Manheim Auto Auction from 2002 to 2016.
He was a member of Lutheran Church of the Good Shepherd. Bruce was also a member of Riverside Camping Association. He loved camping and touring with his family, having enjoyed two fishing trips to Canada with his son and grandson. Bruce also enjoyed doing yardwork, bowling at Leisure Lanes, and he visited many NASCAR tracks. He was a quiet and laid-back man.
In addition to his loving wife Georgia, Bruce is survived by their son, Bruce W. Greiner, Jr. and his wife Lynn (Kilheffer) of Landisville, and their son Kyle R. Greiner of Lancaster, as well as his sisters-in-law Jane Greiner of Lancaster, and Frances Greiner of Lancaster, and numerous nieces and nephews. He was preceded in death by his parents, and his siblings, Jean Marie Greiner, William N. Greiner, Jr., Richard Albert Greiner, and Barbara Jane Wise.
Private inurnment will take place in the Memorial Garden of Lutheran Church of the Good Shepherd. Memorial contributions may be made to Lutheran Church of the Good Shepherd, 750 Greenfield Road, Lancaster, PA 17601.
Leave a condolence on this Memorial Page
Condolences to the Family
December 28, 2021
My sweet Georgia. I am so very sorry to read that your Bruce passed away. I knew that he was sick but your strength and love for Bruce carried you through these very difficult times. He is at rest now. You two raised a wonderful son and we're ever so proud of him and of your grandson. May you enjoy many years with them and reflect on the good times that you shared with Bruce and all the adventures yo had together. My heart goes out to you at this time of loss and hope that you will smile that sweet Georgia smile once again. Love you, Hilde.
December 23, 2021
So very sad for your loss. May you feel peace to know he is continuing to live in heaven, only by the pure grace of Jesus .

December 20, 2021
Dear Georgia, Brucie, Lynn and Kyle, I am so sorry and deeply saddened by the passing of Bruce. Sharing in your sorrow, with heartfelt sympathy and love, Jane
December 20, 2021
Dear Georgia and Family,
Sending condolescences at this difficult time. We were glad to know and spend time with Bruce. He was a special man and will be missed.

December 20, 2021
My condolences to the family.RIP Bruce.
December 19, 2021
Dear Georgia, Brucie, Lynn and Kyle, I am so sorry and saddened by the loss of Bruce. I hope that knowing others care will help to bring you some comfort. Sending you hugs and keeping you in my thoughts and prayers. With Sympathy, Love, and Prayers, Jane
December 19, 2021
Hugs and prayers to you Georgia. So sorry for your loss. May God rest his hand upon you and your family.
Love Steve and Brenda Antes