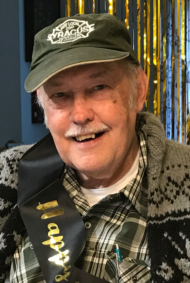 Bruce R. Liddic, 75
October 06, 2020
Bruce Richard Liddic, 75, of Lancaster, passed away at Lancaster General Hospital, Tuesday, October 6, 2020. Born in Williamsport, he was the son of the late Melvin L. and Elaine B. (Cherry) Liddic. He was the loving husband of Dianne L. (Munro) Liddic, with whom he celebrated 49 years of marriage.
Bruce was a proud veteran of the US Navy, having served during the Vietnam War era from 1964 to 1967. Earning his bachelor's degree from the State University of New York, Courtland, he began his career as an insurance underwriter. Bruce went on to receive his master's degree through Salve Regina University, Newport, RI in 2002.
A Historian and Conservationist, Bruce was a legendary author of Western Americana having published books such as, Vanishing Victory and wrote many magazine articles. He loved animals of all kinds, but was especially fond of cats. He was a member of Little Big Horn Associates, a Historical organization.
In addition to his wife, Bruce is survived by his sons, Matthew R., husband of Priscila, of Lancaster, and James E., husband of Danielle, of Syracuse, NY; 5 grandchildren: Gary, Christina, Victoria, Riley, and Charlotte; and his sister, Cherry Hoyt, of Lancaster.
A viewing for Bruce will be held from 2PM to 4PM, Sunday, October 11, 2020 at Charles F. Snyder Funeral Home & Crematory, 441 N. George St., Millersville, PA 17551. Private interment will be held on Tuesday, October 13, at Mound Cemetery, Williamsport. In lieu of flowers, the family requests that contributions in Bruce's memory be made to Little Big Horn Associates (LBHA), c/o Linda Bellile, 437 Penn View Dr., Millersville, PA 17551.
Leave a condolence on this Memorial Page
Condolences to the Family
October 02, 2021
I cannot believe it has been as long as it has been since Bruce taught me how to play chess and introduced me to the archeological investigation of Little Big Horn. I still display his signed book on my shelf with pride, and think of Bruce and his entire family everytime I pass Birchwood Drive! I am truly sorry for your loss.
Jack Krisanda
December 16, 2020
Aloha Dianne and family,
Word just reached me here in Hawaii. Bruce was the best of us. The most giving, the most knowledgeable and the funniest. I can't imagine going to a convention and you guys are not there. Hopefully he is somewhere arguing with Don Horn Sr. May your memories bring you peace.
John Hart
October 12, 2020
Dear Dianne and family. I've known Bruce for almost 50 years now and will never forget our friendship. I will miss him very much especially the calls and the Meow's and our many discussions about Custer. I am very sorry for your loss and hope you all can remember all the good times.
Norvelle Wathen
October 12, 2020
I am so sorry to hear of Bruce's passing. He and I shared wonderful historical discussions. I will miss him.
Mary ann Thompson
October 12, 2020
I was sorry sad when I heard Bruce had passed. As a frequent visitor to my brother's house, he always made me feel so welcome at his neighborhood backyard parties and especially at Thanksgiving Day dinners…with his table was filled to capacity…he would say, "come on Michelle, there is always room for one more." And he always presided over the dinner with jokes, laughs and of course the Turkey hat!! Loved meeting the new cat family members too and enjoyed how much joy they brought him. RIP Bruce…you will be missed. Michelle.
October 12, 2020
As can be gathered, Bruce was a greatly appreciated Kemper Alum. Only wish that we had been able to keep in touch more since we again crossed paths at the Hartford. His unique take on things and terrific sense of humor will be greatly missed by all.
My thoughts and prayers are with his family,
Ken Lerch
October 11, 2020
I am so sorry for your loss. Bruce was a great guy.
Michael Van Slyke
October 11, 2020
I am so so sorry to learn of Bruce passing, he was a wonderful neighbor. Going to miss our talks. Heaven welcome home another ANGEL.
Bonnie Petersen
October 10, 2020
Dear Dianne and Family,
What a shock to see Bruce's obituary in the newspaper yesterday! Our thoughts are with you as you make the monumental adjustment to life without him. We are so sorry.
Marcia and Dale Buller
October 10, 2020
I remember Bruce well from many years with the LBHA. He was very knowledgeable and a genuinely nice guy. He will be greatly missed.
Bill Byrnes
October 10, 2020
I worked with Bruce at Kemper. If anyone was ever having a tough day you could go to Bruce's office and he would lighten your day. My condolences go out to his family.
Joseph Kowalski
October 10, 2020
Aunt Di, Matt and Jimmy,
My heart breaks for the loss of our dear uncle Bruce. I'm grateful for all the happy memories. Joa and I send our deepest sympathies and love.
Ellen F. Stoner
October 09, 2020
I am heartbroken to think that I will no longer see that contagious smile. He was a dear friend of my youth in the LBHA and simply brightened every room he was in. We were all so lucky to have known him.
Paul Hutton
October 09, 2020
Dear Dianne and family,
Sending my sympathies for the loss of your husband, and father, Bruce. I still remember the first time I met Bruce and Dianne, when he was questionning the neccesity of customs forms on military packages. Do you remember too? The two of you made me smile many times, especially when Christmas cookies were "delivered". Dianne, I still think of you from time to time, as I miss my favorite postal customers, and especially Bruce's jokes. Stay well, and Peace be with you.
Debra Miller
October 09, 2020
Dear Dianne, Matt, Jim and Cherry,
A lifetime of memories…. so sad for your loss. Bruce was kind, generous and funny. Jason has a lot of good memories of our many visits with your family over the years as he was growing up. Love, DK & Jean
October 09, 2020
Journey well brother, you now have all of the answers you sought in life. Save a spot in Fiddlers Green! Tom Heski
October 09, 2020
Dear Dianne and family. I worked with Bruce for many years at Kemper. I am very sad to hear of his death. Even though I haven't seen Bruce since late 90s, I can recall his sense of humor and kindness like it was yesterday. I hope that that the memories your family made with Bruce will help to sustain you in the future. Bruce will be missed.
Rick Gilmore
October 09, 2020
I did not know Bruce nearly long enough, but before I met him, I was wowed by his reputation and renown as a brilliant Battle of the Little Bighorn scholar and author.
Once I knew Bruce personally, I was equally wowed by his generosity, kindness, sense of humor, and the love he had for his family and friends (and his cats!).
The last time I saw Bruce in August, he was filled with his usual enthusiasm and joy for all things Little Bighorn and Gettysburg, pulling open map drawers and rare books and photo albums, telling me about the articles he was working on and the lectures he was about to give, filling the time with stories about the Seventh Cavalry as well as anecdotes about he and his historian friends.
He also told me many stories about his wife, his family, his sons, his grandkids, the adventures and dude ranches and battlefields.
He was a man who seemed to live life fully, and had a kind word for everyone he met.
Like so many of us, I wish I had had more time to learn from Bruce, to appreciate his knowledge and view of the world and history.
Bruce was a great man and I will not forget him. I am so grateful to have known him.
My condolences to his family, it was clear to me that he loved you all very much.
Siobhan Fallon
October 09, 2020
I was aquainted with Bruce through the LBHA. He was a great guy. Loved that sense of humor. Always seemed to be smiling and in a good mood. Enjoyed conversations with him and listening as he talked history which he had a vast knowledge of. It is a great loss to us all. My heart goes of to his family and friends.
John Bourdage
October 09, 2020
Dear Diane and Family,
Bob and I had not known that Bruce was ill, and news of his death shocked and saddened us. From the time I joined LBHA in the late 90s, Bruce was a wonderful friend, generous with his encyclopedic knowlege and huge library. Anything I needed to know about Custer or the Civil War I could always get from Bruce. But more than his expertise, I remember him as simply a kind and decent human being, a person anyone would be honored to have as a friend. I certainly felt honored to know him. You are in our thoughts at this sad time.––Louise Barnett
October 09, 2020
Dianne,
Your sudden loss is our loss, too. Memories of early LBHA days with you two and Matthew and James as little tykes and CaroLee and I with our boys. I can see Bruce now debating with John Carroll, Frank, and Larry Frost about things Custer…and you working the tables at too many conventions. Just recall the happier times in your life and how much Bruch meant to us all.
Our prayers are with you and the family…
Frank Wagner
October 09, 2020
My deepest sympathies.
Wullie Ruffle
October 09, 2020
I knew Bruce because he volunteered as an instructor at OLLI at Penn State York. His knowledge was incredible and his personaility vivacious. He will be sorely missed. My condolences to you all.
Pat McGrath
October 09, 2020
I knew Bruce from working atKemper. He had a great sense of humor and a broad wealth of knowledge. He will be missed by all who knew him. My condolences to his family. John Fleischmann
October 09, 2020
Dear Diane and family: Words cannot express what Bruce has meant to the Little Big Horn Associates family over the past four decades wherein he shared his knowledge and love of Custer and the Little Big Horn in his writing, presentations, research, experience and leadership. His loss will be greatly felt by members of our organization. His seminal book, Vanishing Victory, is a masterful work of historical scholarship. I will greatly miss his smile, his humor, and his sunny disposition. Thank you for sharing him with us all these wonderful years. He was a blessing to all us all in so many ways.
Bill Rini, Little Big Horn Associates
October 09, 2020
We have lost one of the legends of the Little Bighorn. Bruce Liddic loved his information and shared it freely with everyone and might I say with a smile. Those who met him would come away with a type of kindred feeling. I had the sincere pleasure of working with Bruce on possibly one of his last publications on the Peter Thompson story. My condolences to his family and friends.
Gerry Schultz
October 09, 2020
To Diane & Family, So sorry to hear of Bruce's passing. Thoughts and prayers are with you. A great friend and co-worker. Have no doubt he'll be missed in Lancaster as he'll be missed by his fellow Kemper alumni. Best Regards, Marty Kelley
October 09, 2020
No words can express my heartfelt sentiments. You are all in my thoughts and prayers. I was fortunate enough to work with and manage Bruce at Hartford Steam Boiler. He was a fantastic underwriter, trainer, mentor and I was extremely lucky to have him on my team. I often told Bruce that they just don't make people like him anymore…kind, honorable, dedicated, supportive and an all around great guy! Stories and phases that would make you laugh for days. I have been recently reconnecting with Bruce via email and thankful to have those lasting memories.

Best Regards,
Marcy
October 09, 2020
Bruce has been admired around the world for his contribution to western U.S. history, and especially the Battle of the Little Bighorn. We will dearly miss his insights.
Clair Edward Conzelman
October 09, 2020
Bruce, I knew from Kemper insurance. He always had a smile on his face and had something nice to say to perk up your day. I am sorry for your loss. mary Jo White
October 09, 2020
Colonial Manor neighborhood will never be the same without Bruce on his walks, bringing family and friends together at hot dog parties, sharing his love for cats and a good joke. Bruce will be remembered as someone who created a warm and caring community and would do anything to help. We will miss him so very much.
Emily Landis
October 09, 2020
I worked with Bruce at Kemper and he was always one of my favorite people there. We enjoyed many laughs and good times. He was a great friend and I know he will be missed
Lou Szitar
October 08, 2020
Bruce was a great guy with a keen sense of humor. He will be missed, and at Kemper he was loved,,
Leo Navarra
October 08, 2020
To Diane, James and Matthew.
I am so sorry to hear of Bruce's passing. He was a dear person that was treasured by all who worked with him at Hartford Steam.
What I read from our correspondence was how proud he was of his family. I could almost hear the buttons on his shirt burst off from pride when he wrote of his sons.
With so many people who loved Bruce, I do think his essence will be with us forever, everytime anyone smiles when they think of Bruce.
Prayers and Love
Mary Vigasin
October 08, 2020
Bruce was one of kind. He taught courses at Penn State Osher Life Long Learning Institute (OLLI).
I've known him for several years but just recently discovered that we were on the same ship out of Naples, Italy. I thiink he left the USS Tallahtachie County AVB 2 just before I arrived in Aug. 1965.
I will miss him. He always had a story and a laugh.
Charles Hoffman

October 08, 2020
Happy Trails, from one Bruce to another.
My condolences on your father's passing, Matt. I know he will be missed by all.
Bruce Bellcase

October 08, 2020
Dianne, Matt and Jimmy…I only knew Bruce the last few years, but both he and I were making up for the time we hadn't known one another. The last time I saw Bruce (Sept. 4), he had visited me to work on a discussion he was going to lead at our next Indian Wars group. When Bruce left, he said something to me he often had said: "I sure wish we had met before." We had so much fun together talking Custer. He gave willingly and I am forever indebted for all I learned. I won't pick up anything about Custer without thinking of Bruce and how he would think about it. Thanks for sharing him. Our thoughts and prayers are with you at this difficult time.
Steve and Jeanne Custer
Visitation

Sunday, October 11, 2020
2:00 PM - 4:00 PM
Charles F. Snyder Funeral Home & Crematory
441 North George Street
Millersville, PA 17551

Map and Directions