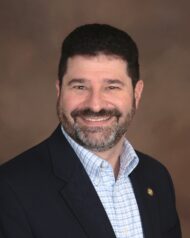 Brian M. Sagrestano, JD, 52
November 21, 1969 - May 28, 2022
Brian Mark Sagrestano, 52, most recently of Lancaster, PA lost his 8 year fight with Metastatic Uveal Melanoma on May 28, 2022.
Brian was born and raised in Bridgewater, New Jersey. He was the fifth and final child of the late Montoro and Loretta (Prinzi) Sagrestano. He is survived by his wife, Christine; their children, Katherine, Sophia, Holly and Cole Hawk, and Luke; his siblings, Nancy Barry, Stephen and Lynn, Lynda and Robert Yelle, and Ken and Christa; and many nephews and nieces.
The on-going theme of Brian's life was service to others which was reflected in everything that he did. As a young man, he observed his parents strong engagement with the Roman Catholic Church which led him to serve as an altar server, cantor, and choir member for much of his life. Similarly, his parents were heavily engaged in political causes, leading Brian to study government, intern with two different U.S. Congressmen, and ultimately attend law school at the University of Notre Dame.
In addition to following his parents lead, Brian also set about his own life of service beginning as a cub scout all the way to completing his Eagle Scout with gold palm in high school. It was especially meaningful to Brian as he was able to earn his Eagle Scout and receive it in the same Court of Honor with his older brother, Ken. As scouts, Brian and Ken were able to complete the Philmont High Adventure scout trip. Later, when Ken was the adult leader for his son Anthony's venturing crew, Brian, Ken, and Anthony attended Sea Base High adventure camp and Northern Tier adventure camp to attain the very rare scouting high adventure triple crown.
Brian's dad was the first in his family to attend college, putting a premium on the value of higher education. When Monte died the sole heirloom that Brian wanted was his dad's college ring from Rutgers, which he wore proudly in lieu of his own. After he graduated from Cornell University and Notre Dame Law with honors, Brian clerked for the Superior court and the Surrogate's court in New Jersey, where he developed a love for estate planning and estate administration. After pursuing several years of private practice in those areas, Brian decided he wanted to help as many people as he could to tie together their estate planning with making a difference in their communities through charitable giving. He accomplished this by going to work for non-profits, particularly those involved in higher education, for the next several years.
Utilizing the skills he developed working for the surrogate court, practicing law, and working for non-profits, he then launched his own business, Gift Planning Development, for the purpose of helping both charities and philanthropists create meaningful charitable legacies. Gift Planning Development has gone on to help facilitate over 1 billion dollars in charitable gifts to benefit non-profits all across the world. While running Gift Planning Development, Brian co-authored three books with Robert Wahlers. The first of these books, The Philanthropic Planning Companion, published by Wiley & Co. in 2012, won the Skystone Partners Award for research in philanthropy. When Brian was forced to go on permanent disability due to this metastatic cancer diagnosis, he was humbled and honored to be named to the gift planning hall of fame by the National Association of Charitable Gift Planners as well as being named Spirit of A Leader by Cresendo Interactive Inc. Each of these awards honored his dedication to a lifetime of service to the gift planning industry. While no longer able to work and continue to serve on the many boards he had volunteered for in the past, Brian did remain a volunteer board member for the Decamai Foundation which accepts gifts of complex assets on behalf of charities that cannot accept them on their own. Last year Decomai was the 7th largest receiver of charitable gifts in the world.
When not pursuing charitable giving or spending time with his family, Brian spent as much time as he could sharing his love of music through barbershop singing. Brian sang with several different barbershop quartets and choruses, competing at the highest levels. His most successful competitive quartet, All In, was selected twice to sing at the Barbershop Harmony Society International Convention and contest. All In was the 2017 Senecaland District Quartet Champion. He also sang in a chapter quartet, New York Central, for 10 years. He competed 10 times on the International stage as a chorus competitor with four different choruses, The Hunterdon Harmonizers, The Upstate Harmonizers, The Brothers In Harmony, and Harmonic Collective.
Although singing at a high level was important to Brian, he took his greatest joy from singing for service. He would frequently tell stories about singing at nursing homes where individual audience members would be rolled into the room in wheelchairs seemingly unresponsive, but as they heard familiar music such as Frank Sinatra or their favorite Christmas carol you could see a light of recognition return to their eyes and they would even begin to sing along quietly. Brian recalled on one memorable occasion singing at an inpatient Hospice unit. Having been told one of the patients was a veteran the quartet began to sing "God Bless America". He was shocked as the patient pulled himself out of the wheelchair to a standing position to salute the flag and sing along.
While all of Brian's professional, volunteer and recreational endeavors were important to him, his family was the most important. He spent his time teaching his four children the same values that his parents had gifted him. He was able to see two of his daughters graduate from college and walk a third down the aisle. He celebrated ten birthdays and four pine wood derby events with his son. Brian spent almost thirty years as a partner and best friend to his wife, making her laugh every day of their adventure together.
A Mass of Christian Burial will be celebrated at 2PM on Thursday, June 2, 2022, at St. John Neumann Catholic Church, 601 E. Delp Road, Lancaster, PA 17601, with the Rev. Daniel Powell as Celebrant. Interment will be private.
In lieu of flowers, gifts can be made to:
Uveal Melanoma Research at Jefferson University Hospital. or by check (payable to "Jefferson", in the memo of the check please reference "Metastatic Uveal Melanoma Research" and also note that the donation is in memory of Brian Sagrestano) mailed to Jefferson, Office of Institutional Advancement, Department 825434, P.O. Box 71331, Philadelphia, PA 19176-1331.
OR
The Liverpool Chapter of the Barbershop Harmony Society Fund at the Central New York Community Foundation or by check to CNYCF, 431 E. Fayette Street, Syracuse NY 13202.
Watch the tribute video
Leave a condolence on this Memorial Page
Condolences to the Family
June 07, 2022
Brian was a remarkable peer! He was respected by so many in our industry. I admired Brian's courage and faith. I sincerely appreciated our conversations over the years as he fought this terrible disease. He was special! Christine was a great source of strength, and I admire her! She is a unique angle of comfort.
Eddie Thompson
June 05, 2022
Condolences from the entire Savage Family. We were Friends and neighbors of the Sagrestano family in Bridgewater, NJ. Love in Christ, Donald H. Savage
June 04, 2022
We are so sorry for your loss. Brian was such a great guy. We have fond memories of barbershop rehearsals, shows, competitions and fellowship. His loss will be felt by many. Our love and hugs to all the family and his dear friends.
Dave and Becky White
June 03, 2022
Words cannot express my sadness for Brian's family and friends. I will always remember his million dollar smile. Rest in peace Brian.
Chuck Somers
June 02, 2022
Dear Christine and Family,
I had the great honor and pleasure of working with Brian when I was tasked with getting a planned giving program up and running at Le Moyne College in Syracuse. Brian made an imprint on my heart. He approached this project with great enthusiasm and an expertise that knew no bounds. What was even more compelling was the way he treated the staff — always with respect, patience, and a caring, compassionate heart. Brian was and always will be remembered as a beautiful person who led his life with integrity and a strong moral compass that guided him. Brian, to me, had that rare combination of professionalism and compassion. Brillance of the mind and of the spirit.
Please accept my heartfelt sympathy. I know that Brian's brillance lives on in all of you, those closest to his big heart.
Julie Simms
June 02, 2022
I was fortunate to meet and spend time with Brian in high school, through the church youth group, scouting, and high school band. Back then Brian was one of the kindest, funniest, most civic-minded people I had ever met, and so it comes as no surprise to me that he went on to do such amazing things. I remember him always laughing, always cheerful, always busy doing something for the school, the church, the scouts, or the community… he really influenced me and I looked up to him as a role model. I am so saddened to hear about his passing. Eccl. 7:15.
June 01, 2022
Dear Christine and children,
Please accept my deepest condolences for the loss of your beloved husband and father. His extraordinary talents and kindness will be missed by many gift planners whose professional and personal lives he touched. He was a wonderful mentor and could hone in quickly and brilliantly to the heart of a complex issue. Brian had a joyful light in his eye when talking about you, his family. Taken heartbreakingly, far too young, he leaves an indelible footprint on the field of gift planning through his book, many presentations and consultations. Brian is dearly missed, and we'll carry on in his light.
Regina Ketting
June 01, 2022
Dearest Christine and the Sagrestano Family,
My name is also Christine and I am sadly also a new widow and lost my amazing husband Michael (also age 52) in March.
I loved Brian. I had a crush on him in 4th grade (he was in 5th grade then and in my class because we were in the AIC together — a class of students who had high IQs). I still remember his report on abortion, replete with images of murdered babies, a cause near and dear to his heart even then, and one I whole-heartedly support to this day, thanks to Brian!
Christine, please feel free to contact me. Kenneth has my contact information through Facebook. I am praying for you and for this whole family during this time of great loss. Becoming a young widow is truly the worst experience of my lifetime. I am leaning into my faith and I know you will all do the same. Brian will live on in your hearts and minds. I am glad he is no longer suffering.
With love and deepest sympathies,
Christine Haught, Shaker Heights, Ohio
May 31, 2022
Christine and family my sincere condolences on your loss. We've lost a great man and friend. Sending love and prayers.
Sharon Miller
May 31, 2022
Sorry to hear this incredibly sad news. Rest In Peace Brian. You fought the most courageous fight. Condolences to your beloved family and to your siblings. You will be greatly missed.
Teresa Prinzi Hall
May 31, 2022
To all the Sagrestano Family,
I am so very sorry to hear of Brian's passing. I know that he has made it to heaven with the kind works and the wonderful kind person he was. Know that you are all in my thoughts and prayers always and forever.
May God bless you and guide you through this sad time.
May 31, 2022
To Christine and family: Brian was an incredible and generous resource to people in our field, and an all-around wonderful person. I'm so very sad and sorry for your loss. May happy memories bring a smile to your faces on those days when you miss him most.Monica MeranteCentral NY Community Foundation
May 31, 2022
My heartfelt condolences to the Sagrestano family. Brian was my first and most important mentor in the world of planned giving fundraising. I knew nothing about the field when we first met and his teaching still guides me today, nearly 12 years later. Brian advocted for me on several occassions and was instrumental in my career. He was a good man, loved his family deeply, worked incredibly hard, and always acted with the utmost integrity. Brian loved his NY Yankees too and, no surprise, was an incredibly knowledgable fan of the game. The world is a lesser place without him, but his impact in the world of fundraising will be felt for years to come. Donations that support scholarships, medical research, clinical care, social services, the arts, and other good works that improve the lives of millions of people will be made possible because of Brian's expertise, guidance and mentorship.
May 31, 2022
Brian, my friend, I miss you.
May 30, 2022
Your brother was an amazing man. We are so sorry for your loss. Prayers for the entrie family. We Love you.
God Bless. Anna & Gerry McGrath
May 30, 2022
I remember well Brian's beautiful voice and kind but uproarious sense of humor, which served well for the Cornell University "Class Notes" in which we sang together while I was a grad student. Now I guess he's singing with the heavenly choir. Condolences to his loved ones – – can't believe he's gone so soon.
May 30, 2022
I am so sorry to hear this sad news. I knew Brian in highschool and he had a wonderful voice. He was always a kind person and a friend to me. I accompanied for him on the piano in various school events. May the Lord Jesus Christ comfort his family at this time.
May 30, 2022
In loving memory of Brian. He always had a smile on his face and a song in his heart. As sad as I am to hear of his untimely passing, I know he is with his beloved parents and family that went before him, and singing with BRHS choral director Carmen Federici who passed away a month ago. Although gone too soon, you touched the hearts of many and will always be remembered so fondly. Thank you for being part of my choir experience while at East.
May 30, 2022
Brian has always had a good heart. I knew that first hand and was honored to know him. I will never forget his generous spirit and love he spead in his life time.
May God bless and keep his beautiful family.
May 30, 2022
Dear Christine,
Such heartbreaking news… As you well know, your late husband was an incredible human being. His brilliance, his humility, his kindness, his caring… the list could go on for pages. We send you and your family our sincere condolences and a big l-o-n-g hug.
Yours,
Stefanie Valar and Ed Hauck
PS. Sadly, we cannot attend his service as we will be out of town, but we will be there in spirit.
May 30, 2022
To the Sagrestano Family – Sorry to hear about Brian's passing. I hope the many happy memories you have will help you get through this difficult time.
May 30, 2022
Brian was indeed a gentleman's gentleman in every respect. I met Brian for the first time at a barbershop chorus rehearsal. His hand shake was firm, direct, pure and came straight from the heart, a value of which Brian had endless amounts to share. I will miss Brian very much and will continue to pray for the family and to him. Always in Friendship & Harmony.
Arthur H. Zelesnikar, CMSgt. USAF ret.
May 30, 2022
Christine and Family,
While we have lost an angel here on earth, his legacy will live on through each of you. He was so proud of all of you and his wonderful spirit and nature will certainly be carried on in his honor. I was blessed to work with him and even more blessed to call him my friend.
May 30, 2022
Brian was my friend, mentor, and business colleague. He left his legacy with me and so many of our clients. He was a master of his craft and when I was starting out, his trust in me helped give me the confidence that I could be successful and help organizations just like he did. My daily prayers for all the Sagrestanos.

Services

Thursday, June 02, 2022
2:00 PM - 3:00 PM
St. John Neumann Catholic Church
601 E. Delp Rd.
Lancaster, PA 17601

Map and Directions