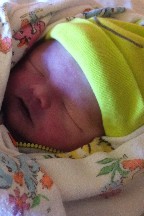 Brayden Keith Reinecker
June 03, 2013
Brayden Keith Reinecker passed away shortly after birth on Monday, June 3, 2013 at Women and Babies Hospital, Lancaster.
He was the son of Angela Kay Smith and Keith Reinecker of Mount Joy.
Other survivors include his maternal grandparents, Brian D. and Brenda J. (Sell) Smith of Annville; and his paternal grandmother, Kimberly L. Dodson and his paternal step-grandfather, Leonard H. Dodson, Jr., both of Freeland, MD.
His parents wish to thank nurses Dana Thomas and Linda Tressler of Women and Babies Hospital for the loving care provided to Angela and Keith after Brayden's passing. Charles F. Snyder, Jr. Funeral Home & Crematory 717-560-5100
Leave a condolence on this Memorial Page
Angela and Keith, Prayers and thoughts from our family are with you. AuntPat
Brayden will remain in our hearts forever. Thinking and praying for your family during this time of sorrow. Love, Colleen Seibert
Our heart felt condolences to the parents and the rest of the family. Pete and I are friends of Kim and Len.
Sandy And Pete Robinson
Our prayers and thoughts are with you all. Our love to you all. Jean and Chuck Neal
I am so sorry to hear about this you all will be in my prayers.
Take care and God bless you all. I know this is a very sad and confusing time it will take time to heal as long as you two can
keep your faith and Love you have for each other to keep your sanity cause it can be so hard to try to do it alone.
Love Always Keith Daniel & Jackie Royer
P.S. I'm your moms friend and aunt Brenda's sister
I am so sorry about your loss. May God wrap his arms around you and grant you his peace and understanding in this time of sadness. I know we don't understand and ask why, but rely on God and his promises and through time God will ease your pain, and will show you how to smile again. YOu have your own angel watching over both of you.
Keith stay strong and when the tears flow remember people are there willing to listen, or be silent with you.
Polly Munchel