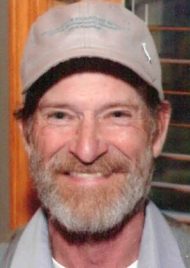 Brant Hartung, 62
December 31, 2018
Brant Hartung, 62, of Waterville, PA, previously of Lancaster, was tragically taken from this world on New Years Eve. Born in New Holland, he was the son of the late Marlowe W. Hartung and Jeanne L. (Clymer) Hartung.
Brant attended Manheim Township High School and graduated from the Woodstock Country School (Woodstock, VT) in 1975. The proud owner of 1725 Historic Witmer's Tavern Bed and Breakfast and Pandora's Antiques, Brant enjoyed meeting and making friends with his patrons.
He was an avid outdoorsman and hunter and enjoyed nature in all its beauty. A talented artist and photographer, Brant was a jack-of-all-trades. He snowplowed, landscaped, and did construction. Brant was a hard worker and always up for a challenge. He never met a task he wouldn't take on including; restoring the Inn and travelling to the Bahamas to repair the Bimini Hotel as a teenager. His most recent accomplishment was restoring his '48 Ford Panel truck.
A gentle man who loved animals, Brant had two pet squirrel monkeys (Raz & Mataz) when younger, as well as numerous cats and dogs and, recently,his flock of chickens and a stray cat.
Brant was a trusting, giving soul and was always there to lend a hand to friends and neighbors whenever asked. He will be terribly missed.
Surviving are his siblings; Pamela Hartung of Maine; Keith Hartung of Delaware; and Melissa Hartung of Lancaster, as well as three nieces and numerous cousins. He is preceded in death by his parents.
A Celebration of Life service will be held Sunday, January 13, 2019 at 12:00pm at Charles F. Snyder Jr. Funeral Home & Crematory at 3110 Lititz Pike, Lititz, PA 17543. Guests will be received prior to the service starting at 11:30am. Interment will be held at a later date.
Leave a condolence on this Memorial Page
Condolences to the Family
April 18, 2019
It is April 18th and I have just learned of this. Brant Hartung was a good man. We attended the Woodstock Country School together, and were friends on FB. I am shocked and heartbroken over this news. My condolences to the family. Rest in Peace, Brant, we will miss you. Laura Thompson
February 05, 2019
Melissa: very sad to have learned of Brant's passing, my thoughts are with you….
January 15, 2019
Dear Family,
The picture above is the way to remember Brant. Always smiling and friendly. Very sorry for your loss. He will be missed by many people I am sure. I always admired his passion for old things, the out doors, and for his family. Hopefully he had some good years in the mountains and found some peace there. The memorial you wrote above was a great description of him and his life.
January 13, 2019
Our sincere condolences to the Hartung family. We have so many good memories of Brant and he will be greatly missed. You are all in our thoughts. Rest in Peace, my friend.
Love to all,
Joe and Brenda Esbenshade
January 13, 2019
i am still in shock.OH, Brant we will miss you .God Bless you.
January 10, 2019
My thoughts and prayers go out to Keith, his sisters & the entire family… Brant was always a dear friend… it was always a pleasure to see him and had always stayed in touch with him over the years.. I will miss him very much… I was hoping to make it to the service Sunday , but will be traveling that day … but Brant and his family will be in my thoughts… RIP my dear friend …
January 08, 2019
Brant Hartung.I remember a lot of fun times with you, may you rest in peace. Kymm Greenawalt Moschitta
the

January 08, 2019
BRANDT,YOU WILL HAVE A BETTER LIFE WITH THE LORD. I FOUND A GOOD HOME FOR THE CHICKENS, AND ROOSTERS.LOVE,VINNIE
January 08, 2019
Knew Brant from Man Twp HS and remember him fondly. Always had a smile and kind words for me. He was open and accepted everyone freely. I was sad to hear of his passing. My thoughts are with him and his family
January 08, 2019
brant was a beloved friend and will extremely be missed, all the stories, experiences, very helpful, enjoyed him hanging out at the shop in waterville, enjoyed helping him on the old 48 ford, he had such happiness restoring it and enjoying it. he sure will be missed and remembered.
January 07, 2019
Dear Pam,Keith and Melissa. My deepest sympathy. Brant was a sweetie and he & I kept in touch on Facebook and sometimes we shared some phone calls. He will be missed by many. Prayers to everyone.
January 07, 2019
I am so sorry to hear of Brandt's passing. I fondly remember him coming to Jersey Shore,Pa as a young teen ager with my then future step brother Les Ruhl,Walter Elinger,Mike Simonetti and a few other kids. I met the "boys from Lancaster" when they were visiting the Waterville area and would come down to Jersey Shore To Millers Tastee Freeze. I have a lot of great memories of Brandt. He will surely be missed by many.
January 07, 2019
He was loved in the Pine Creek area. Always nice to talk with him at the general store, Apple Butter festival and wherever I saw him. Always had a smile on his face. Loved hearing about his antiques and such. Rest assured he will be missed.
January 07, 2019
Our condolences to the family and praying that GOD will carry you through this difficult time. The Castro's
January 06, 2019
Hello, I am sending my condolences. I was a classmate of Brants at WCS, we both lived in the tipis there and graduated in together in 75. He was always a great guy in my experience, so down to earth, easy going and fun to be around. The more I got to know him, over the years, the more I found out the strength of his character. He was a good friend, forgiving, loyal and supportive. He will be missed.
January 06, 2019
I always enjoyed talking with Brant while in Waterville. My deepest sympathy to the family.
January 06, 2019
You will be missed by many. You are now with my brother Walter Ellinger laughing about the old days and talking about Les, Joey, Dave and all the other guys who shared and cherished your friendship. Prayers to your family..
January 06, 2019
I attended the Woodstock Country School with Brant. He was a lovong and giving soul. He always lent a helping hand and was nothing but sweet to those he encountered. Those of us who attended that school with Brant remember him fondly and have very heavy hearts because he has been taken from us. He was part of a tribe of teenagers that built and lived in teepees, roamed the hills of Vermont, and howeled at the moon in appreciation of the beauty of nature surrounding them. Sunny summer days and snowy moonlit nights Brant ws there, part of that tribe; and he is sorely missed.
Visitation

Sunday, January 13, 2019
11:30 AM - 12:00 PM
Charles F. Snyder Funeral Home & Crematory
3110 Lititz Pike
Lititz, PA 17543

Map and Directions

Services

Sunday, January 13, 2019
12:00 PM
Charles F. Snyder Funeral Home & Crematory
3110 Lititz Pike
Lititz, PA 17543

Map and Directions