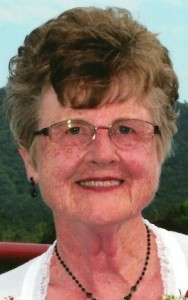 Bonnie Anderson, 70
August 04, 2013
Bonnie Anderson, 70, of Lancaster, PA, passed away surrounded by her family on Sunday, August 4, 2013 at Hospice and Community Care in Mount Joy, PA.
She was the wife of the late William Anderson. Born in Rochester, NY she was the daughter of the late Walter and Mary (Mandefield) Batjer. She was a member of Hempfield United Methodist Church, where she was a volunteer.
She graduated from SUNY Geneseo in 1964, earning a Bachelor's degree in teaching. She taught in Rochester and Lancaster.
Bonnie enjoyed reading, gardening and baking. She was best known for her cookies. She was also a supporter of the Humane League.
Bonnie is survived by two children: daughter Christine Mohn, wife of R. Michael, of New Providence, and son Mark Anderson, husband of Aimee, of Glenville, NY. She is also survived by her granddaughter Maddie Mohn, and step-mother Marie Batjer, of Watertown, NY. She was predeceased by her brother Alan Batjer.
A Funeral Service will be held on Wednesday, August 7, 2013, at 11AM at the Hempfield United Methodist Church, 3050 Marietta Ave, Lancaster, PA with Pastor Bruce Lefever officiating. Visitation is 10:30-11AM. Interment will be at Conestoga Memorial Park. In lieu of flowers, memorial contributions in Bonnie's memory may be made to the American Cancer Society, 314 Good Drive, Lancaster, PA 17603, The African Dress Fund at Hempfield United Methodist Church, or the Food Bank also at the church, 3050 Marietta Ave, Lancaster, PA 17601.
Leave a condolence on this Memorial Page
Condolences to the Family
August 24, 2013
Dear Christine, Mark and families,
We were saddened to learn of the passing of your Mother. Your Mom and Dad both were wonderful neighbors and stopped by a couple of times to visit with us when they were back in town. We also enjoyed the annual "cookie exchange" at Christmas time and the opportunity to catch up with and meet new neighbors. Alwaya a friendly smile and sincere interest in how everyone was doing. How wonderful you could all live in the same vicinity these last few years. Our thoughts and prayers are with you.
Sincerely, Mary Kay and Bill Lupton

August 10, 2013
Christine,
I was very sorry to read about your mom's passing. I am thinking of you during this time.
Julie Dellaquila
dellaquila@frontiernet.net
August 09, 2013
Dear Mark & Christine, it was ironic that just last Sunday, your parents came to my mind & I was mentioning to a mutual former neighbor of ours what lovely people your parents were. I'll always remember how sweet she was to bring over some goodies & the recipes when we moved to the erie crescent neighborhood ( I still use her recipes to this day & think of her each time!) She always made a point of trying to keep all the neighbors in touch by the parties your parents hosted during the Christmas holidays. She was interested in everyone; a truly caring, selfless, thoughtful, kind person. I didn't realize that your dad passed away until last Sunday when I was speaking with the former neighbor. I am so sorry-he was a wonderful person as well. You and your loved ones have my deepest condolences. Lorie Whipple
August 08, 2013
To Christine and Mark – we send our deepest sympathy. We so remember your Mom as such a sweet and friendly neighbor when you lived in Fairport and are very sad to hear this news. May God bless your Family and give you Peace in your hearts.
Bob and Cathy Anderson
August 07, 2013
Our thoughts and prayers are with Bonnie's family. I write this message on behalf of my father, Don Parke, as well as myself to express our condolences at the loss of Bonnie, such a beautiful person. We cannot say enough good things about her. She was wonderfully upbeat, brave and generous to others in the face of personal challenges and sadness, and was incredibly thoughtful and loving towards my father. Among other things, it was so kind of her to arrange for my father to meet with his cousin Marie when she visited Bonnie, and she even sent him an adorable card with a charming note on his birthday near the end of June. I was so glad to have had an opportunity to meet Bonnie finally when I attended a Men's Garden Club meeting with my father some years ago. Her positive influences will live on. Don Parke and Donna Ornston
August 07, 2013
Bonnie was one of the joys of my life since meeting her in 1963 when she was a bridesmaid in my sister-in-law's wedding. What a surprise to find her and her husband next door neighbors in our apartment complex when we moved to Rochester. We followed them to Fairport. The Andersons always had smiles and good suggestions for us to find our way around Rochester and environs. Bonnie attended a Presbyterian church and introduced us to services and the Couples social group. We had many get-togethers with my sister-in-law's and Bonnie's families for many years. You could say we watched the familie's grow. I was so sad to see them move to Lancaster but understood that Maddie was a strong reason for that. When she changed her email address to "cookiebaker…." it was a good fit. She sounded so strong when Bill died. I was happy to hear she still kept up and supoported family and her church and neighbors after that. And the strength she showed during her own health battles with the help of everyone around her gave me courage with my little "aches and pains"! I loved receiving her emails – always with upbeat news. I will remember the Andersons with many fond memories. My sympathy to Christine and Mark and your families. Carol Look
August 07, 2013
To all of Bonnie's beloved family: I was so saddened to read of Bonnie's passing. Her last email sounded so positive that I had hoped that she was on her way to remission. Bonnie and I both grew up in Irondequoit, attended grade school and high school together, and went on to attend SUNY Geneseo together too. We both became teachers and then went on to live our personal lives, but always kept the friendship thread connecting us. We'd share the "latest" news in our Christmas card notes, which could be longer than one page!! She never forgot to mention all of her "kids" and what they were doing, etc. She truly loved her family and that should be no surprise to any of you. Bonnie also mentioned her church extended family often and how they helped her through many difficult times. Her loss has broken many hearts, but also has left many wonderful memories. Please accept my sincere sympathies to all of you. Love, Marlene Arnold
August 06, 2013
My thoughts and prayers are with the Anderson family. I had the pleasure of taking care of Bonnie during her first few days in the hospital. She had a big impact on me in just 2 days. I will never forget her and am so saddened by this loss. Bonnie was a beautiful woman, inside and out. She smiled everytime I walked into the room and kept that smile on for everyone even thorough the tough days . I could see how very loved she was after meeting neighbors, friends, and family. Ill never forget the call we took for her from a neighbor who said she was the "glue that held the neighborhood together." Her smile when we relayed that to her was priceless. Rest in peace beautiful Bonnie. -Maria
Visitation

Wednesday, August 07, 2013
10:30 AM - 11:00 AM
Hempfield United Methodist Church
3050 Marietta Ave
Lancaster, PA 17601

Map and Directions

Services

Wednesday, August 07, 2013
11:00 AM - 12:00 PM
Hempfield United Methodist Church
3050 Marietta Ave
Lancaster, PA 17601

Map and Directions