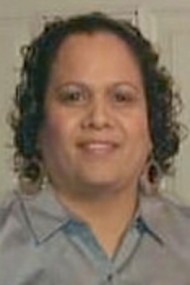 Blanca I. Garcia, 46
October 03, 2013
Blanca I. Garcia, 46, of Lancaster, passed away unexpectedly at her home on Thursday, October 3, 2013. She was born in Chicago and was the daughter of Tomas Garcia and Luz Martinez, of Lancaster.
She is survived by her fiancé, Jesus Sanchez.
She is a member of San Juan Bautista Catholic Church.
Blanca owned and operated a child care business for many years at her home.
She enjoyed animated movies and traveling with her family. During Jose's LCHS basketball games, she was known as the loudest cheerleader. Those were some of Jose's most treasured memories of his mother, cheering him on. She also loved dining at Ruby Tuesday's Restaurant.
Blanca is survived by her children, Kelly, Luz, and Jose Jimenez, Lizbeth and Brian Sanchez all of Lancaster, three brothers, Ricardo Garcia, Alberto Garcia, and Thomas Garcia, and a sister, Elsa Garcia, all of Lancaster.
Mass of Christian Burial will be on Monday, October 7, 2013 at 12noon at San Juan Bautista Catholic Church 425 South Duke Street Lancaster, PA 17602 with The Rev. Allan Wolfe as Celebrant. A viewing will be held on Monday from 10AM-12Noon at the church. Interment will be in Mellinger Mennonite Cemetery. Memorial contributions may be made in Blanca's memory to Schreiber Pediatric Rehab Center 625 Community Way Lancaster, PA 17603.
Leave a condolence on this Memorial Page
Condolences to the Family
November 18, 2013
R.I.P Blanca ❤️I think about you everyday Cashae loves you so much!
October 07, 2013
Blanca was a true shining light in a world often filled with darkness. I so enjoyed working with her. She did amazing things with and for the families she served. I will miss her laughter and her strength. My heart breaks for you all and I will continue to pray for peace in this very difficult time.

Samantha Gray- Luthercare Mentor
October 07, 2013
Dear Luz & Family,
I am sorry to hear about your loss. I'm praying that you would know God's comfort through a born-again personal relationship with the Lord Jesus Christ. Please let me know if there's anything that I can do to assist your family.
"This is eternal life, that they may know You, the only true God, and Jesus Christ whom You have sent." (John 17:3)
Bob Watts
October 06, 2013
To the family Garcia! I'm so sorry for your loss! But I'm very proud to say, I was very happy to have met your mother and the family! Even though everyone has grown up and are in there own path, I will never forget all the good and crazy times we have all shared together! If you need anything from my family we are only a phone call away! love you all! Maria Class and family!
October 06, 2013

Please accept my sincere sympathy on the recent loss of your dear loved one. You are all in my thoughts and prayers. May the God of comfort be with you in this time of sorrow. May these words bring you hope, "And he will wipe out every tear from their eyes and death will be no more, neither will mourning, nor outcry, nor pain be anymore. The former things have passed away." (Revelation 21:4) This promise will be fulfilled one day, until then, may all your memories sustain you in the days to come. Jw.org
Visitation

Monday, October 07, 2013
10:00 AM - 12:00 PM
San Juan Bautista Catholic Church
425 South Duke Street
Lancaster, PA 17602

Map and Directions

Services

Monday, October 07, 2013
12:00 PM - 1:00 PM
San Juan Bautista Catholic Church
425 South Duke Street
Lancaster, PA 17602

Map and Directions